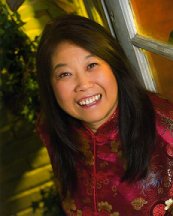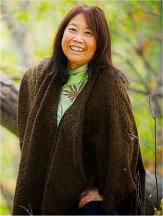 SUE-ON'S KITCHEN
April Pt. 2: 2014
www.hillmanweb.com/soos/food/86.html
Also featured in my Facebook Album
click for larger images
..


.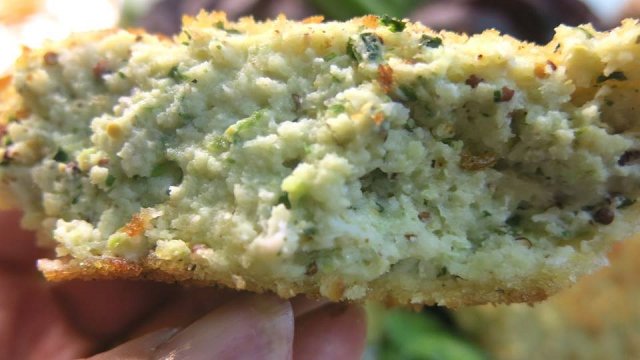 Halibut fish cakes from fresh halibut.
The flavour was good - light with a hint of basil, chives, celery, and bound together with egg and fresh bread crumbs,.
Fish cakes were dredged in flour, egg wash, panko crumbs.
The four patties were browned on one side in the pan then finished off in the oven.
Next time, I may hand chop the fish or pre-cook as some of my foodie friends suggested.
I would like them with more texture inside.
.
.

.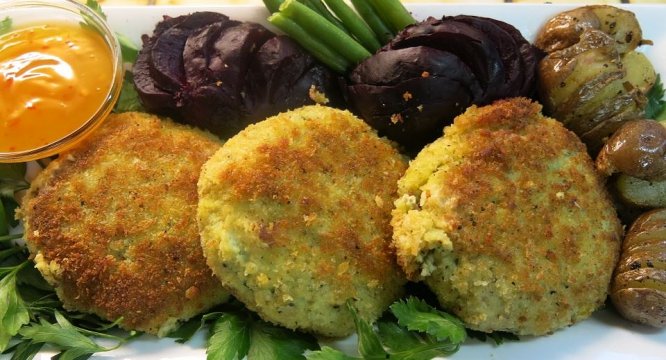 Halibut Fish Cakes, roasted beets, steamed green beans, twice cooked baby taters, mango chili sauce.
.
.

.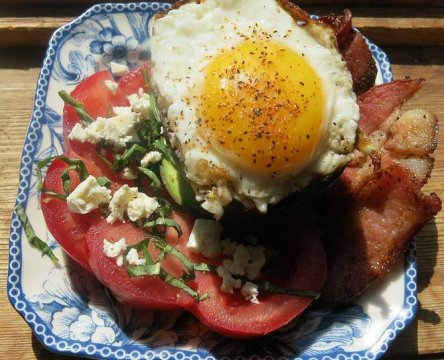 Sunnyside up egg on avocado, sprinkled with Slap Ya Mama, black pepper crusted thick bacon,
tomato with basil chiffonade and crumbled feta cheese...
Good Morning Sunny Sunday!B
.
.

.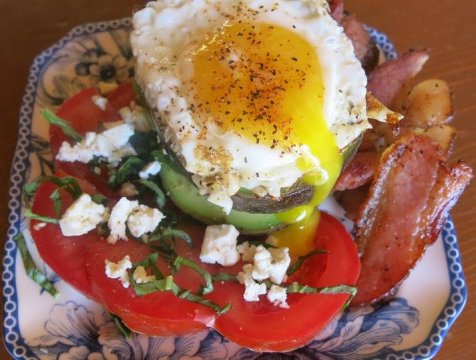 Mmmmmm...runny yolk ;-)
Bill's not a lover of raw tomato or avocado,
so he had his bacon and eggs between an English muffin, dipping in Spicy ketsup...
.
.

.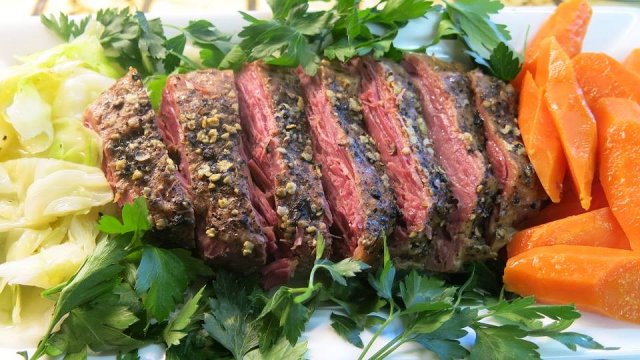 The Triple C meal:
The most amazing corned beef brisket ever!
Never again will I boil corned beef.
This baby was dried off, coated with freshly cracked pepper, wrapped in double foil,
and slow-roasted at 275F for 6 hours.
Amazingly moist, tender!
Eaten with steamed carrots and cabbage two ways: plain sauteed,
and sauteed with fresh curry leaves and cumin seeds.
.
.


.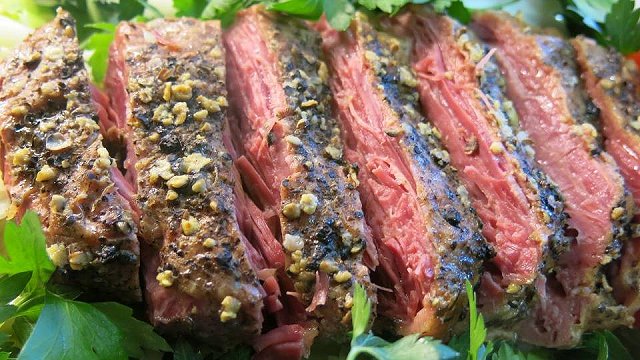 Beautiful corned beef brisket, roasted low and slow,
a method from a foodie on egullet, a food forum I frequent.
The foodie is on the west coast: Ann_T of www. thibeaultstable.com
She has amazing breads and I've learned a lot from her regarding fresh halibut.
.
.

.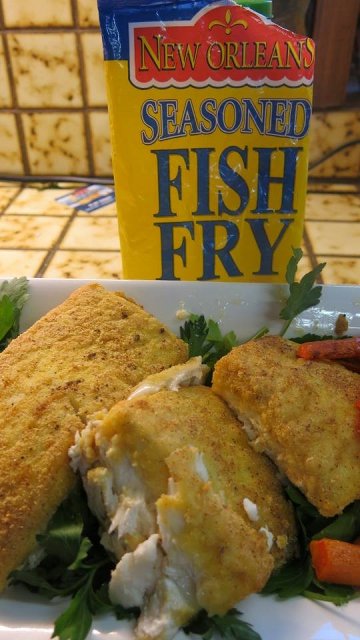 Halibut coated with New Orleans Fish Fry crumbs.
Pan fried and finished in the oven.
.
.

.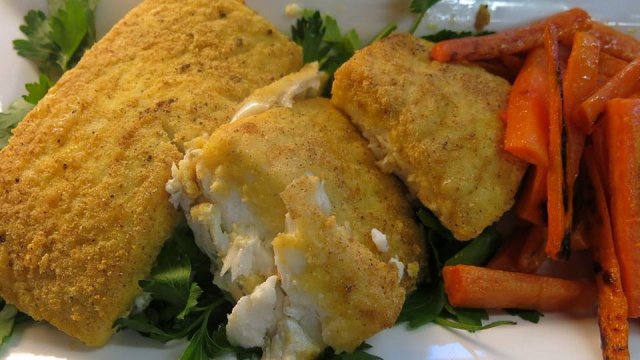 Halibut with new Orleans Fish Fry coating.
These fillets had been frozen.
Even for just for two weeks, the texture was not the same as fresh.
Still good, but not the silky texture desired.
.
.

..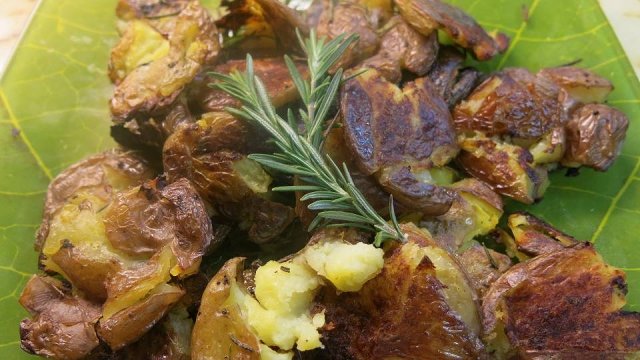 Baby taters, boiled, smashed, sprinkled with olive oil, fresh rosemary,
and crisped up at 425F oven
.
.

.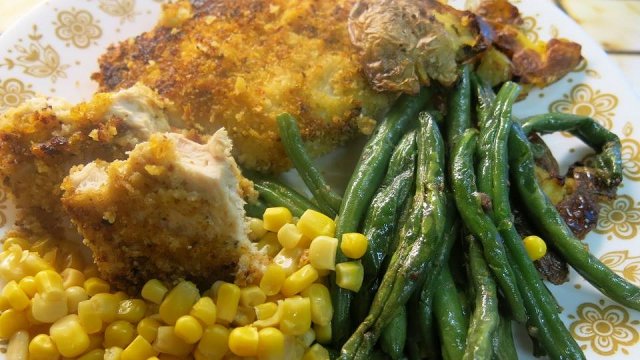 Chicken breasts brushed with olive-oil mayo,
coated with chili lime seasoning and panko,
baked at 425F - moist, tender, great "fried chicken".
.
.


.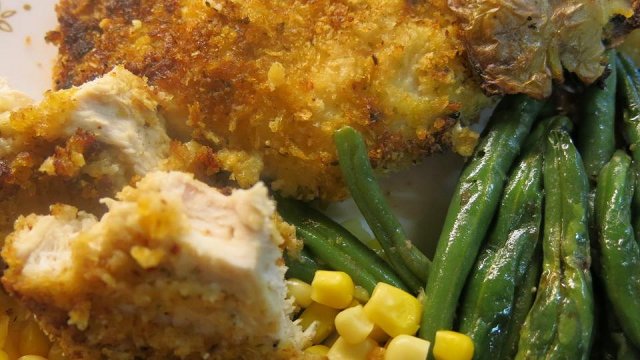 Chili-lime panko baked chicken
.
.

.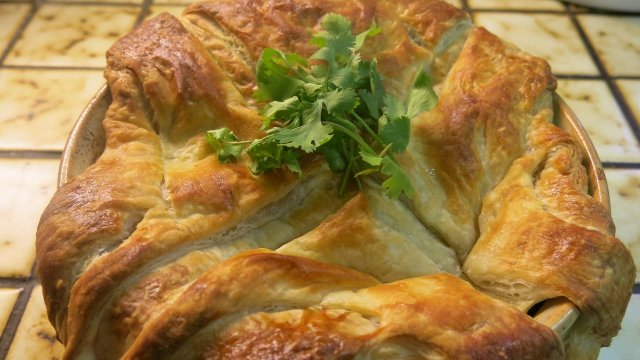 Ground Beef Meat Pie with puff pastry.
.
.

.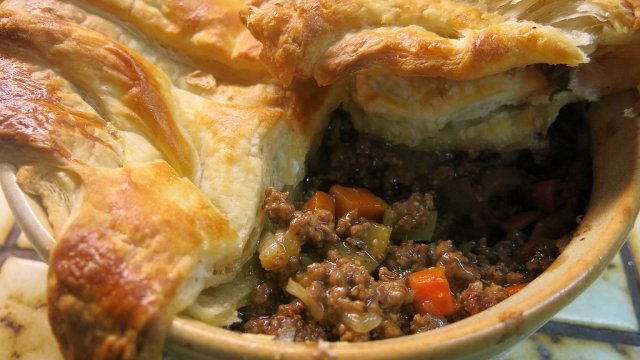 Ground beef meat pie - saucy thang ;-)
.
.

.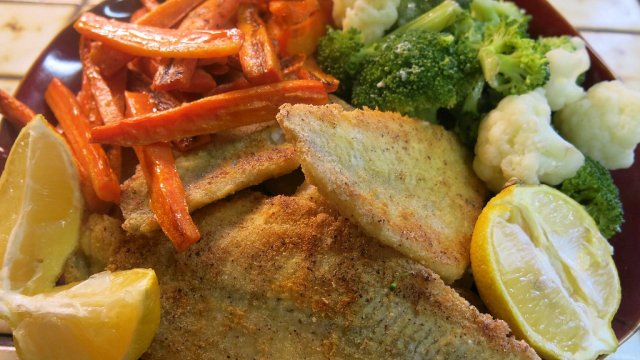 Fresh Pickerel Breaded with New Orleans Fish Fry seasoned "crumbs".
Pan fried with very little oil in my new Calphalon Non-stick pan,
oven-baked carrot fries, steamed broccoli and cauliflower.
.
.

.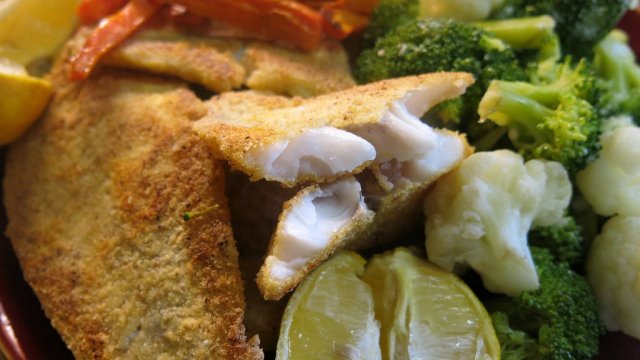 Yup... the pickerel was delicious with just a hint of New Orleans spices :-)
.
.

Copyright 2014
Sue-On Hillman
Bill and Sue-On Hillman Eclectic Studio