Bill and Sue-On Hillman: A 50-Year Musical Odyssey
www.hillmanweb.com/book

HILLMAN INDOCHINA ADVENTURE: PART 4
www.hillmanweb.com/indochina/cambodia

Cambodia Gallery 11: ANGKOR WAT I
Sunrise Over The Temple
Photos captured by Bill's Canon Lens

http://www.hillmanweb.com/indochina/cambodia/c11.html
We arrived at the Angkor moat in the pre-dawn darkness before unrise. We entered the West Gate so as to see the silhouetting the temple towers. The early morning heat and humidity fogged our camera lenses for the first series of shots.

From entrance to center, Angkor Wat consists of a moat crossed by a wide stone causeway, a main gate, a grassy field with two pools, a lower gallery running all around the main building, a middle gallery with four courtyard pools, and the five towers.

Constructed in the first half of the 12th century, Angkor Wat is the climax of Khmer architecture: A gigantic three-step pyramid that was originally adorned by nine slender towers of enormous height.

Angkor Wat was dedicated to the Hindu god Vishnu, the preserver of the world. Angkor Wat is orientated to the west, facing the centre of the city: the Shiva temple Phnom Bakheng.
Click for larger full-screen images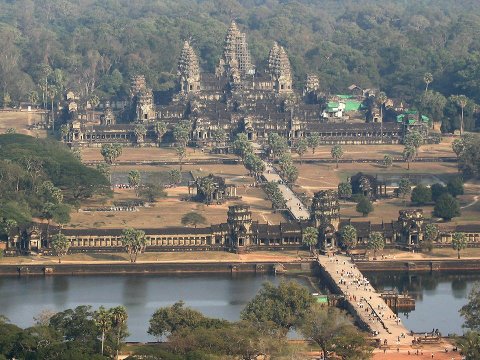 Aerial View

On the causeway to the Temple Grounds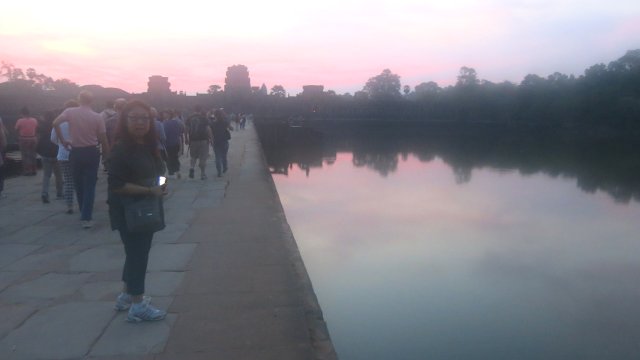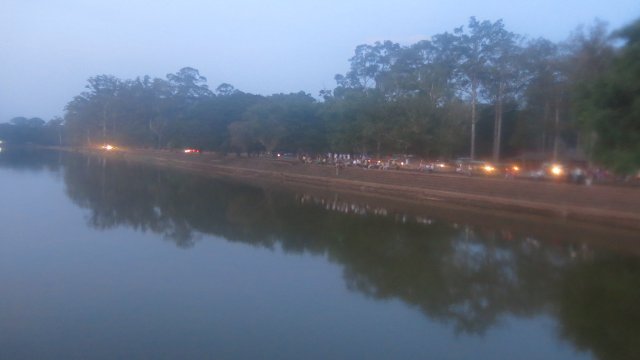 Entrance through the first Gate Building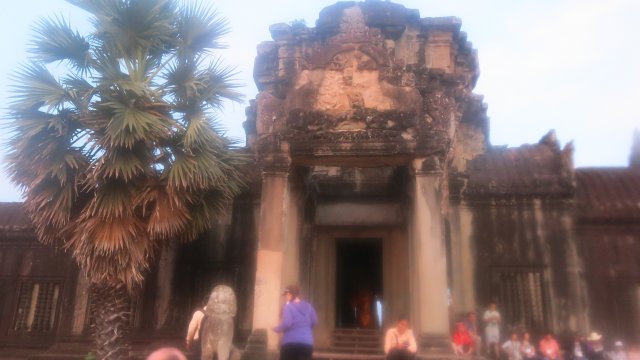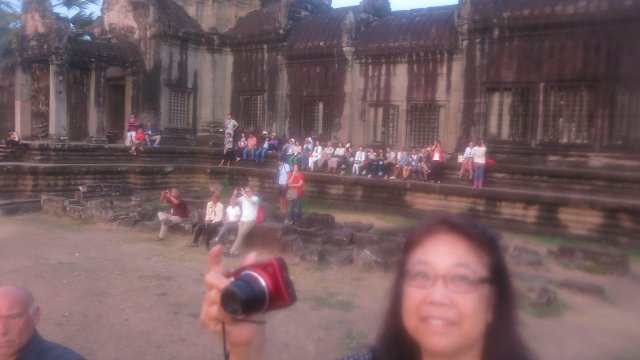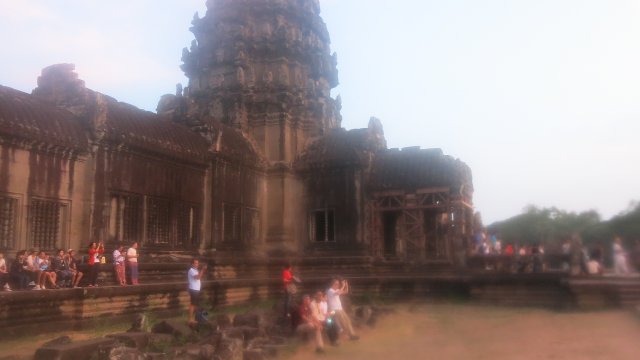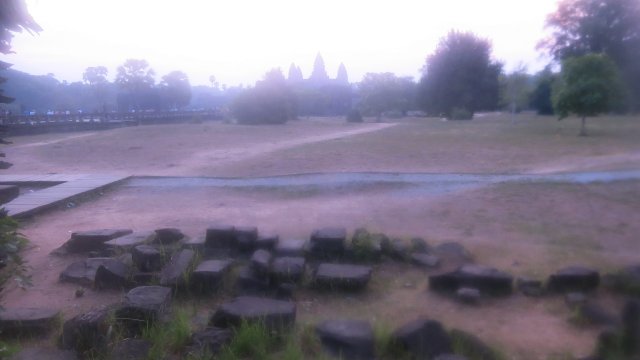 We sat on the ledge of one of the outer temple wall
while our guide briefed us and gave us background information.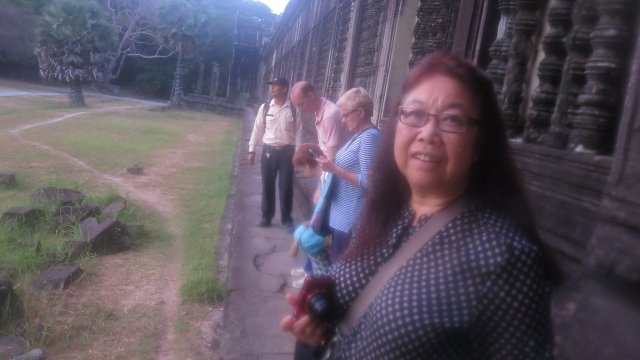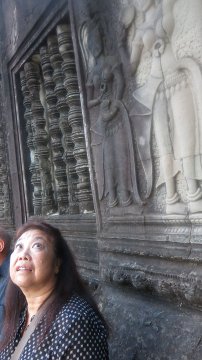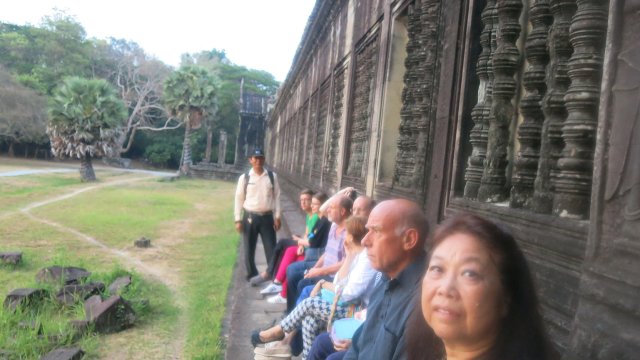 Carrying on toward the Temple across the large grassed area.
The sun is still hidden behind the temple but the grounds are now well lit.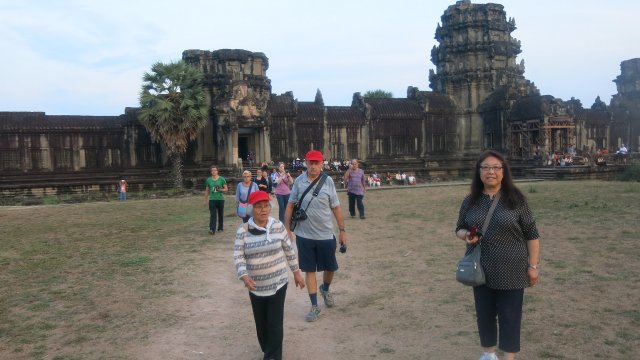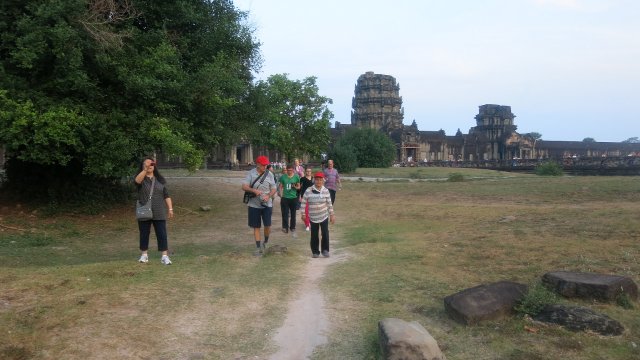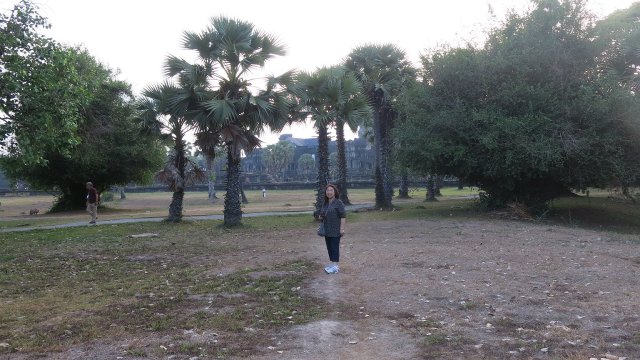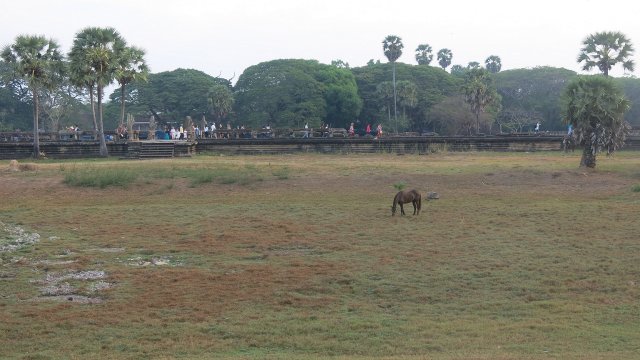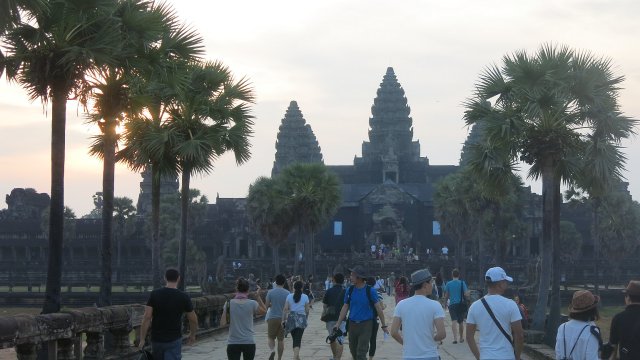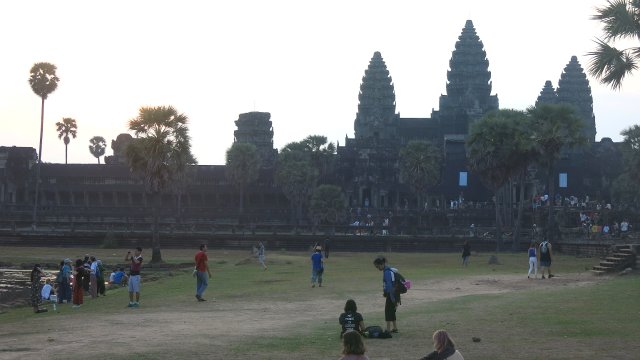 The temple towers are in silhouette as the sun creeps higher.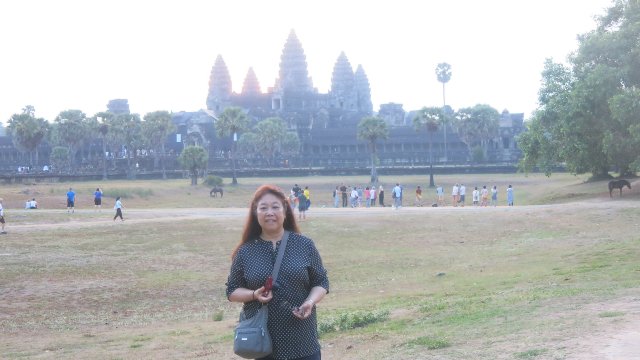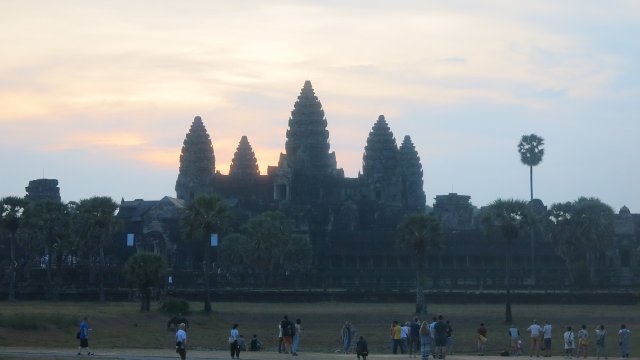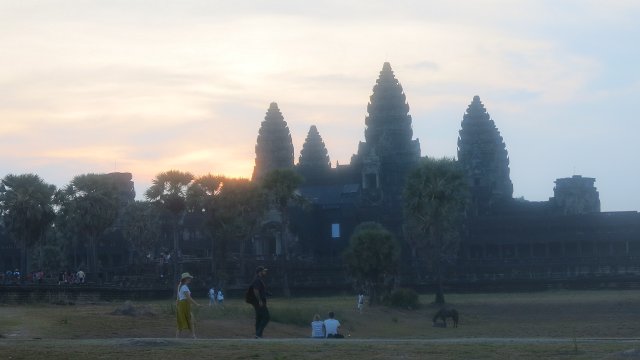 Finding seats to view the full sunrise.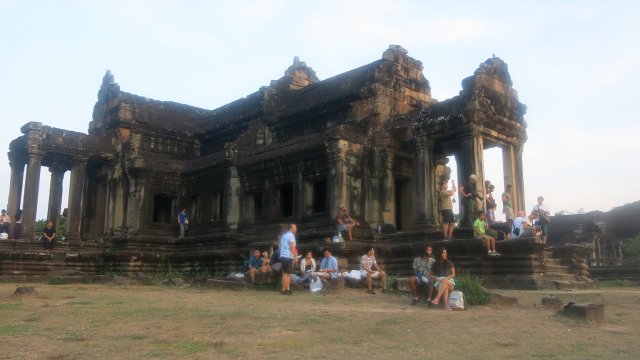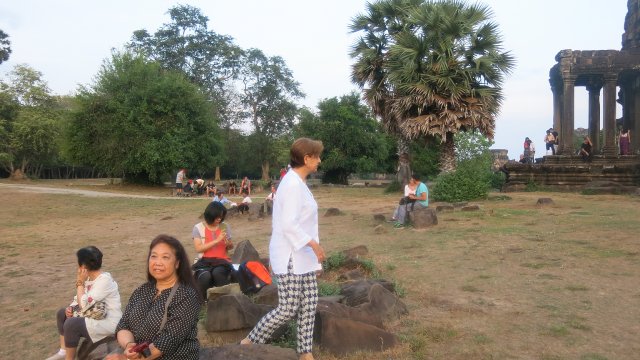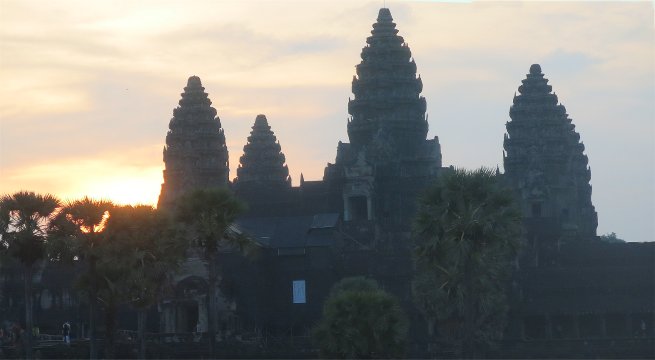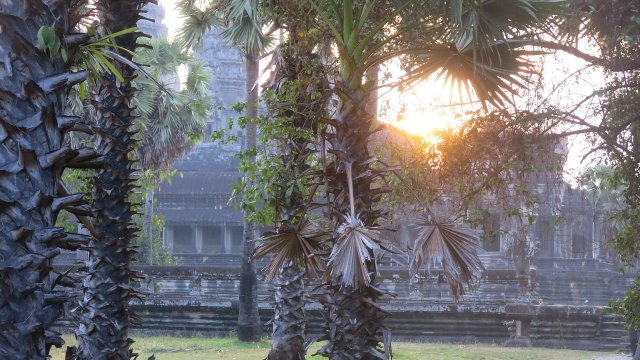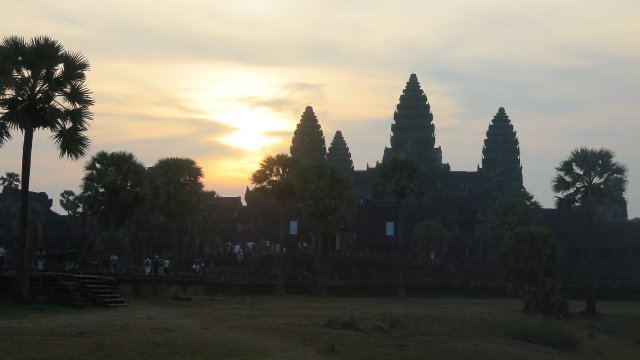 Wandering the Temple grounds under full dawn light.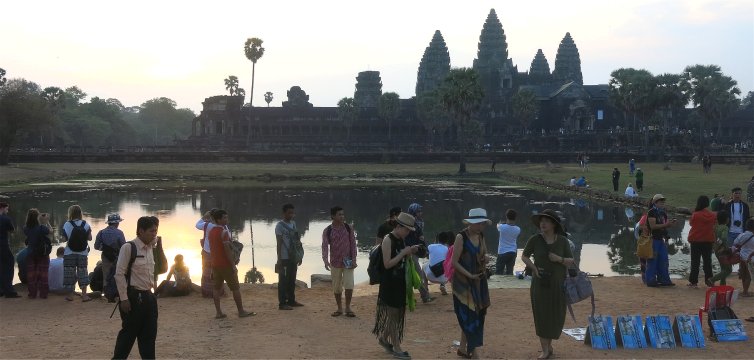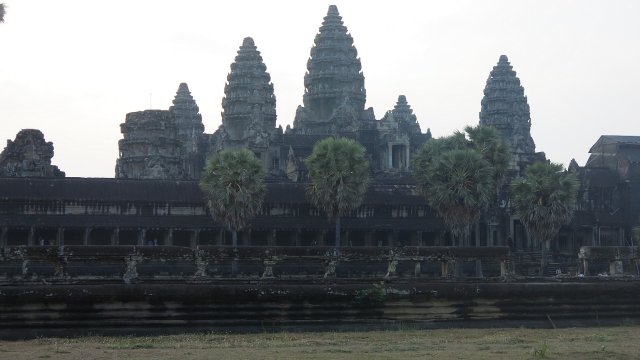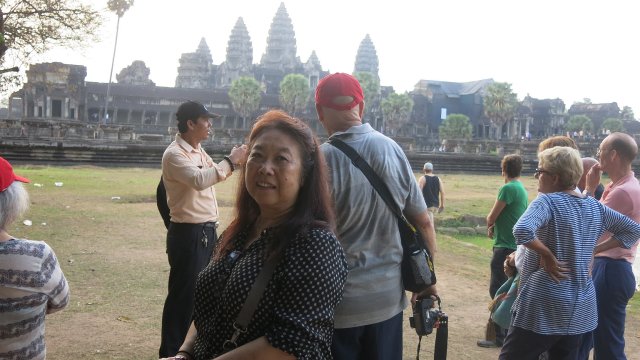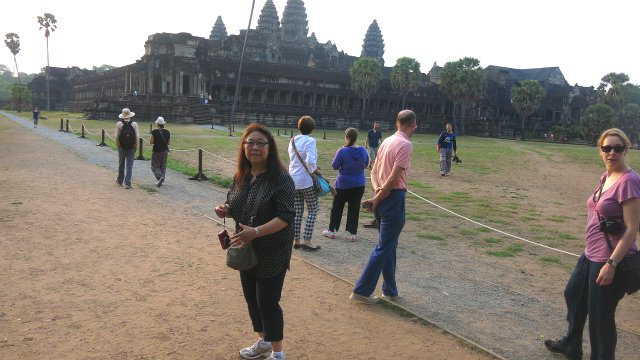 We dodged our way around historic structures and
through throngs of sellers of souvenirs on our way to the toilet facility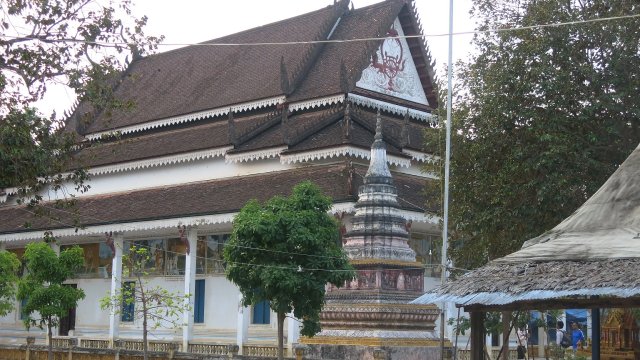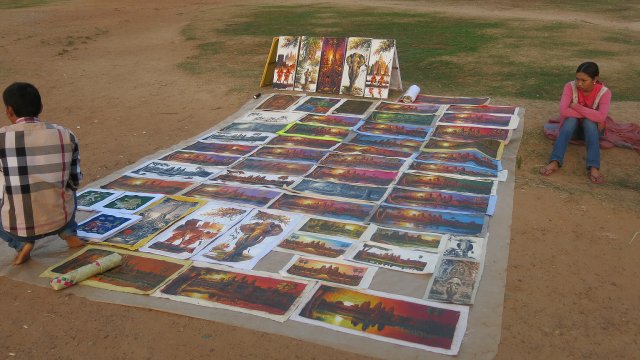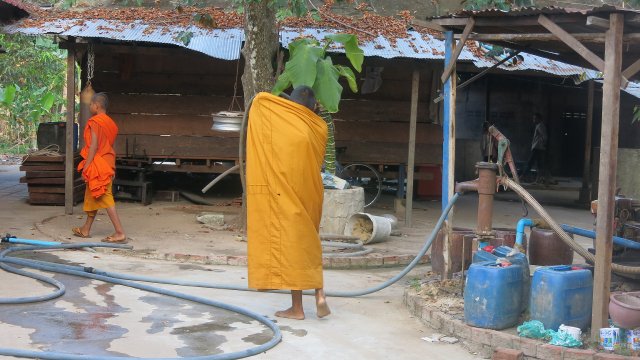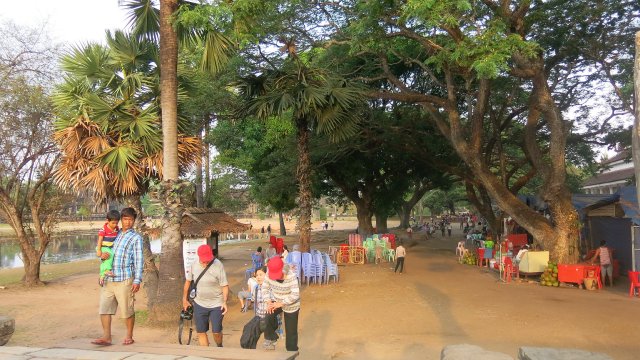 Approaching the Temple Entrance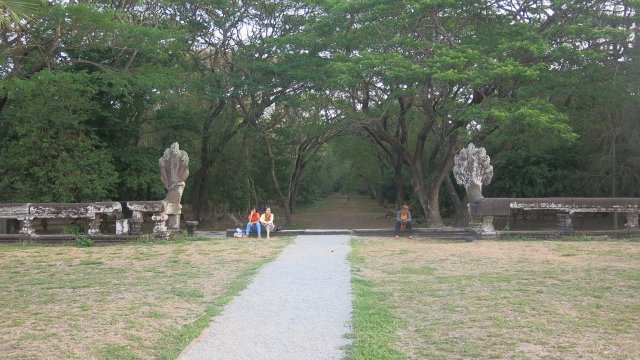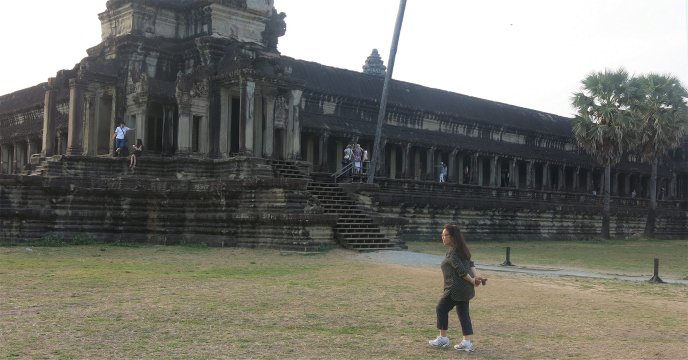 .
.



.
TO MAIN INDOCHINA PAGE


Copyright 2015
Bill and Sue-On Hillman
hillmans@wcgwave.ca