Presents
JAMMIN' WITH BOBBY CURTOLA
AT THE KEN DANIELS CANTINA
March 7, 2002
www.hillmanweb.com/jamathop.html

Canada's Rock 'n' Roll Legend, Bobby Curtola, is now a frequent visitor to Brandon's Cantina - a private haven for musicians living in the area or for road musicians just passing through. The Cantina was built ten years ago by university professor Ken Daniels, bass player, singer, music aficionado, and generous host to the countless musicians who have visited this unique establishment. The Cantina is filled with an amazing collection of sound and lighting equipment, instruments and computers, as well as memorabilia from the far corners of the world. The most unique feature of this musician's retreat, however, is its construction: the walls of the building are made of straw bales covered with stucco -- all done in the style of a Mexican adobe cantina.

The photos below document Bobby's first visit to the club and what turned out to be one of the Cantina's most exciting and unusual evenings.

After a meal at our house during which Bobby and I relived the good ole days -- I toured with him back in '63/'64 as part of his backup band, The Dovermen -- we moved over to the Cantina for what was to be a 5-hour non-stop jam session. Most of our regular Thursday night jammers were there: Ken Daniels (bass), Doug Matthews (synth, Hammond, guitar), Johnny "Boomtown" (drums), our son Robin (bass, drums, trombone), Sue-On (drums, keys), and myself (guitar), as well as numerous drop-by musicians and friends.

The songs, memories and excitement were non-stop but sometime -- long after the witching hour -- we called Bobby's longtime manager and business partner, Robert "Elvis" Hubbard, to the stage to join us in some Elvis tunes. A crowd of other friends soon joined the two Bobbys around the mike and as the beat got a little more frantic the whole mass of singers broke through the stage floor - an hilarious finale to this unforgettable evening. The final photos on this page show the jam survivors gathered around the chunk of stage that had given way under the weight of too many rock 'n' rollers. Bobby et al signed the stage piece and it now has a revered spot on the Cantina's "famous visiting musicians" wall.
A Sad Note:
Bobby Curtola passed away on June 4, 2016.
Our Memories of Bobby are featured on our
BOBBY CURTOLA TRIBUTE SITE
www.hillmanweb.com/curtola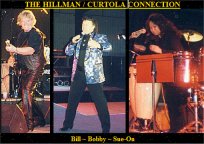 at
MEMORIES
www.hillmanweb.com/curtola/memories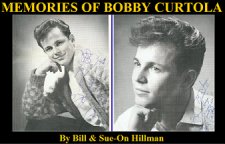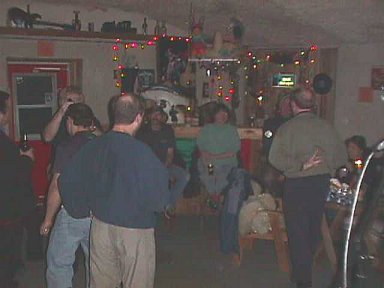 .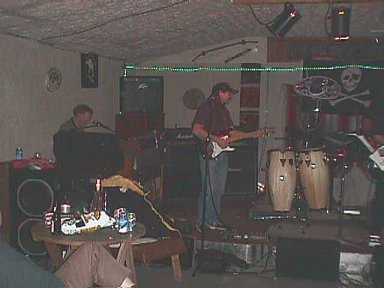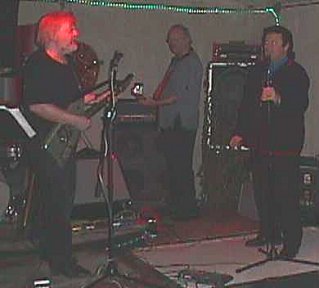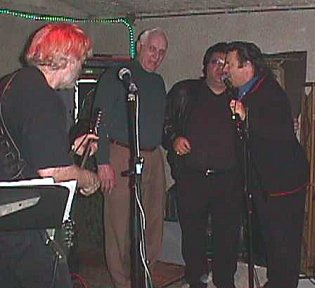 Bill, Ray, Robert and Bobby - Cantina finale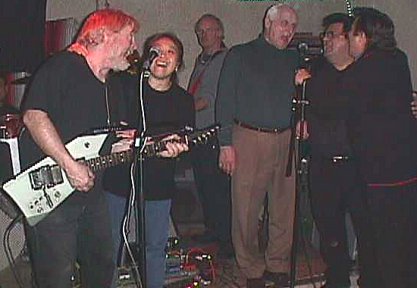 .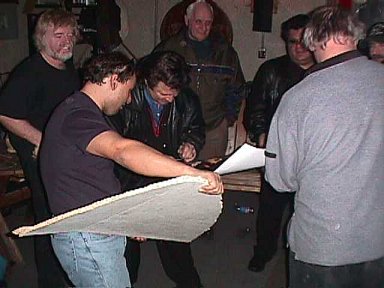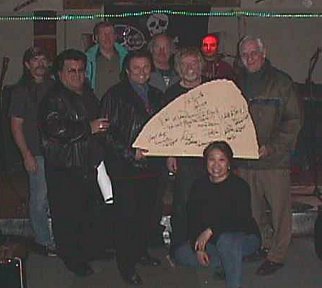 The Cantina jammers with the autographed stage piece they had just fallen through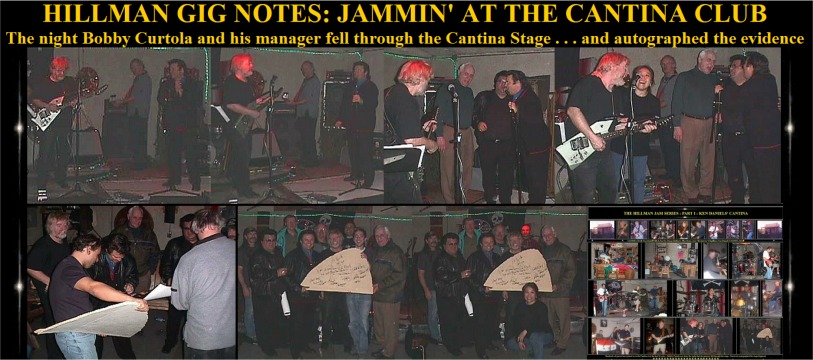 Click for full-size collage images


Bill and Sue-On Hillman present
A Tribute to Canada's Rock & Roll Legend
Bobby Curtola Library of Rock 'n' Roll History
The Hillman / Curtola Connection
On Tour with the Dovermen
Bill Hillman Remembers Dovermen
Bobby's Sock Hop Reunion | Sock 2 | Sock 3 | Sock 4 | Sock 5 | Sock 6
Jammin' with Bobby At The Cantina
BILL and SUE-ON HILLMAN: A 50-YEAR ODYSSEY
Online Bio Intro
www.hillmanweb.com/book
Gig Notes
www.hillmanweb.com/book/gigs


BACK TO
THE HILLMAN MUSICAL ODYSSEY ILLUSTRATED CONTENTS


Webmaster: Bill Hillman


Bill and Sue-On Hillman Eclectic Studio
Copyright 1996-2012/2018 Bill & Sue-On Hillman, Inc.