This wonderful celebration came at the culmination of a long series of remarkable events.
When China and Scott first planned their wedding back in early 2020 before the COVID pandemic
they had no idea of the strange twists and turns that lay ahead of them.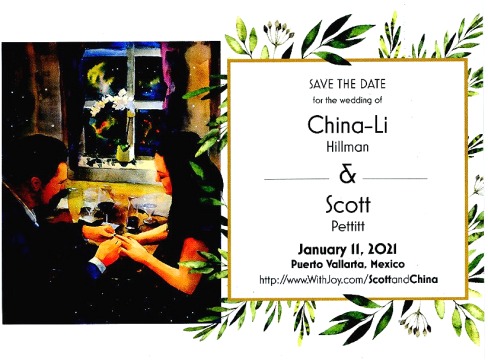 Engagement Photo and Destination Wedding Invitation
The original plans were for a Destination Wedding in Puerto Vallarto, Mexico
on January 11, 2021 [a special day for China's dad -- his birthday :) ]
These plans came to a sudden halt
when the horrific pandemic put a stop to all international travel.
Undaunted, the couple planned a series of local events which also had to be cancelled,
as the government restrictions for crowd size numbers were downsized almost daily ahead of each planned date.
Eventually, following all these frustrating cancellations
and with no idea as to when family and friends could safely get together in the forseeable future,
they went ahead with the official wedding on a sunny December winter day in the only location
that restrictions seemed to allow -- outside and far from crowds -- on the boulevard in front of their home.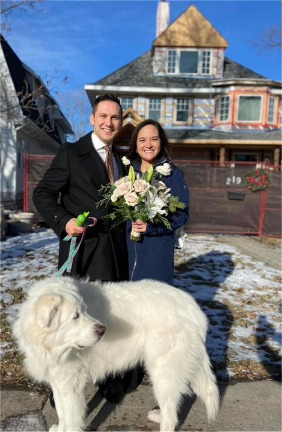 Official Wedding ~ December 3, 2020
The event was witnessed by construction workers who were making renovations on their home.
The flower girl . . . ah, flower dog. . . was their faithful Great Pyrenees, Lily.
Construction workers were on site to take photos of the event.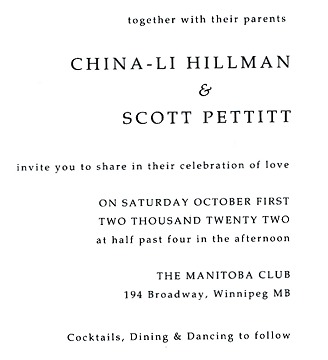 Invitation to the October 1, 2022 Celebration
When the threat of Covid restrictions finally lessened - a formal celebration was again planned. . .
this time at the historic Manitoba Club adjacent to the landmark Fort Garry Hotel in Winnipeg.
At last . . . invited family, friends and co-workers could join in the celebration and re-enactment of the official ceremony.
Over 700 official photos were taken as the proud and excited party-goers wined, dined and chatted the night away.
Countless photos have been shared on social media platforms
but the proud dad and mom of the bride have chosen to share some of their favourite photos
and memories of the event here . . . on a series of more permanent Webpages.
Each photo has been reduced from hi-res to two smaller sizes for easier Web storage and download.
Most are available, however, in higher resolution upon request.


The Wedding Venues
FORT GARRY HOTEL :: MANITOBA CLUB