THAILAND
www.hillmanweb.com/asia/gadventures/pics/thailand.html
FULL PLANNED TOUR ITINERARY IN PDF
Part of the series: Thailand ~ Laos ~ Vietnam ~ Cambodia
Note: We prepared this series of preview pages before we left on our Indochina tour.
The photos and journal entries we took on that actual tour are featured at:
www.hillmanweb.com/indochina
---
GOFLIGHT: LEAVE 7 am ~ Air 2 1/2 Stop 6 ~ Air 13 Stop 3 ~ Air 7 ~ ARRIVE 11pm :: HRS 22.5 + 9 = 32
FROM FLIGHT: 6:50 am ~ Air 6 Stop 2 ~ Air 11:30 Stop 4 1/2 ~ Air 2 1/2 ~ ARRIVE 21:10 (9:10 pm) :: HRS 20 + 6.5 = 26.5
---
BANGKOK
AIRPORT (official)
Suvarnabhumi Airport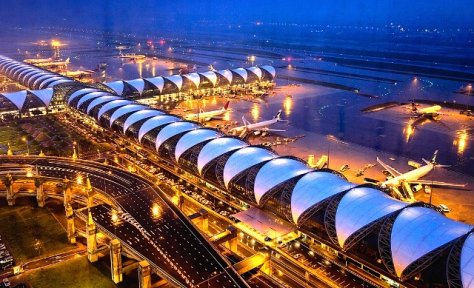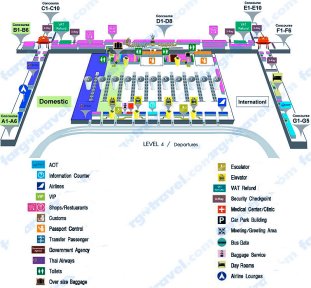 ---
DAY 0. EARLY DAY
---
CENTRA CENTRAL STATION HOTEL BANGKOK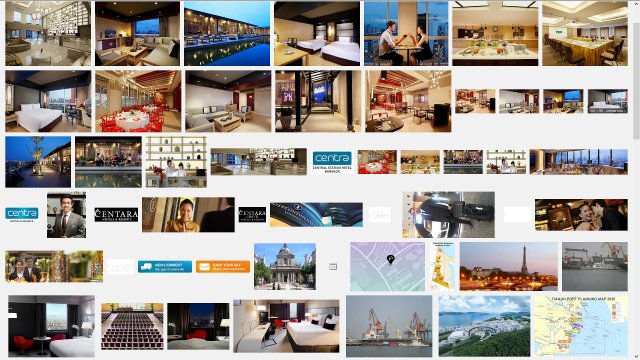 located in China Town, next to the central train station and MRT (Subway),
and is only a short USD2 taxi ride from Khao San road and
the central shopping area of Siam Square, MBK, Siam Paragon
CHINATOWN
---
DAY 1. FREE DAY
---
CENTRA CENTRAL STATION HOTEL BANGKOK
6 PM MEETING - VISA - TRAVEL INSURANCE - OPTION GROUP SUPPER
---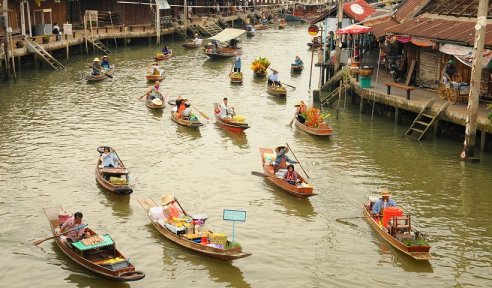 Flashy lights of a bustling metropolis in Thai capital with mouthwatering cuisine and mystic temples, widespread network of 19century canals,
Located in the central area of Thonburi, the canals are filled with gondolas selling a wide range of items, varying from clothes to artifacts.

* "Travelers often think that Thai people use chopsticks for everything," NO. "If you see chopsticks at a street stall, it just means that they're serving soup. For noodle dishes and most rice dishes, you use a fork and a spoon, and for Isaan (northern Thai food, like sticky rice and somtum papaya salad), you use your hands."
* And don't leave Thailand without trying Nam Tok Moo. "Nam Tok Moo is a beautiful warm salad with slices of pork, toasted rice powder, fish sauce, chillies, onions and more," says Ettenberg. "It's absolutely delicious with a basket of sticky rice to mop up the last drops."
---
DAY 2. BANGKOK:
---
AM one-hour long tail boat tour on KLONGS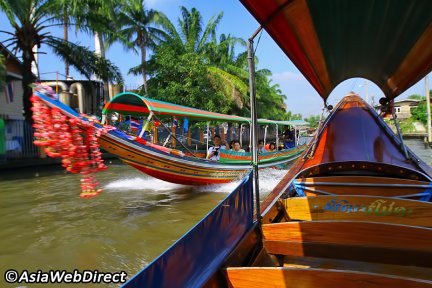 WAT PO TEMPLE
Guided Tour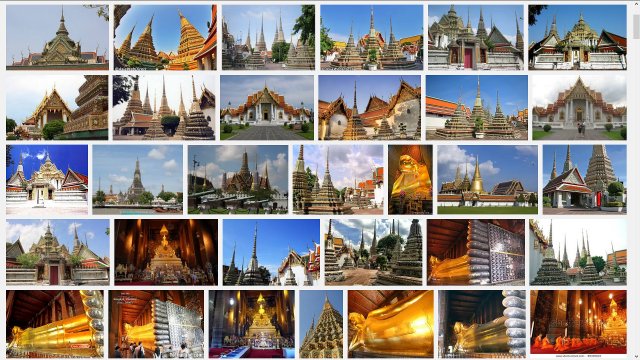 PM: FREE afternoon shopping, a visit to Grand Palace ON OWN
NIGHT TRAIN WITH SLEEPER
---
3. Chiang Mai
---
AM: All night train - morning arrival ~ HOTEL - FREE MORNING

PM: DOI SUTHEP TEMPLE - 45m Drive
- Cultural Heart Creative City Enclosed by a moat and
crumbling walls, the old city features great cafes, shops and over 300 temples.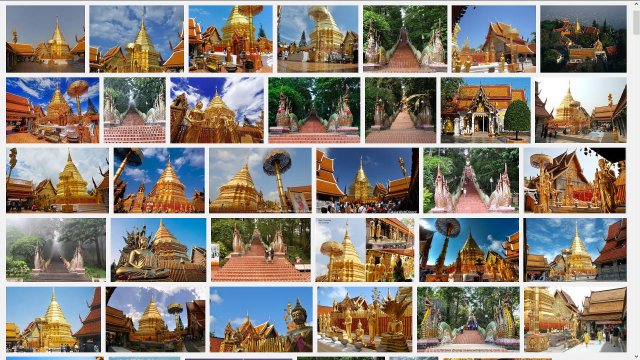 EVE: FREE Chiang Mai Night Bazaar -
Walk to: directly east of the city moat, between it and the Ping River,
on Chang Khlan Road, between Tha Phae and Sridonchai Roads.
It is known for its handicrafts and portrait paintings.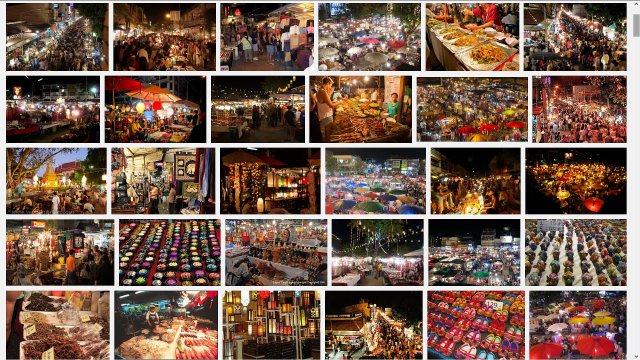 HOTEL
---
4. Chiang Kong (5-hour bus ride)
---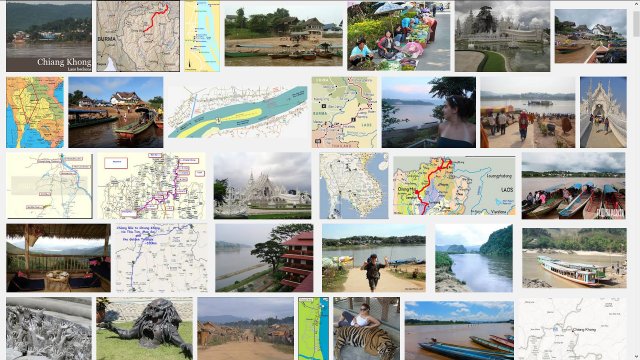 Visit WHITE TEMPLE ON WAY to GUEST HOUSE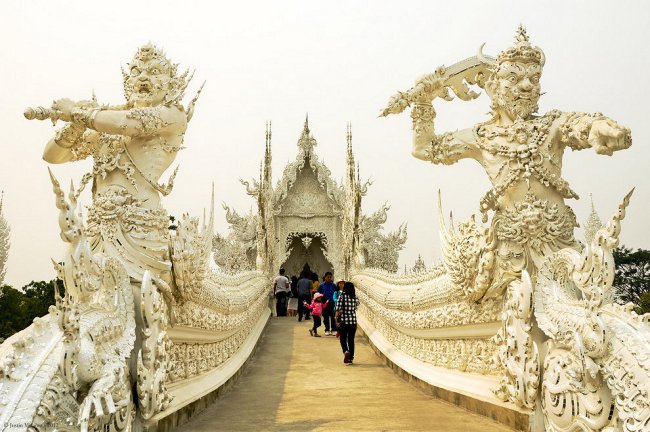 Wat Rong Khun
EVE: Wander Market
CROSS RIVER NEXT DAY TO LAOS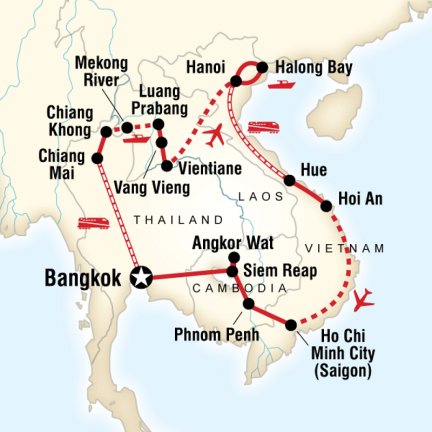 RETURN TO BANGKOK ON DAY 29

---
(CHECK DATE!) Day 29 Bangkok (B) (Fly out) MAY 1 6:30 AM FLIGHT - HOW GET TO AIRPORT?
---
REFS:
Hang Son Doong Cave

Note: We prepared this series of preview pages before we left on our Indochina tour.
The photos and journal entries we took on that actual tour are featured at:
www.hillmanweb.com/indochina
BACK TO PICS CONTENTS
www.hillmanweb.com/asia/gadventures/pics