VIETNAM
http://www.hillmanweb.com/asia/gadventures/pics/vietnam.html
Part of the series: Thailand ~ Laos ~ Vietnam ~ Cambodia
Note: We prepared this series of preview pages before we left on our Indochina tour.
The photos and journal entries we took on that actual tour are featured at:
www.hillmanweb.com/indochina
---
VIETNAM FLIGHT: Days 12-13 Hanoi (2B) (flight 1.5 hr / transfer 45m to hotel2 Old Quarter)
---
DAY 12: AM/PM: A short flight TO Hanoi, the capital of Vietnam.
---
HANOI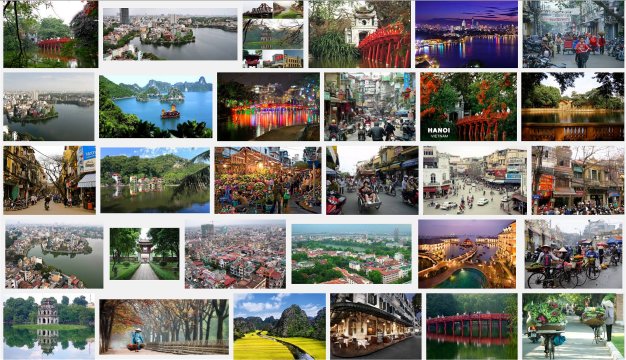 *** HONG HA HOTEL (in Old Quarter)
www.agoda.com/en-ca/hong-ha-hotel/hotel/hanoi-vn.html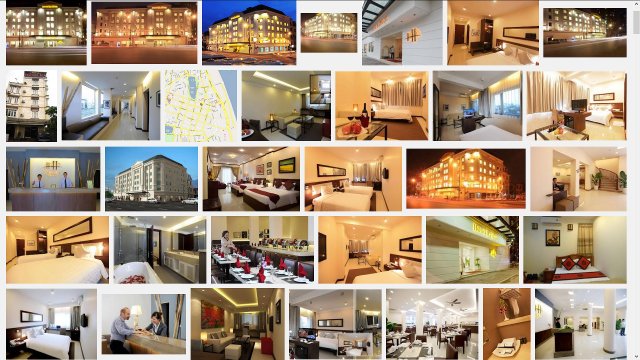 ---
DAY 13 HANOI (Ho Chi - Puppets
---
AM: Ho Chi Minh Mausoleum, his Presidential Palace and House on Stilts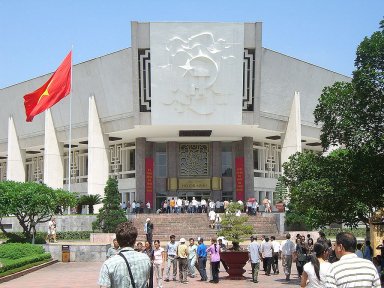 MUSEUM and PRESIDENTIAL PALACE
built between 1900 and 1906 to house the French Governor-General of Indochina.
PM FREE: Visit the Tran Quoc Pagoda, the Temple of Literature (Confucius), the Museum of Ethnology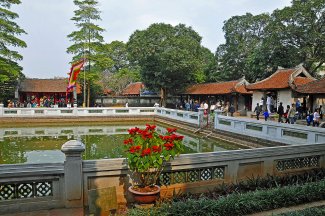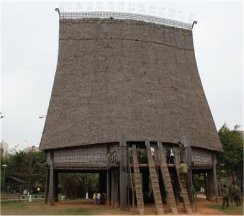 EVE: WATERPUPPETS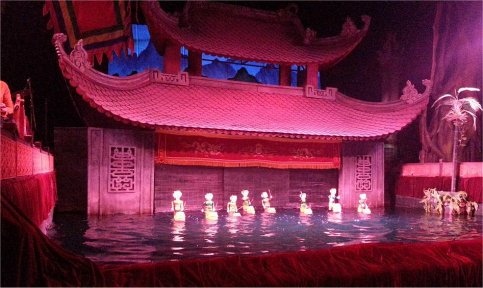 ---
Days 14-15 Halong Bay (junk sleep)/Hanoi (2B,2L,1D) (Private bus 4hr@ - to train 15m)
---
DAY 14: and Halong Bay
Sailing junk to Islands and Caves - spend night - eat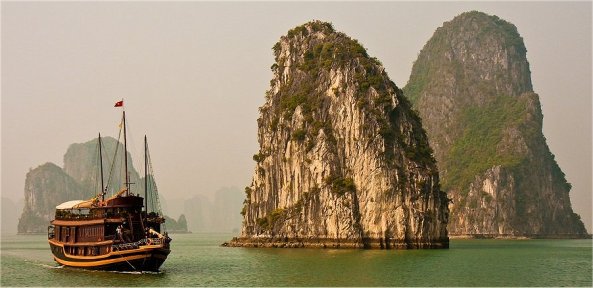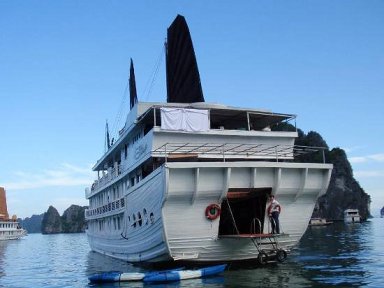 ---
DAY 15: Back to Hanoi to shop to Sleeper Train to Hue
---

15 hours - rough rolling bumpy - bunked with two others - meals and drinks seem OK but could bring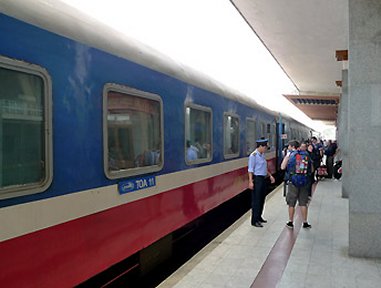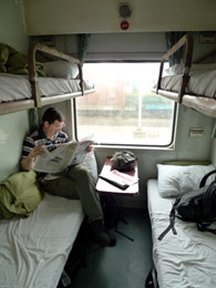 Cabin sleeps 4 people in 2 bunk beds (blue is soft - red is hard sleeper?)
4 berths, each supplied with pillow, sheet and duvet and an individual reading light. By day you simply sit on the lower berths. Expect even the newer cars to be a bit tatty and grubby but overall soft sleeper is a pleasant and enjoyable You keep all your bags with you, there is luggage space beneath the bottom bunks and in the large recess above the compartment door. Lower berths are recommended if you're tall, as the upper berth has a support chain taking up an inch or two at each end. 2-pin power socket for recharging your mobile or camera, western-style toilet with soap and toilet paper at one or both ends of the corridor. Several windows on the corridor side open, useful for photography, but the compartment windows don't open. There's a free water dispenser at the end of the corridor for both boiling and cold water, handy if you have bought some powdered soup, instant coffee or hot chocolate with you, or have bought some dried noodles from one of the stalls at the station. A trolley service comes down the train serving snacks, coffee, soft drinks and beer, and at meal times a member of the train staff will sell you a meal ticket for around 35,000 dong (£1 or $1.60). A set meal with mineral water will then be delivered to your compartment around half an hour later from the kitchen car. At night, you'll find a lock and usually an additional security lock on the door.
---
Day 16 Hue (1B) (Arrive by Overnight train to hotel 15 hrs)
---

AM: Arrive early - Check into hotel - to Pagoda
HUE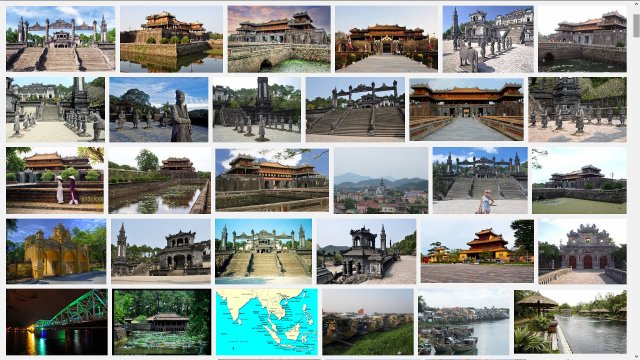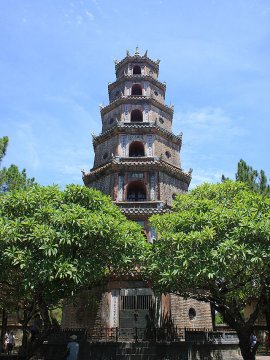 Tien Mu
Pagoda
Visit Emperor Tombs
PM: Country free time -
EVE: Eat and Explore
---
Days 17-19 HUE to Hoi An (3B) (PM Drive 4 hrs)
---
DAY 17: AM: HUE - ruins of the Imperial City Citadel :: Reviews


Based on the Forbidden City in Beijing but needs repair - war bombing etc.

NOON: crossing over the Hai Van Pass, with fantastic views in all directions, we will stop at Lang Co Beach
drive to Hoi An - old trading port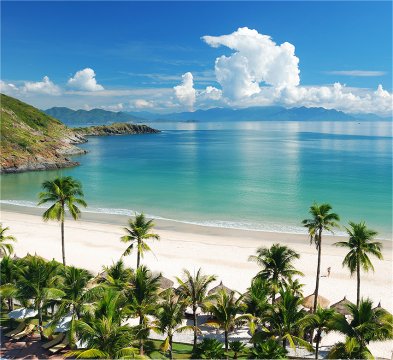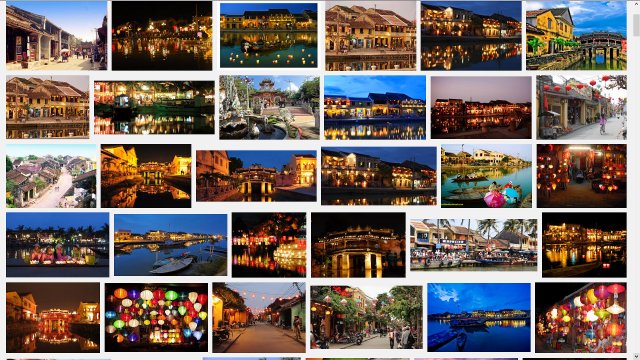 ---
DAY 18 and 19: HOI AN HOTEL
---

walking tour of this living museum which includes the Museum of History and Culture,
the Tan Ky house, the Japanese bridge, the Fujian Assembly Hall and lunch at a riverside restaurant
Shopping Mecca - Tailors
HOTEL
---
Days 20-21 FLY to Ho Chi Minh City (2B) (45 m Transfer - Flight 1 hr - transfer 30 m to Hotel)
---
DAY 20:
Drive to Danang for the flight to Ho Chi Minh City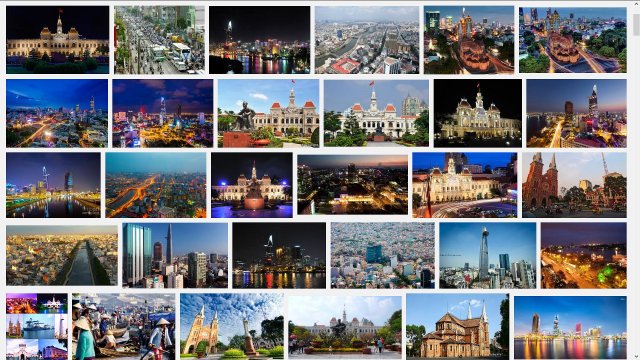 - transfer to Hotel
*** GOLDEN ROSE HOTEL
www.goldenrosehotel.com.vn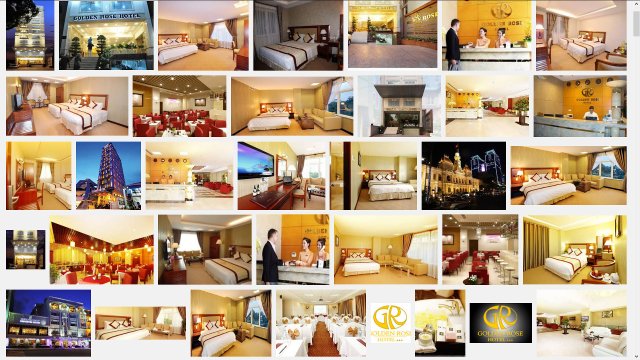 ---
DAY 21: SAIGON
---
AM: CU CHI TUNNELS: A complexed network of tunnels 90 minutes from the city - REVIEWS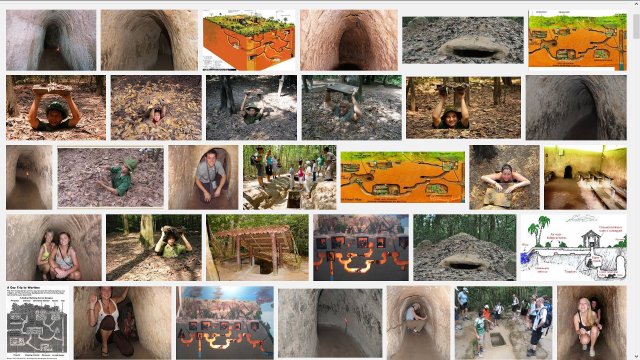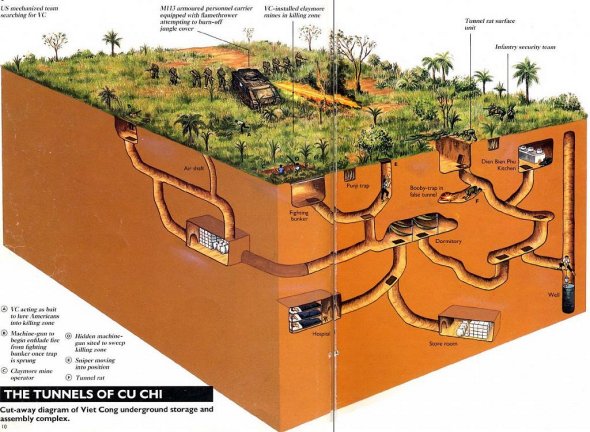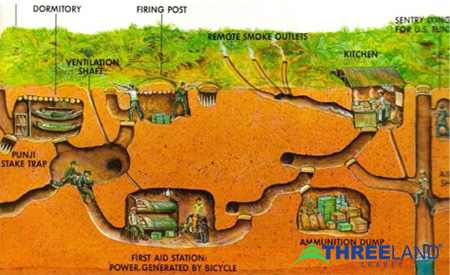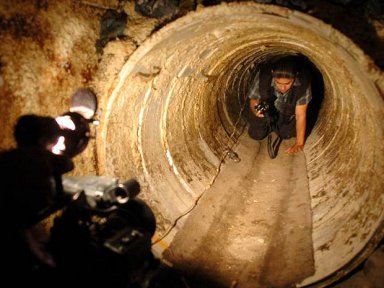 Long trip out of Saigon - access through jungle - touristy - very hot and crowded unless get there early could be rushed -
booby traps - craters - not for large unfit people - squat walk and crawl - 20-40-70 metres
Tight hot dirty claustrophobic Kitchen where serve tapioca/peanut butter - Hospital - shooting range 10 for $20 - 1967 communist propaganda film - mosquitos -
Amateur displays - Vin Moc tunnels further north better and more realistic - souvenir shops with ice cream ~ making rice paper
The first one has a small entrance, but the exit is close by. The second is easy to get in & out of. The third one has a long way & a short way. The short is very short.
PM: FREE visit the Thien Hau and Giac Vien pagodas and Ben Thanh Market.
Reunification Palace, the residence of the presidents of South Vietnam before 1975,
Cholon (Gou lon Big Market), Chinese quarter War Remnants Museum (War Crimes).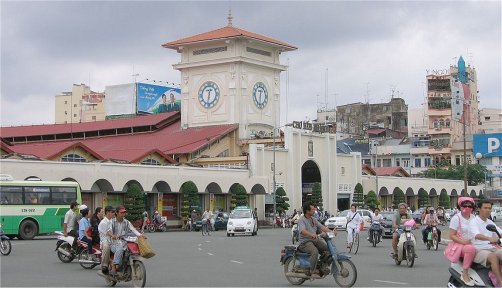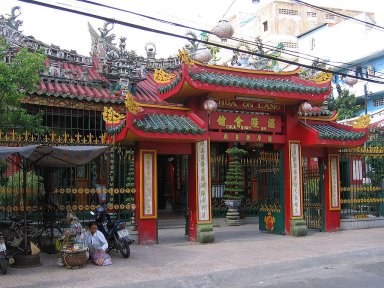 Ben Thanh Market
---
Day 22 Mekong Delta Day Trip (1B) (Round trip 4 hrs)
---
DELTA BOATS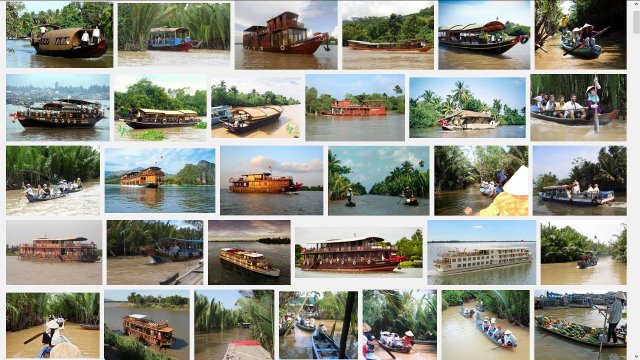 lifestyle, floating vendors and small industrial boats ~ Food ~ Sightseeing
Back to Saigon hotel in time for supper.
Leave on bus for Cambodia next morning
ON TO CAMBODIA
www.hillmanweb.com/asia/gadventures/pics/cambodia.html
---
BACK TO PICS CONTENTS
www.hillmanweb.com/asia/gadventures/pics
Note: We prepared this series of preview pages before we left on our Indochina tour.
The photos and journal entries we took on that actual tour are featured at:
www.hillmanweb.com/indochina