A COUPLE OF
COUNTRY SLICKERS
by Joan Sadler
TRIB MAGAZINE: May 31, 1980

Bill and Sue-On Hillman mix teaching careers with raising a family and their first love - country music. They have toured in England where their kind of music is much in demand, and have several albums to their credit.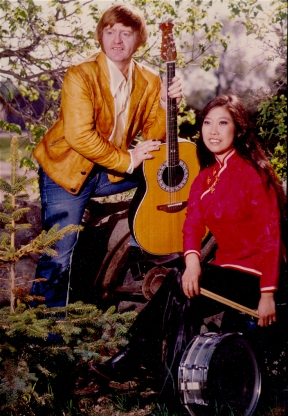 Entertainers Bill and Sue-On Hillman came into Winnipeg one night
last March expecting to spend a pleasant evening watching other people pick up the prizes at the Manitoba Annual Country Awards presentation.
Sure, the singing, playing, songwriting couple from Strathclair had been nominated themselves, but the Hillmans really didn't expect to win. After all, they hadn't played Winnipeg enough to make a name
for themselves yet.
So it was an unexpected thrill when they heard their names
announced as winners of the evening's top accolade, the
entertainer of the year award, says Sue-On, 31.
She and her 36-year-old husband took the top honors on the basis of their 1979 single, One Night Stand, which reached the top 10 on Winnipeg's country music charts. The song, which Bill wrote, was their first province-wide hit.
The Hillmans have been performing together ever since their marriage 14 years ago. He plays guitar and sings, she is the singing drummer and a third band member, Kevin Pahl, plays keyboards.
==>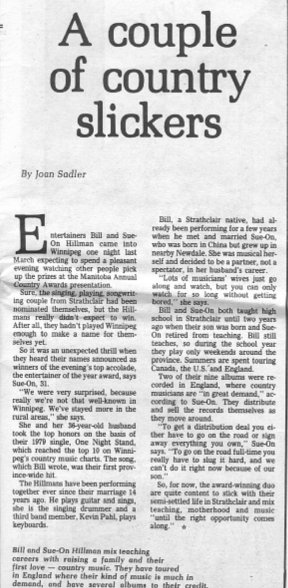 Click for large image
Bill, a Strathclair native, had already been perfoming for a few years when he met and married Sue-On, who was born in China but grew up in nearby Newdale. She was musical herself and decided to be a partner, not a spectator, in her husband's career.
"Lots of musicians' wives just go along and watch, but you can only watch for son long without getting bored," she says.
Bill and Sue-On both taught high school in Strathclair until two years ago when their son was born and Sue-On retired from teaching. Bill still teaches, so they play only weekends around the province. Summers are spent touring Canada, the U.S. and England.
Two of their nine albums were recorded in England, where country musicians are "in great demand," according to Sue-On. They distribute and sell the records themselves as they move around.
"To get a distribution deal you either have to gon on the road or sign away everything you own," Sue-On says. "To go on the road full-time you really have to slug it hard, and we can't do it right now because of our son."
So, for now, the award-winning duo are quite content to stick with their semi-settled life in Strathclair and mix teaching, motherhood and music "until the right opportunity comes along."