DOC and MERLE
WATSON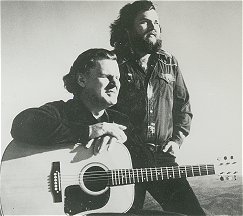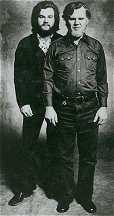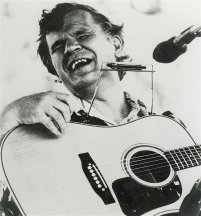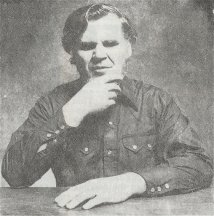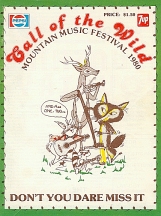 Doc Watson from the hills of North Carolina, along with his son Merle, will be appearing at the Call of the Wild Festival this year. Watson is the undisputed greatest flat top guitarist in the world today and brings to his listeners the best in old time coiuntry and bluegrass music heard anywhere. Born "Arthel" Watson in 1923 at Stoney Fork, North Carolina, th General Dixon and Mrs. Annie Watson, Doc picked up his name in an interesting way. It seems that he was to do a radio sho with Paul Greer from a local furniture store on Saturday and the announcer felt his name was too difficult to pronounce. A lady who was listening outside said "Call him Doc," and that name has stuck.

Doc was born blind and was educated at the State School for the Blind in Raleigh. His mother was an accomplished ballad singer and his father a top banoist. Doc cut his teeth on singing at the Mount Parron Baptist Church where General Dixon led the singing. Later they recorded as a family on Folkways Album 2366. Doc's first real musical instrument was a harmonica and he received a new one each Christmas. He wasn't satisfied with just one intrument and his musical ingenuity began to manifest itself, as he later recalled:

"After I had learned to play the harmonica a little bit, my dad built a big new woodshed and granary which had a sliding door at the front. I attached a piece of steel wire to the stple driven into the doorpost and fastened the other end to the door; then by pushing the door, I could put tension on the wire thus tuning it to a bass tone, the same key as my harmonica. I sure had a lot of fun pickin' on the wire and playing the harmonica along with it, but I guess it had a kind of primitive sound."

He soon had the opportunity to graduate to a more complex instrument. When Doc was about nine, his father hand-crafted him a fretless banjo from hickory, maple and catskin. He started learning old banjo tunes and also learned to play fiddle tunes on the harmonica. About three years later he heard a cousin play guitar and was fascinated with it. "Son," his father told him, "if you learn a tune when I get back from work this evening, or maybe this week, I'll add whatever it needs to your savings and buy you a guitar." By nightfall, Doc had taught himself to pick When the Roses Bloom in Dixieland as he had heard it played on a Carter Family Recording. He learned many Carter Family songs from them: Beaumont Rag, Victory Rag, Little Darling, Pal of Mine, I'm Thinking Tonight of My Blue Eyes. Granny Lottie Watson taught the aspiring young singer songs that she had preserved: Tom Dula, Talk About Suffering, The Wagoner's Lad. Doc's later version of Tom Dooley was based on the song that Granny Lottie taught him. Her mother-in-law, Doc's great grandmother, was Betsy Tiplett Watson, who knew the individuals in the Tom Dula murder case. Tom Dula, who lived a few miles from Doc's home, was hanged in 1866 for the murder of Laura Foster. There were other influences, closer to home, besides the radio shows and the recordings by singers as diverse as Merle travis, the Mississippi Sheiks, Frank Hutchison, Alfred Karnes, and Jimmie Rodgers. A constant source of music was the Christian Harmony hymnal, first published in 1866 by "Singin' Billy" Walker. The Christian Harmony sold three-quarters of a milliion copies, had a place beside the Bible in Appalachian homes, and Doc was never far from its influence.

A neighbour, Olin Miller, taught Doc finger-style guitar picking in about 1939 and from Miller he learned such songs as Memphis Blues. About three years later, Doc met and married Miss Rosa Lee Carlton. Her father, Gaither W. Carlton, was a mountain fiddler who passed on to his son-in-law a treaure of traditional songs; among them, Georgie and The Old Man Below. After his marriage, Doc began to perform more with groups, but not yet on a professional basis. It was not until he was 29 that music became a paying proposition, as he later recalled:

"In 1954 I met a man from Johnson City, Tennessee, whose name was Jack Williams. He came to my house that summer and when he heard me play the guitar, he said, 'Doc, let's start us a little band. We'll get you an electric guitar and I'll teach you a few of the old pop standards.' Jack and I worked together for eight years, sometimes with a five-piece band and sometimes four. We played in V.F.M. clubs and for lots of other organizations in eastern Tennessee and western North Carolina. The Music we played was a combination of Rock and Roll, Country and Western, Old Pop standards and a few of the old square dance tunes."

Doc made his first trip north in 1961 and appeared with Ashley at a Friends of Old Time Music Concert in New York. The next year he played both the Ash Grove in Los Angeles and Gerde's Folk City and in 1963 shared a bill with Bill Monroe at New York's Town Hall. He was very much demand and his 1963 performances at the Newport Folk Festival are still talked about.

Throughout the 1960s, as the folk movement waned, Doc made a series of fine recordings for Vanguard and introduced his son Merle as an extremely competent second guitarist and banjoist. Especially on BALLADS FROM DEEP GAP (VSD 6576), their picking together demonstrates the empathy two performers can share -- the degree to which they can anticipate each other's moves is at times uncanny. Merle, like his father, has taught himself but it's tempting to believe that there is some kind of genetic transference at work. "When Merle picks something," Doc has said, "he either won't pick it, or he'll pick it with some feeling . . . that's three-fourths of it right there." The same might be said for Merle's father. As the Sixties rolled on and folk music was largely discarded and replaced with a rock resurgence, Doc continued to play his music, regardless of whether or not it was fashionable. His was not as prominent a name as it had been but he kept his music honest. Some of his contemporaries finally gave into rock's siren call and tried to electrify and supercharge their music, but mostly they came to regret the results. Still there was always a Doc Watson audience, eager to hear this unassuming North Carolinian and his incredibly fluid picking style and his genuine warmth and felling. When it came time for the country music revival of the early 1970s, Doc was there again and, without calling attention to himself, he was looked to for leadership. A generation of young guitarists learned from him, just as he had looked to Merle Travis and the other pioneer pickers in his youth.

A watershed of sorts for traditional country and folk music occurred in 1971 when Doc finally got the chance to sit down and pick with his idol, Merle Travis. The occasion was a historic gathering in Nashville of some of the pillars of C&W: Watson, Travis, Maybelle Carter, Earl Scruggs, Roy Acuff, and Jimmy Martin got together with the Nitty Gritty Dirt Band to re-create some of country music's finest moments. The sessions yielded a much-acclaimed triple album (released in 1972 as WILL THE CIRCLE BE UNBROKEN, UAS 9801) that introduced Doc's talents to yet another generation. Not too surprisingly, Doc emerged as the "star of the stars" and his work eclipse that of his idol Merle Travis. Watson, it soon became apparent, was there to create not to re-create. His songs showed that he's an artist who's still willing to learn, to assimilate, to improve on the past. Only a genius could possess Doc's technical ability with the steel string guitar, an ability to play anything from classical guitar to avant garde jazz, from fingerpicking blues to the svelte country swing of Chet Atkins and Merle Travis -- and all with a flawless grace and perfect balance.

Fifteen years after being "discovered" in 1961, the pride of Deep Gap, North Carolina, has been instrumental, through his sweet, clean flatpicking and unvarnished singing, in keeping old-time country music alive and healthy 50 years after its heyday. "Son," he told a reporter (to Doc, anyone younger than he is "son"), "let me just say this. We still include a lot of the old-time music in our sets and the people still love it. We get more work now than we can handle, so I have to say the old-time music is treating us just fine." To understand Doc's background is to know just how true that observation is. His blindman-gets-discovered-and-makes-good success story is not just another PR hype to inflate a good musician in to a living legend. Doc and his history are as real as the Blue Ridge Mountains he has called home for his 53 years. But it's Watson's ability, considerably enhanced by his son Merle's bluesy accompaniment, to deal with it all that is outstanding. Together the Watsons represent just about the ultimate in stylized picking -- Doc with his intimidating speed and flair and Merle filling in the gaps with slide-style solos so economical and appropriate that a rock musician might build a career on any one of them. If he gets any better, it'll be impossible to dispute the claim made by some critics (and many fans) that Doc Watson is the finest guitar picker working in America today. He's already an invaluable contribution to this country's musical history and I keep having the nagging feeling that this man hasn't yet even reached his stride. What would perfect to others is but a warm-up to Doc Watson.