Bill and Sue-On Hillman: A 50-Year Musical Odyssey
www.hillmanweb.com/book

HILLMAN INDOCHINA ADVENTURE

PAGE ELEVEN:
WHITE TEMPLE
Wat Rong Khun in Chiang Rai
www.hillmanweb.com/indochina/thailand/t11.html

Artist Chalermchai Kositpipat started work on the White Temple in 1997 and has so far spent THB40 million of his own money on the project -- and it is still in a state of ongoing construction. He re-imagines Thai art for the modern world through his surreal vision of Buddhist teachings. The use of white in the temple symbolizes the purity of Lord Buddha and mirrors embedded in the structure reflect light, representing the Buddha's wisdom shining out across the Earth and the Universe. The exception is his choice of gold for the restroom to indicate worldliness, resulting in the most luxurious toilet in the kingdom.

Superheroes, movie stars and cartoons, which include Superman, Spiderman, Michael Jackson and Harry Potter, are found in temple murals depicting traditional Buddhist motifs. Fantastical sculptures and architecture cover the landscape. Every detail of Wat Rong Khun carries deep religious symbolism as most of the temple's messages refer to escaping desire, greed and passion and moving toward the sublime through Buddhist teachings.

The complex was damaged by the May 2014 earthquake and was closed for a short period of time for repairs.
Bill attracted to the goulish red skulls on the traffic cones and elaborate fish pond.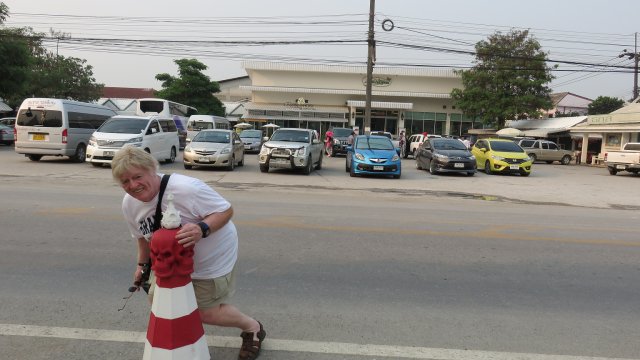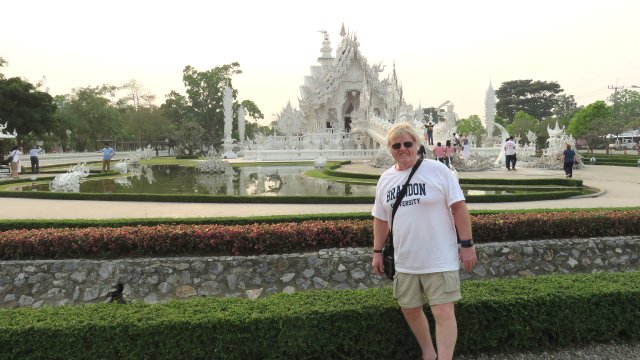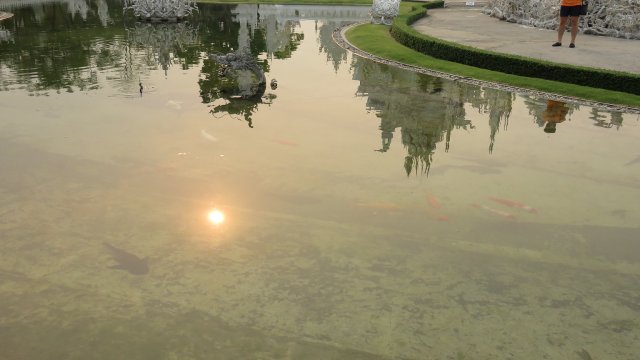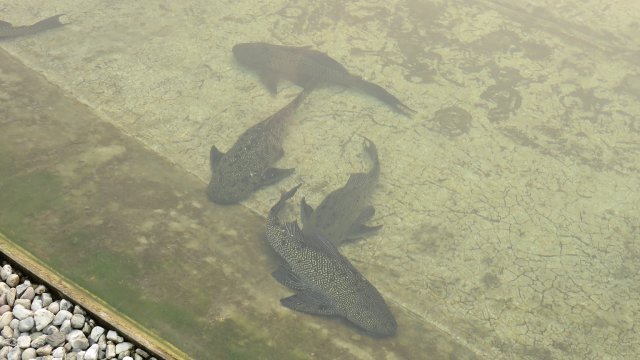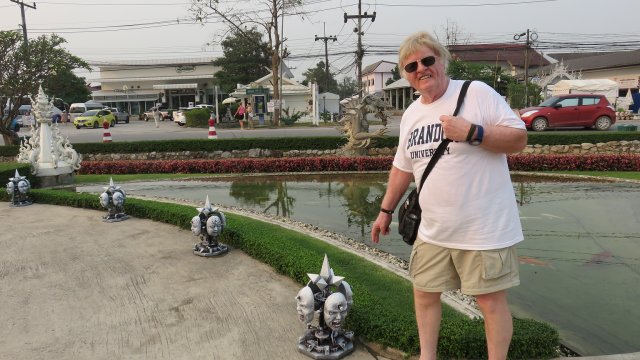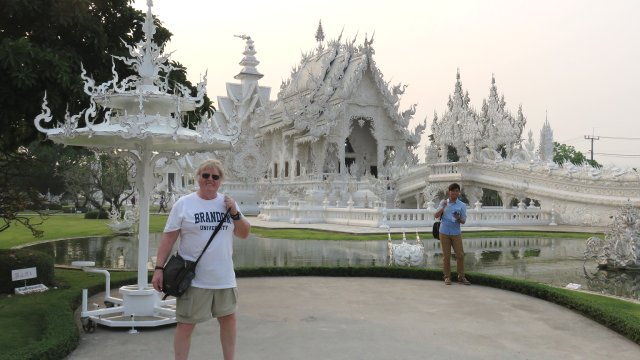 Sue-On crosses the threshold guarded by demons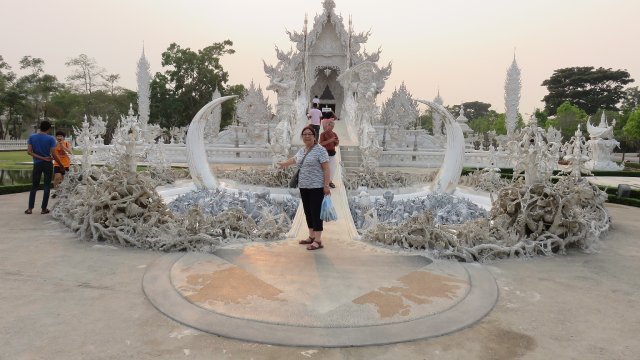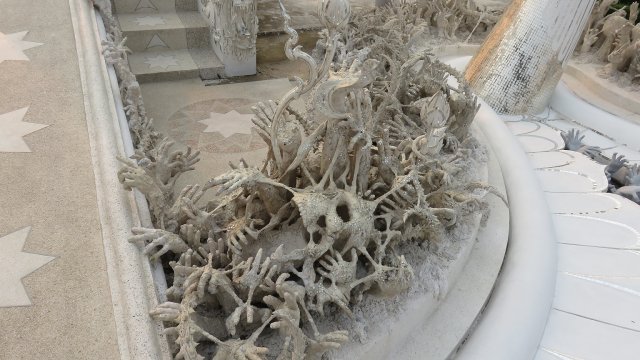 View from the bridge to the higher realm of the main temple hall
crossing over an ocean of ghostly hands reaching up from the cycle of death and rebirth.
Bowl of the suffering in the sea of hands are held up to collect alms.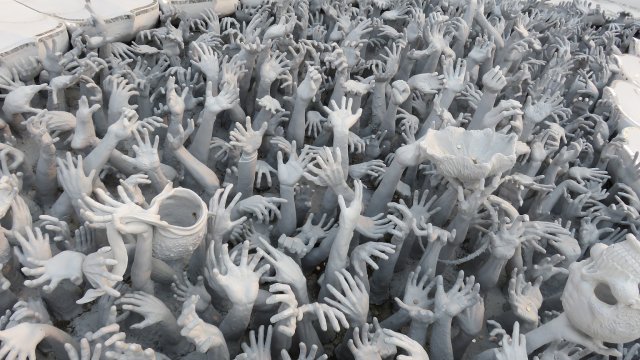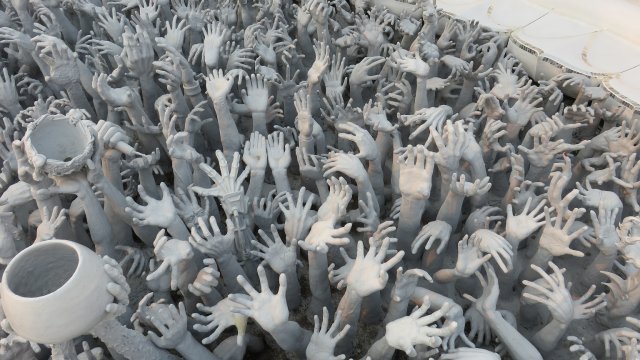 Temple entrance and mural indicating
the destructive impact that humans have had on earth.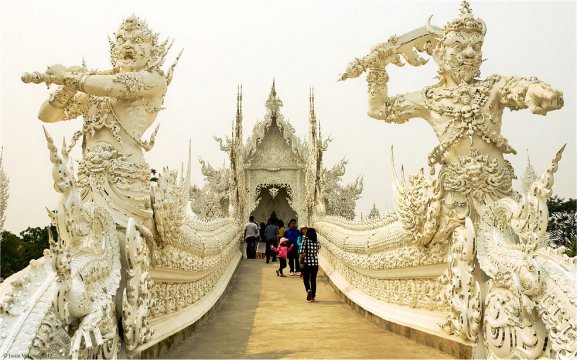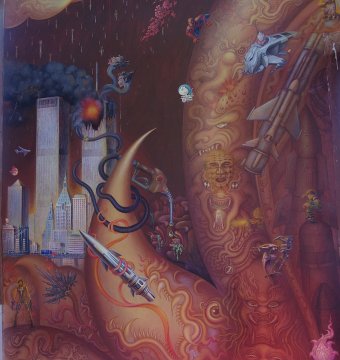 Sue-On about to enter the Temple building
which symbolizes the realm of the Buddha and rising to a state of nirvana.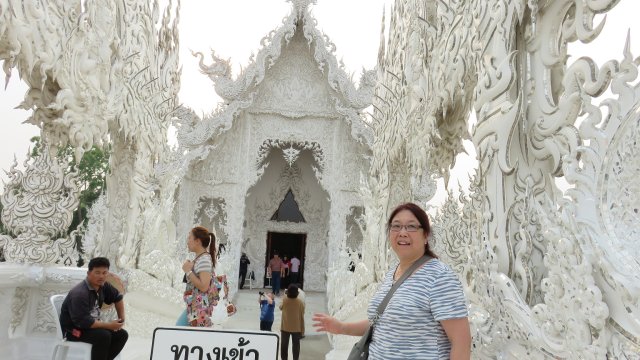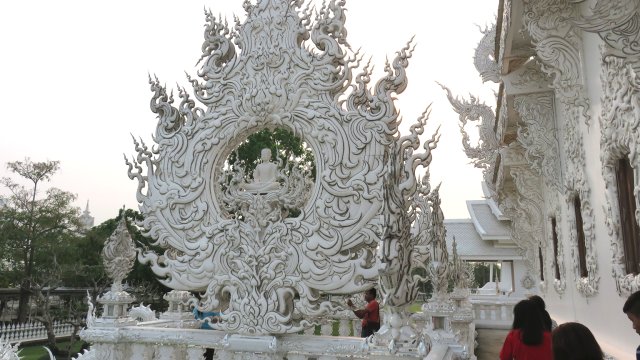 Bill leaving the luxurious gold toilets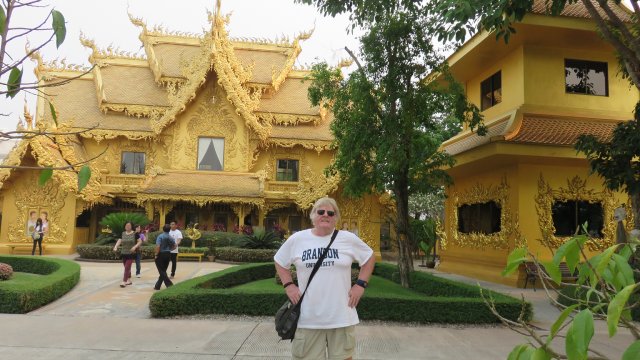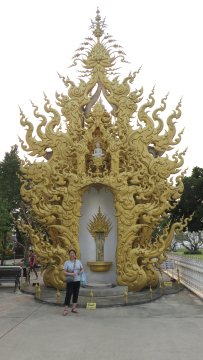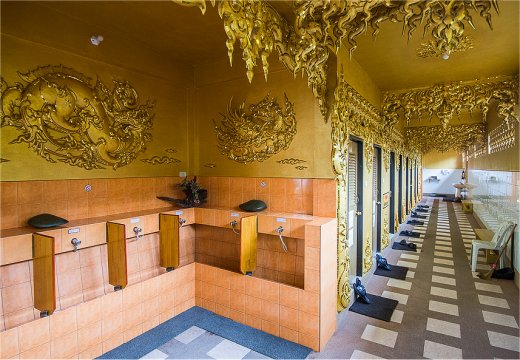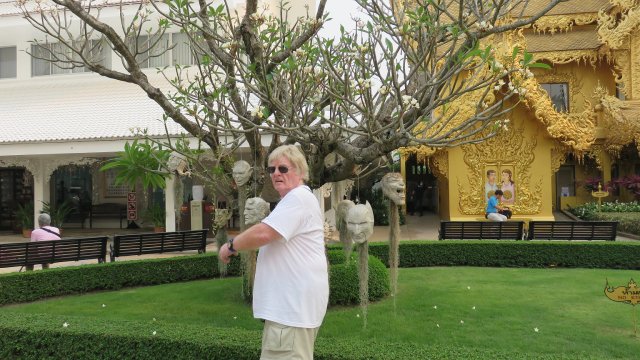 Ghastly heads sprouting spanish moss hang from trees in the temple gardens
as Predator rises up from the ground to hasten our exit.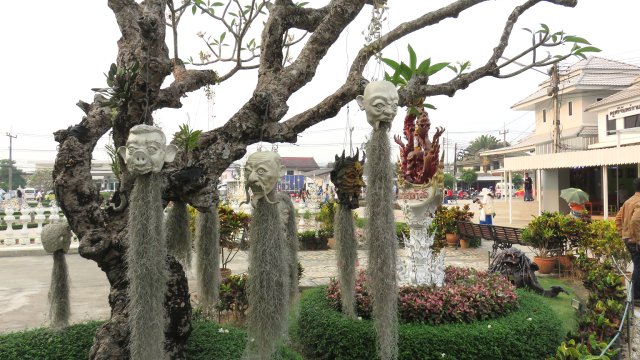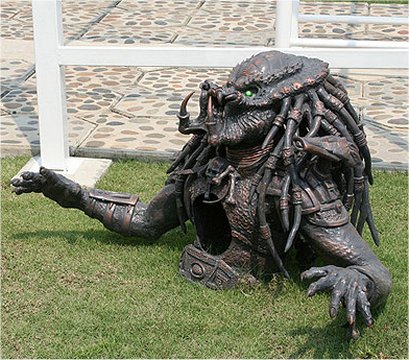 TO MAIN INDOCHINA PAGE
TO THAILAND CONTENTS





Copyright 2015
Bill and Sue-On Hillman
hillmans@wcgwave.ca