Bill Hillman's EduTech Project
presents
A VIRTUAL TOUR OF THE
BRANDON MENTAL HEALTH CENTRE
MUSEUM & GROUNDS
LEISURE TIME & RECREATION
---
| | |
| --- | --- |
| | |
---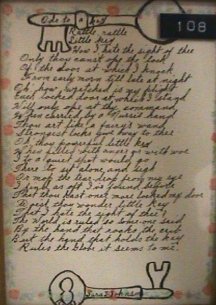 A poem written by a Paranoid Schizophrenic patient
---

A replica of Bill Jones, Insulin Supervisor,
made by a male patient, in plaster of paris.


Soap dish stamped
"Asylum for the Insane"
---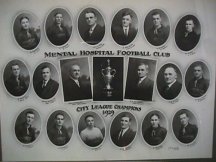 The staff had a football team called the Mentals.
They won many city championships
---

A Bible carved from marble by a patient.
A whistle used by female staff to call for
help from the male wing if they had a problem.


These keys made by patients to escape.
They sometimes cut a key from a sardine can and
added more to itto duplicate a key for their ward.
---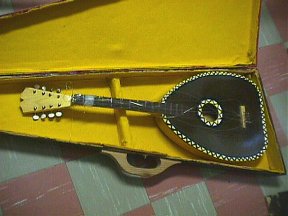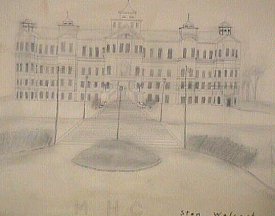 Hand-made instrument and artwork done by patients
---

Weapons made by patients
to protect themselves from the staff
or from other patients.


The straw hat in this medical display
was woven by a patient
who took the straw from the fields on the farm.
---

Organ and Pulpit
This old pump organ used to be up at Norwood Gardens.


Autoharp, Organ and
Inspirational Sheet music.
---
| | |
| --- | --- |
| Entertainment was often provided in the auditorium | Part of the hospital library |
---
BMHC WEB TOUR DIRECTORY
Please Note: The Museum is temporarily closed. Actual tours are no longer offered at this time.
www.hillmanweb.com/bmhc
Photos and Webpage Design by Museum Volunteer Bill Hillman
Copyright 1999-2013
.
WebMaster: Bill Hillman