BILL AND SUE-ON HILLMAN: A 50-YEAR MUSICAL ODYSSEY
www.hillmanweb.com/book
Present
www.hillmanweb.com/rglp1.html
A MUSICAL ODYSSEY
THE FEDERAL GRAIN TRAIN STORY
RUSS GURR ALBUM VOLUME I
"The Federal Grain Train"
From the Russ Gurr Archive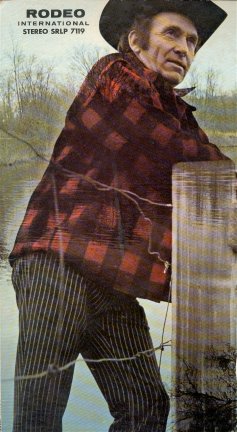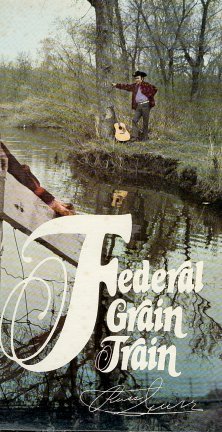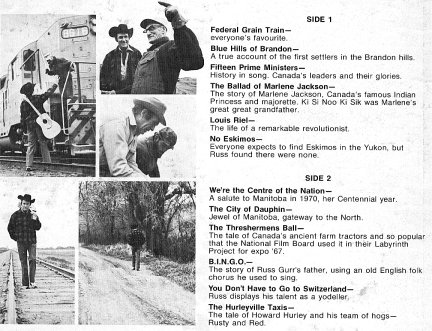 Russ Gurr, the Singing Farmer
Federal Grain Train Album ~ Rodeo International SRLP 7119 Liner Notes

Sometimes, without anyone knowing why, an obscure song captures the imagination of everyone. This is the story of Russ Gurr's "Federal Grain Train." Everytime he played it, everyone wanted to know where the record could be bought. Thus, album was born. Who is Russ Gurr? Born in the tiny town of Arrow River, Manitoba, Russ began singing at the age of 6. By the time he was 17, he had won his first major singing prize performing his own composition. Though a professional song writing and singing career beckoned, Russ chose the life of the land and began farming. At the same time, he established himself as a favourite entertainer at local events -- singing both classical and western favourites. Working on his 1500 acre grain farm just outside of Brandon, Russ often found himself composing and singing as he worked. His spare time was devoted to voice training and music studies. In 1967, he signed a contract with Federal Grain, and he's never looked back since. IN the past three years, Russ's popularity has spread like Western Wildfire. He's appeared at rodeos, fairs and celebrations all over Western Canada and everywhere he's gone, Russ has left them singing "The Federal Grain Train." Russ Gurr then, is the farmer next door, with a distinctive talent. And if you are an enthusiast of real toe-tapping, Twangy Western music, this album is sure to be a favourite. (Arranged and conducted by Dave Shaw / Produced and engineered by John Hildebrand / Recorded at Century 21 Studios / Distributed in Canada by London Records of Canada (1967) Ltd.)
THE FEDERAL GRAIN TRAIN
By: Russ Gurr
Oh we're'the Federal Grain Train (Chorus) We're the Federal Grain Train
Bringing music in the air (Ch) Bringing music in the air
Everybody has a pass (Ch) Everybody has a pass
Come and climb on anywhere (Ch) Come and climb on anywhere
And when you hear the whistle blow (Improvise = Train Whistle = Have Fun)
Come and gather all around (Ch) Come and gather all around
For the Federal Grain Train
Has just rolled into your town
We'll have a hoedown, showdown
Come on and get your hair down
You got troubles? (Voice I) On the double!
(Voice 2 = Military Command) We can help your blues
Now the Federal Grain Train
Carries country music
To the people who are burdened and blue
And when the big wheels rattle
Right up to the station
There is bound to be a song for you
And with the engineer a fiddlin'
The "Orange Blossom Special"
And the brakeman singing "Mountain Dew"
Throw your troubles on the track
They will never be back
Once the Federal Grain Train has gone through
CHORUS
L62 16
---
THE BLUE HILLS OF BRANDON
by Russ Gurr
1. Was back in eighteen seventy nine, the middle of April the weather was fine.
A group of jolly pioneers head west.
They rode the old Red River cart, the covered wagon played its part.
The oxen too at end of day must rest.
But on then with the rising sun, their fame and fortune must be won
Until one day the far horizon grew.
They journeyed on and finally thrilled, they pitched there in the Brandon Hills
That met the sky and matched the Heavens blue.
Chorus:
O The Blue Hills Of Brandon, though the name was yet unknown
The jumping deer and buffalo for years had freely roamed.
The red man he had loved it best and now the whites had found the west
Let the Blue Hills Of Brandon be our home.
2. When hardships they were called to stand, a preacher man among the band,
The Reverend Roddick nourished every soul.
The only man to own a horse, old Bob and Baldy their names of course
Would save the weary oxen from a hole.
That preacher owned a driving mare, 'cause he'd be called most anywhere
The trails he had to ride would break your heart.
Old Nellie was the driver's name, would rattle those wheels 'til his back would pain,
But the Reverend loved that old Red River cart.
3. The Assiniboine it must be crossed, their only boat was a wagon box,
A rope must anchor on the other shore it seemed.
Old Simon McKay he volunteered, the wagon box it must be steered,
Plunged in and swam the cold and swollen stream.
Now everything had gone so nice, McPherson, Dunbar, McDonald and Rice,
Together with the preacher all aboard.
The box it started to creak and quiver and dumped them all in the middle of the river
While Simon's dying a laughing on the other shore.
4. On campfires bright they made their snacks, their home a tent 'tween two hay stacks.
Until a new log cabin they could build.
They cleared the bush and broke the sod, old Snooks and Snyder held the odds,
McPherson's yoke of oxen he would brag.
But Rice he owned a tough pair too, old Bill and Buck they'd see you through.
He'd match you on a double or nothing draw.
They settled there in those hills of blue, time rolled along, their numbers grew.
They pioneered the land and kept the law.
L6200
---
FIFTEEN PRIME MINISTERS
By Russ Gurr
1. Oh on our hundredth anniversary, would you like to make a name,
Or would you settle for a knowledge of those in the Hall Of Fame?
Would you stop a bit and ponder, would you take a second look?
Could you name the Prime Ministers already in the book?
Chorus:
Oh! Oh! Oh! Oh!
We're a singing "Oh Canada", but if you're going to shout,
You better have a little knowledge what the shouting's all about.
2. Would you like to guess the number, were there ten or twenty five?
Were they liberal or conservative, how many still alive?
Was it Pearson from Prince Albert, Diefenbaker Montreal?
Or had you ever heard of either one of them at all?
Chorus
3. Well we better check the records, just to see who's in the Hall,
And there's Sir John A. MacDonald, just a hanging on the wall.
There's McKenzie and Laurier, and St. Laurent and King.
Kinda sounds like the lyric that you sorta want to sing.
Chorus
4. Thompson, Abbot and Tupper, they were held in high esteem,
Like Bowell and Robert Borden, all were knighted by the Queen.
Arthur Meighen was another, R.B. Bennett had his say.
And now Pierre Elliott Trudeau is the leader of the day.
Chorus
L6836
---
THE BALLAD OF MARLENE JACKSON
By Russ Gurr
Chorus:
Kisinookisik, Kisinookisik, Kisinookisick, "Sounding Sky" is its meaning.
1. Kisinookisik was the great granddad of a beautiful Indian maiden.
With her fire baton she would thrill you dancing 'til your heart with love was laiden.
She would throw those torches in the sky so high, great granddaughter of "Sounding Sky".
2. Now Marlene Jackson was the maiden's name. The White Man's idol but of Indian fame.
Long black hair waving in the breeze, A red blood beauty from the "Prairie Cree".
Batons twirling by her slendor sides, pride of the nation from an Indian tribe.
3. Now Nan Gay Wa Biki Mik Quinay, "Little Light White Feather" said the Indian way.
Fighting with a body racked with wither and pain, reached the top of the ladder with glory and fame.
Bonfires burning and the old tom-tom, She would light up the Heavens with her fire baton.
(Repeat Verse 1 and Chorus)
---
1. When the north-west rebellion by Riel was led,
"She will never kill me, she's my mother" he said.
Though they hung him in Regina back in eighteen eighty five,
A hundred years later, young Louis' still alive.
Louis said that by the Grace of God, a province would be born.
He would be its founder, and he raised a mighty storm.
When a fellow named McDougald landed in with men and guns,
Louis had the metis ready and McDougald had to run.
Music
2. Now they tried to run a survey through a meadow so they tell,
Owned by André Nault, who was a cousin of Riel.
But when the survey party laid the chain upon the ground,
Louis stood upon it and the party backed down.
Then at the U.S. border close to Pembina one day,
McDougald tried again and Louis pinned him to the clay.
When the buffalo running metis with their spirits running high,
Took the Bastion of Fort Garry with its cannon and supply.
Music
3. Now Doctor Shultz had an army, and along with Thomas Scott,
Louis took them both, they were arrested on the spot.
He locked them in Fort Garry in a cold cell block,
And the metis stood guard with their guns and tomahawk.
Well Sir John A. MacDonald was a sitting in a chair.
Said this Louis is a terror, he's a getting in my hair.
So he sent his emissary for to settle with Riel,
And Manitoba had a breather from rebellion for a spell.
4. Said the metis, we've been taken, and they called upon their friend.
They said "Louis you will lead us in rebellion once again".
And soon the blood was flowing, and the rifles lit the sky.
The man who founded Manitoba, he was destined for to die.
Hanging there upon the gallows 'til they said that he was dead.
"She will never kill me, she's my mother", he said.
Now Riel has made it back although the rope is on display.
A hundred years later he's the hero of the day.
5. When the north-west rebellion by Riel was led,
"She will never kill me, she's my mother" he said.
Though they hung him in Regina back in eighteen eighty five,
A hundred years later, young Louis' still alive.
L6841
---
Yodel
1. The tales of the Yukon, the story is told
How the prospector staked out his copper and gold.
The great snow capped mountains, but how many know?
There's Indian and white man, but no Eskimo.
Chorus:
No Eskimo, no Eskimo,
There's Indian and white man, but no Eskimo.
2. On the great Yukon mountains that reach to the sky,
The dahl sheep will graze where the gold eagle flies.
The grizzly bear threatens, he's ev'ryone's foe.
The caribou wander, but no Eskimo.
3. The mountain goat climbing so steep it may seem,
The salmon and trout stock the clear crystal stream.
But the Yukon, no igloo, no houses of snow.
There' Indian and white man but no Eskimo.
Yodel
(After last Chorus)
L6839
---
THE CENTRE OF THE NATION
By Russ Gurr
Chorus:
Oh! Were the centre of the nation, what a celebration
Some a-singing, some a-swinging, music bright and gay.
Manitoba's riding high, and the twinkling in the sky
Is from the hundred candles burning night and day.

Now we've got the famous rivers, lakes that make you shiver,
Fish that eat the bait right from your hand.
Our students have the brains, and the farmers have the grain,
And our maidens are the fairest in the land.
Chorus:
Since we joined confederation, helped to build a nation,
We've had our fun, shed our blood and tears.
But that's what life is all about, and now you hear us shout.
"We're proud of Manitoba through the years".
Chorus:
We're made up of ev'ry race, of ev'ry nation there's a trace,
But each other we accept and understand.
And now we sing and dance with joy, underneath the Golden Boy
As we join the throng of Manitoba fans.
L6835
---
THE CITY OF DAUPHIN
By Russ Gurr
Oh Down from the mountains, the rolling Duck Mountains,
Oh Down from the mountains and over the plains.
Oh Down from the mountains, the great Riding Mountains,
Oh Down from the mountains and over the plains.
Lies the City of Dauphin, a picture so fair.
As the mountain streams wander to the lake over there.
1. Now the City of Dauphin where the North just begun
Where the hunting is good and the fishing is fun.
Where the lake calls the swimmer to dive and to ski
And you boat on the water with your love on your knee.
2. Now there's moose in those mountains, there's elk on the hills,
And the Mountain Dew trickles from a well hidden still.
And you might meet a bear as you walk down lover's lane.
Then we'll never see you back in Dauphin again.
L6834
---
THE THRESHERMEN'S BALL
By Russ Gurr
To the Thresher's reunion they come ev'ry year,
To see those old engines they hold oh so dear.
They polish and grease 'em and then comes the fun.
Pour on the gas boys and see what will run.
Chorus:
Just a bang and a splutter, the steam whistles call,
We're heading for Austin for the Threshermen's Ball.
To the old Rumley Oil Pull, we'll take off our hats.
She'll hit and she'll miss, and she'll smoke and all that.
She'll rear up and buck boys, front wheels off the ground,
But a better old engine will never be found.
Hart Parr Thirty Sixty, the pride of the day,
In the field she's a dandy, she'll really make hay.
She's just a two lunger, her pistons lay flat,
But on the thresher she'd run down the sweat from your back.
There's the great big old Mogul, with pistons so great,
That when she would fire we'd have an earthquake.
Oh a big brute, but each time that engine would pass
The boss he would holler "Boys bring some more gas".
Now the Case made a tractor of ev'ry odd size,
The old Twenty Four and the Twelve Twenty Five,
But the old opposed cylinder was the farmer's best friend,
And when you'd turn on the switch you'd get a clout at both ends.
There's the great old Rock Island and the Hubor Light Four,
The old Grey One Wheeler, and still there's lots more.
But of all the old monsters right down through the years
There's nothing to match with the famous pioneer.
L6833
---
B – I – N – G – O
By Russ Gurr
My dad was born in Brighton fair on England's southern shore.
When a wee wee lad he left and never been back there anymore.
But tunes he sang when but a lad, sweet mem'ries brought along,
And I used to love to hang around and hear him sing this song.
Chorus:
Oh! There was a farmer had a dog
And his name was –
B – I – N – G – O, B – I – N – G – O, B- I – N – G – O
And Bingo was his name Oh!
My dad came west to till the soil, his homestead was his pride.
Like Lochinvar, he fell in love and he got himself a bride.
He'd take her driving down the lane in the sunshine of the spring,
To the rhythm of the buggy wheels you could always hear him sing.
As time went on their home was blessed, in all we numbered nine,
We seven kids and Dad and Mum,'Twas a bright and happy time.
When trouble pressed he'd fix the blame, the razor strap was free,
But he wasn't mad, just a dear old dad, and we'd hear that melody.
His hair has turned to silver now, his brow with wrinkles aged.
A magazine, an old arm chair, a picture holds his gaze.
A sandy beach, his boyhood home on England's southern shore.
He closed the book, and with a smile, began to sing once more.
L6832
---
YOU DON'T HAVE TO GO TO SWITZERLAND
By Russ Gurr
1. Oh you don't have to go to another land
Though it's in man's blood to roam,
And it's good to see how the other side lives,
But there's still no place like home.
Our grasses are greener, and the air's so fresh,
The Canadian Rockies are the pride of the west.
And you don't have to go to Switzerland
To hear a yodel loud and clear.
Yodel
2. Now you don't have to go to another land
Though you're born with a hunting dream,
'Cause the timber here is alive with game,
And there's fishing in ev'ry stream.
It's birds in the summer, in the winter it's snow.
We're proud of the Indian and Eskimo.
And you don't have to go to Switzerland
To hear a yodel loud and clear.
Chorus
3. Now you don't have to go to another land
'Cause you're weakening to the old love call.
You can walk with your maiden in the misty spray
Of the great Niagara Falls.
Then show her something like the western plains,
When the sun is shining on the waving grain.
And you don't have to go to Switzerland
To hear a yodel loud and clear.
Yodel
L6837
---
THE HURLEYVILLE TAXI
By Russ Gurr
Chorus:
Believe it or not and strange as it seems,
Two hogs in the harness was once Hurley's dream.
And two thousand pounds of bacon and bone,
But The Hurleyville Taxi will get you back home.
1. Now they say Howard Hurley was ridden with fear,
Shen caught in the pig-pen in his younger years.
But he made up his mind to be frightened no more,
And he hauled off and harnessed two big grizzly boars.
Chorus
2. Now you take that old Rusty, so long just about
That you can't see his tail from the end of his snout.
He thinks that old pork barrel is a miserable stunt,
But what can you do with a squeal and a grunt.
Chorus
3. Now old Red has the brains in that big team of swine,
He thinks the show business is just mighty fine.
But he curls up his tail when he hears Hurley shout.
Hey Red get that smile off the end of your snout.
Chorus
L6838
---



Back to the
Hillman Musical Odyssey Main Page



Back to the
BILL AND SUE-ON HILLMAN MAIN SITE








WebMaster: Bill Hillman
Bill and Sue-On Hillman Eclectic Studio
Photos and Text Copyright 2001/2004/2016