BILL AND SUE-ON HILLMAN: A 50-YEAR MUSICAL ODYSSEY
www.hillmanweb.com/book
PresentsTHE BILL HILLMAN GUITAR PAGES
~ Guitars I have known... and owned ~
Bill Hillman Guitar No. 22
(Actually part of Sue-On's collection of the four Gretsch Americana Guitars)
Gretsch Americana Wild West Sweethearts
Model No. G4530 ~ Serial No. 10-07010933
www.hillmanweb.com/guitars/g22.html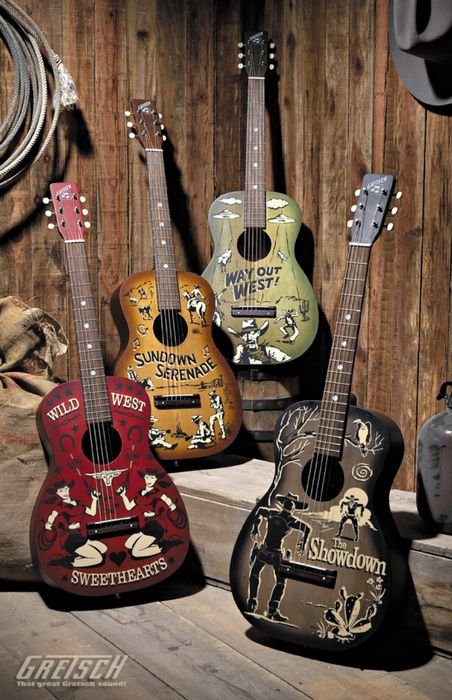 All four models are featured on the Hillman Guitar Wall
.
...
.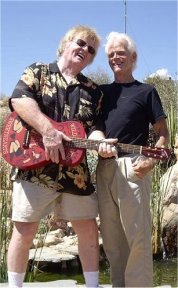 .
.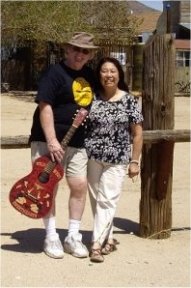 The Sweethearts travelled the wild west with us:
With Max Thomas in the California High Desert Country
With Sue-On at Pioneertown near Yucca Valley and Joshua Tree.
Gretsch Americana Wild West Sweethearts Acoustic Guitar

The limited-edition G4530 Wild West Sweethearts guitar is the first installment in the Gretsch Americana Series. Reminiscent of the ol' cowboy guitars of yesteryear, this acoustic steel-string guitar features distinctive looks, original Western-inspired artwork, and playability.

The short-scale length, 3/4-size design, durable real-wood construction and a precise factory setup make the Wild West Sweethearts a great portable acoustic - perfect for sing-alongs around the campfire.

Features

Short-scale length
3/4-size body
Original western-inspired artwork
Real-wood construction
Precise factory setup

Specs

o Limited-edition G4530 Wild West Sweethearts guitar is the first installment in the Gretsch Americana Series
o Musical instrument is reminiscent of the ol' cowboy guitars of yesteryear
o Acoustic steel-string guitar features distinctive looks and original western inspired artwork
o Short-scale length and 3/4-size design makes the Sundown Serenade a great beginner's instrument
o Portable acoustic has a unique look
o Limited edition guitar that is now discontinued and is a real collectible
o Wild West Sweethearts has durable real-wood construction
o Precise factory setup
o Folksy tone just begs for strumming at the nearest campfire

Dimensions: 42.5 in. L x 16.25 in. W x 5.25 in. D
Materials: Wood


---

Web Comments

Great value and kitschy to boot! Love the concept, graphics and price.
The best deal ever!
Great little fun guitar. Addicted to playing this one! So cute! Great sound and easy to play. I'm in love. I got a keeper!
Absolutely delighted with the quality of this instrument. It is very playable, has a nice little voice, and represents an absurd value for the price.
The perfect beater. It's a small scale, but it sounds amazing, and is the perfect conversation piece.
What a fun guitar! First of all it's collectible...second, it looks great...and finally it sounds terrific! I haven't been able to put it down since it came to my door. Way more than just something to hang on a wall...this is no toy.
Fun little guitar. It's got pretty good tone and it's more or less something you would break out on a camping trip or a BBQ when you wanna leave the Gibson inside.
The guitar looks so much better than on the picture. This is a unique item not only good for beginners. The sound is very nice. A great instrument and definitely a show off with its great graphics.
Here is a little conversation starter that's more than a looker. This is truly a great campfire or back porch guitar. The set-up and action is very easy on the fingers. The fit and finish is excellent. The saddle is compensated. It even has an adjustable truss rod. The sound is very nice. It comes with a one year factory warranty. I love the graphics. It is very well built and should last a long time with proper care. I highly recommend getting at least one before these are gone.
These are great travel guitars with a terrific sound and a lightning fast fingerboard. They feature real wood construction and a 24 scale, steel reinforced neck that is precisely set from the factory. The open machine heads lock the guitar in tune and are light enough to maintain an ideal weight balance.
The fit and finish is fine and the guitar appears sturdy. The action is the best I've found on any small travel guitar, hands down.
The artwork is deeply set into the finish and certainly puts this guitar series in a unique, sometimes odd ball, sometimes corny 1950s time warp.
The Gretsch Americanas Get a Workout On YouTube
Wild West Sweethearts
.
Way Out West
.
Way Out West | Sundown Serenade
.
Showdown
See the others at:
Guitar Contents Page
WEB REFS
www.gretsch.com
Overstock.com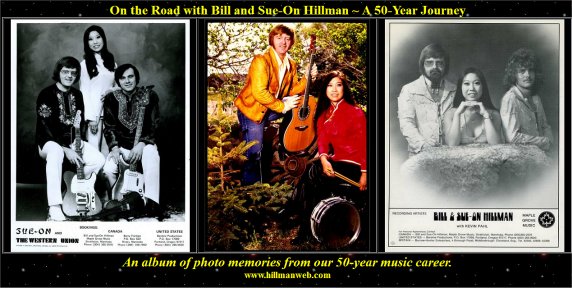 Hillman Career Collage Archive


THE GUITAR PAGES
Wall | g01 | g02 | g03 | g04 | g05 | g06 | g07 | g08 | g09 | g10 | g11 | g12 | g13 | g14 | g15 | g16 | g17 | g18 | g19 | g20 | g21 | g22 | g23 | g24 | g25 | g26 | g27 | g28 | g29 | g30
.


BILL and SUE-ON HILLMAN:
A 50-YEAR MUSICAL ODYSSEY
READ THE BOOK


All Original Material Copyrighted 2001/2009 /2015 Bill Hillman
Copyrights to other material is held by the individual owners
WebMaster: Bill Hillman