7.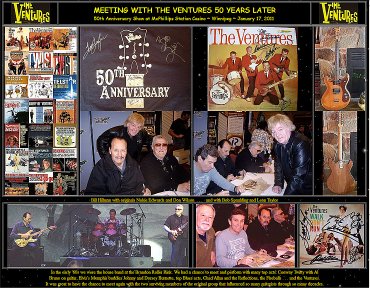 Poster | Web | Card | Thumbnail
---
Reference Pages: hillmanweb.com
Meet the Ventures On and Off Stage
View Ventures Classic Album Covers
Visit our Vintage Mosrite Site
Live Performances on YouTube
HILLMANS PLAY APACHE: 1971
MEETING WITH THE VENTURES 50 YEARS LATER
50th Anniversary Show at McPhillips Station Casino
Winnipeg ~ January 17, 2011
APACHE | TAMMY
* In the early '60s we were the house band at the Brandon Roller Rink. We had a chance to meet and perform with many top acts: Rockin' Conway Twitty with Al Bruno on guitar, Elvis's Memphis buddies Johnny and Dorsey Burnette, top Blues acts, Chad Allan and the Reflections, the Fireballs . . . and the VENTURES.

* Those were the days before we did many vocals and we often played guitar instrumentals for the whole gig. . . which led me on a constant search for guitar records: Ventures, Shadows, Fireballs, Duane Eddy, Chet Atkins, Wes Dakus, Champs, Lonnie Mack, Link Wray, Spotnicks, and many one-hit wonders such as Jorgen Ingmann, String-A-Longs, Surfaris, Chantays, Rebels, Tornadoes, Pyramids, et al. I went so far as to import all the Shadows records from England and the band worked out synchronized steps to accompany the tunes.

* It was great to have the chance to meet again with the two surviving members of the original Ventures that influenced so many guitarists through so many decades.