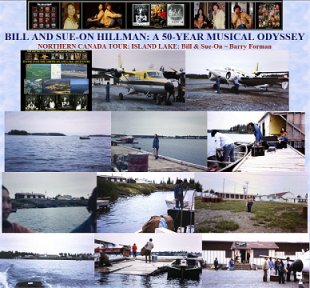 Poster | Web | Card | Thumbnail | 5"
HILLMAN NORTHERN CANADA TOUR :: Pt. II
Island Lake / Garden Hill Reserve Arrival and Gigs

Our transportation to our destination on a neighbouring island was waiting for us -- a canoe. We loaded our guitars, amps, drums, and cases onto the boat, but our tall Shure Vocalmaster PA speaker columns had to be balanced cross-ways, hanging a few feet over each side of the canoe. We made it safely to our digs -- the teachers' dorm which was now vacant since the teachers were all away on summer holidays.

Our two shows on the Island Lake Garden Hill Reserve were in the school gym. We were surprised to see that there was no stage. We played "in the round" with the audience seated on the floor. The next day, before our evening show, saw us back in a boat, but now we were being given a guided tour around the many islands in the area -- the most popular being one on which the locals had found enough clearings and soil to plant vegetable gardens. Our flight back was scheduled for noon the next day, so we had time to visit the trading post again to purchase souvenirs and to leave a box of our record albums for them to sell. We then overloaded a canoe again and set out over treacherous waters for the island airport.