ON THE ROAD WITH BILL and SUE-ON HILLMAN
A 50-Year Musical Journey
www.hillmanweb.com/book
HILLMAN PHOTO ARCHIVE: POSTER MOSAICS
Intro | Early Years | 60s Decade | 70s Decade | Recordings | UK | 80s and 90s | 21st Century | Sue-On | Roots | Gigs
These hundreds of photos were collated to illustrate the anecdotes in the
GIG NOTES Chapters of our 50-Year Musical Odyssey book.

Click for large full-screen images

..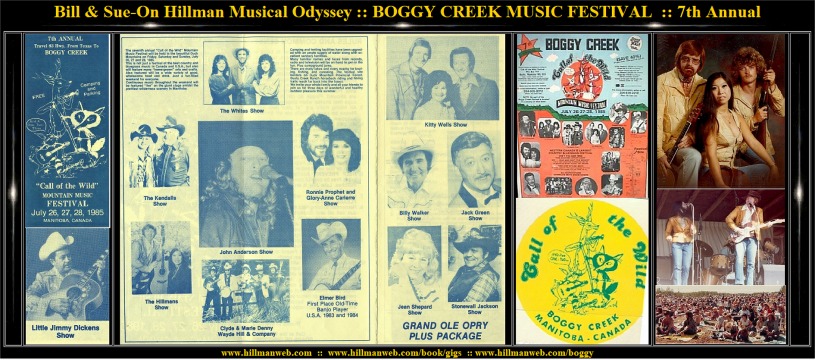 Poster | Web | Card | Thumbnail

HILLMANS WIN
MACA ENTERTAINERS OF THE YEAR AWARD

SAIL ON 747 | ONE NIGHT STAND


* MACA Awards Programme 1980
* Many names of well-known Manitoba musicians here.
* Entertainers of the Year Photo: Bill and Sue-On Hillman
* Golden Music Award Winner Photo: Smokey Ferlin
* Clipping from a Calgary Paper

From Hillman Musical Odyssey Gig Notes
www.hilmanweb.com/book/gigs
.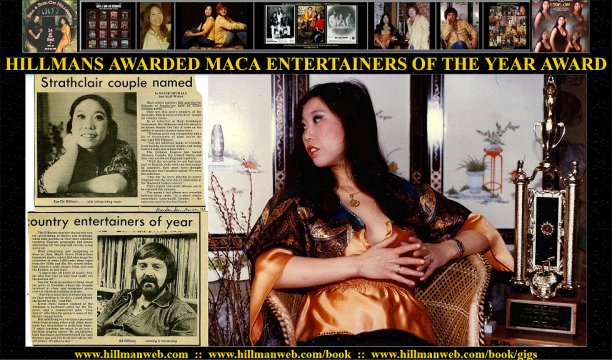 Poster | Web | Card | Thumbnail

.

Poster | Web | Card | Thumbnail

KERRY MORRIS
5 Decades on Drums and Bass

Kerry was the full-time 3rd member of our group
through the '80s and '90s.
But our music association goes all the way back to 1965.


ROW 1: I'm playing guest guitar with my Gr. IX students band in the '60s - Young Kerry is on drums ~ Welcoming Princess Anne at Brandon RR Station and Experimental Farm BBQ on her Canadian Royal visit ~ Kerry on drums at my 60th birthday party band reunion
ROW 2: Performing at our son Ja-On's wedding ~ Jamming for Kerry's family and neighbours in Malaysia
ROW 3: Newspaper photo of us in our Federal Grain Train tour bus in the 70s ~ Performing at the Richmond Restaurant opening ~ Another Birthday Party Reunion
.


.

Poster | Web | Card | Thumbnail

HILLMANS AT THE CALL OF THE WILD FESTIVAL
THE BOGGY CREEK APPEARANCES 1980-1985

MASSACRE | GOOD TIME JAMBOREE


* We performed on the festival stage for each of these years
* Bill also work MC duties, Security and served on the Board of Directors
* Each year's lineup featured top C/W and Bluegrass entertainers from Canada and the USA

Our series of photos and memories Call of the Wild years are featured at:
INTRO | BEHIND SCENES | BEGINNINGS | SCRAPBOOK
PERFORMER PROFILES I | PROFILES II | PHOTO GALLERY
.


.

Poster | Web | Card | Thumbnail

BILL & SUE-ON HILLMAN'S 6th CALL OF THE WILD
MOUNTAIN MUSIC FESTIVAL APPEARANCE
"Travel Highway 83 from Texas. . . to BOGGY CREEK"
July 26, 27, 28 1985

CAJUN STOMP | STRANGER PLEASE


* The Whites | John Anderson | Bill and Sue-On Hillman |
* Kitty Wells and Johnny Wright | Jack Green | Jean Shepard |
* Little Jimmy Dickens | Ronnie Prophet and Glory-Anne Carierre |
* Grand Ole Opry Stars | Mountain Music and Bluegrass Acts |

and much more. . .
More on www.hillmanweb.com at:
www.hillmanweb.com/h401.html
.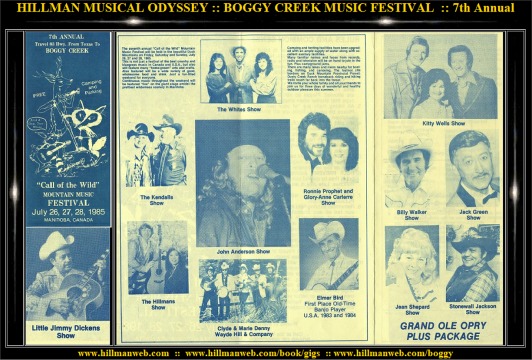 .

Poster | Web | Card | Thumbnail

BRANDON KEYSTONE ARENA SPORTSMAN SHOW
Bill and Sue-On Hillman with Kevin Pahl - March 1978
also backed headliners Al Cherny and Johnny Thorson of the Tommy Hunter Show

24 HOURS FROM TULSA | SAD COUNTRY LOVESONG


Sue-On: That was a month after our son Ja-On was born (Feb 17)! Took Ja to the arena to set up, and Al babysat the baby while I set up my drums. He looked so comfortable holding the month-old baby. I've accompanied fiddlers playing Orange Blossom Special many times, at double speed, but WHOA! Al's lightning speed on his fiddle did me in. It was all I could do to snap in some beats for emphasis... This all followed backing Johnny Thorson on his banjo express! After the show, we took the gang to my family's restaurant, Soo's, which we later bought and ran for 10 years, for a late supper. Al and Johnny told many stories over dessert - a sucker usually given out to children at the restaurant. My brother Ken was thrilled to be sitting with one of his favourite entertainers from the Tommy Hunter show, and to think his little sister was performing with Al Cherny!
.

.
Poster | Web | Card | Thumbnail

SAGA OF THE FLAMING LUDWIGS
Follow some of the photos that document
the amazing story of this hardy drum kit. . . from the '60s to present day.

HIGHWAY 354 | FREEDOM TRILOGY


* Sue-On's charred vintage Ludwigs ~ Brunkild Stage ~ 1980s
* We had the misfortune of playing for a social in Brunkild on the same day that a local family had been killed in a tragic traffic accident. . . a very sombre, sad and unresponsive crowd. So we pulled an old R&R trick and set fire to Sue-On's drums (actually a stage light had gotten too close to the side of the bass drum and set fire to the plastic laminate). As flames engulfed the drums the audience tried to help avert a disaster by throwing beer and water on us. Finally a powder fire extinguisher was brought in to blanket the drums, and the already wet band, in white. While we slipped around in the swampy goo on stage to assess the damage the crowd suddenly went wild and broke out of their grief by leaping on the tables and shouting hysterically for more. We defied electrocution and fired up the amps . . . and naturally our first song had to be "Smoke On The Water" : ) . . . The rest of the night was a hoot. We later salvaged the Ludwigs by scraping off the char and covering them with buckskin. They sound even better now. True Story.
From Favourite Guitar No. 29 page: and Odyssey h400
.

..

..
.
Poster | Web | Card | Thumbnail

BILL AND SUE-ON HILLMAN BAND REUNIONS

WHY ME, LORD | BOOGIE WOOGIE BAND


* The first reunion was Cancer benefit we did coinciding with the Grand Opening of one of Sue-On's brothers restaurants, Brandon's Richmond - in 1992.

* The most memorable one though was 10 years later when Sue-On gathered together our old bandmates going all the way back to 1961 and put together a surprise 60th birthday party . . . at a Chinese laundry : )

In 2002, while Bobby Curtola was living in Brandon, we planned a reunion of Brandon bands that had toured with him over the last +40 years. Old bandmates Warren Hannah and John Bishop flew in to join Sue-On and myself in a Dovermen reunion. We were joined for our sets on keys by jam buddy Doug Matthews.

More at:
www.hillmanweb.com/odyssey/reunion.html
HILLMAN PHOTO ARCHIVE: POSTER MOSAICS


Intro | Early Years | 60s Decade | 70s Decade | Recordings | UK | 80s and 90s | 21st Century | Sue-On | Roots | Gigs
These hundreds of photos were collated to illustrate the anecdotes in the
GIG NOTES Chapters of our 50-Year Musical Odyssey book.


www.hillmanweb.com/book