ON THE ROAD WITH BILL and SUE-ON HILLMAN
A 50-Year Musical Journey
www.hillmanweb.com/book
HILLMAN PHOTO ARCHIVE: POSTER MOSAICS
Intro | Early Years | 60s Decade | 70s Decade | Recordings | UK | 80s and 90s | 21st Century | Sue-On | Roots | Gigs
These hundreds of photos were collated to illustrate the anecdotes in the
GIG NOTES Chapters of our 50-Year Musical Odyssey book.
Click for large full-screen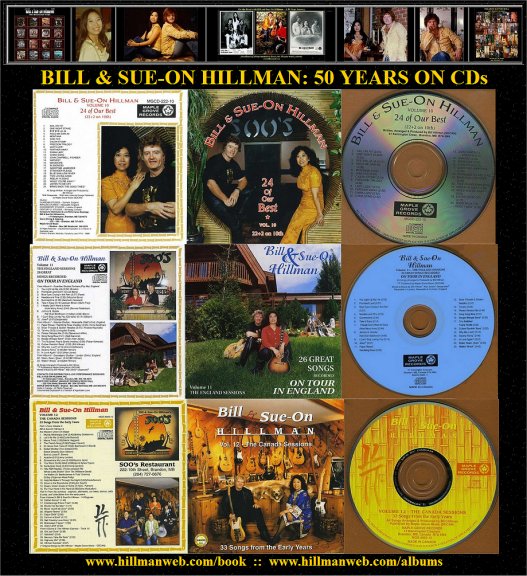 LISTEN TO THEM ALL!
www.hillmanweb.com/cd
www.hillmanweb.com/albums

..
ALBUM I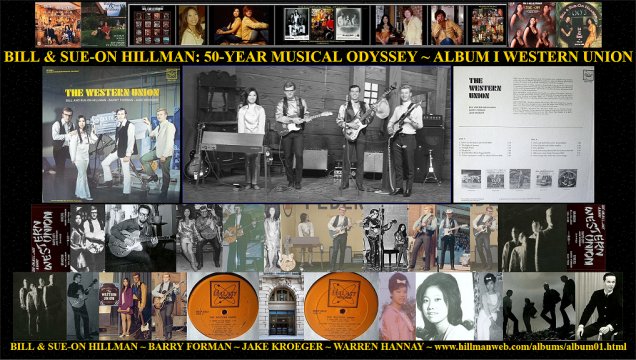 Poster | Web | 5" | Card | Thumbnail
ALBUM I: WESTERN UNION 1069/1970
www.hillmanweb.com/albums/album01.html
---
ROW 1: Album 1 front cover taken in the CKX-TV Studios ~ On a CKX set while recording the weekly TV show ~ Album 1 back cover with Galaxy ads
---
ROW 2: Calling card with Wester Union logo in Chinese font created by an RCAF buddy ~ Bill & Sue-On on a Brandon pub stage ~ Bill and Gretsch at home ~ Tailgate promo shot for newspaper ~ Bill playing with student band ~ Sue-On promo shot at Maple Grove ~ Federal Grain stage on W. Canada tour ~ On stage at Strathclair Hall ~ Bill on TV show ~ Bill on Dauphin Rodeo Grandstand stage ~ Bill and Telecaster on stage ~ Band shadow promo shot ~ Calling card
---
ROW 3: Band Promo Shot ~ Bill on stage at Strathclair Collegiate ~ Bill & Sue-On TV pose ~ Bill and Gretsch at CKX-TV ~ Side 1 record label ~ Winnipeg Grain Exchange where recorded ~ Side 2 record label ~ 3 shots of Sue-On at home ~ Band silhouette pose on rock pile ~ Session drummer Warren Hannay
ALBUM II: WESTERN UNION 1971
www.hillmanweb.com/albums/album02.html
---
Row 1: Bill, Sue-On, Jake, Barry - Morning photo shoot at the Kroeger barn by CKX photographer ~ Album's back cover: Band in repose in a gravel pit ~ Tribute Collage for the late Barry Forman ~ Tribute Collage for Jake Kroeger

---
Row 2: A and B record labels ~ Recorded at Century 21 Studio, King Edward St., Winnipeg ~ Eternals Band - Hildebrand and Paley Brothers (studio owners, musicians and engineers) ~ Sue-On by fireplace at our Maple Grove country home ~ Band on Brandon pub stage during break.
---
Row 3: Bill and Sue-On recording a duet ~ Bill working on the mix ~ Sue-On and studio engineer, John Hildebrand ~ Barry Forman and session drummer Ted Paley ~ John setting up the 1/4" mix-down tape ~ Bill recording a vocal ~ Sue-On recording a vocal
ALBUM III: BILL and SUE-ON HILLMAN 1973
www.hillmanweb.com/albums/album03.html
---
Row 1: Photos by Bill Hillman: Album 3 Cover - Sue-On and Bill in front of the spruce trees in front of their country home ~ Back Cover with Hillmans posing on the walls of their ancient stone barn ~ EP Back cover: 4 Original songs written by Bill ~ EP Cover: Hillmans in front of the stone fence around their country home - Maple Grove.
---
Row 2: Album A-label ~ EP A-Label ~ Excellent and encouraging review of first-released original song, In Sadness, in BMI (PRO) trade magazine ~ Promo release notes from RPM Magazine ~ EP B-Label ~ LP Album 3, B-Label
---
Row 3: Bill and Sue-On recording Blue Shallow River ~ Larry Clark who arranged and played keys and vibes for the session ~ Engineer Harry Hildebrand at the studio mixing board ~ Sue-On at the studio front office filling in for the studio secretary ~ Sue-On and Barry Forman having a chuckle ~ A leap ahead over 40 years to show the albums which were to follow this one.
ALBUM V: 14 ORIGINAL SONGS
www.hillmanweb.com/albums/album05.html
---

CATFISH BONES | CHATTANOOGA PRISON TRAIN

CLIPPINGS: Reviews from RPM Magazine (National trade), Jimmy King and Gene Telpner (Winnipeg Papers).
PHOTOS: Memphis/Nashville Crossroads, Ernest Tubb Record Shop, Grand Ole Opry Stage, In Tour Bus in Alberta, Century 21 Studios.
STRIPS: Bill and Sue-On in our Maple Grove Studio sitting on our snooker table with Mya, our Great Pyrenees dog ~ In our home studio with Kevin Pahl at the Grand Piano while Barry Forman looks on ~ Bill at the Century 21 Studio mixing console with engineer Colin Bennett ~ Sue-On during one of our shows at CKX-TV studio, Brandon, MB ~ Chinese caligraphy by Sue-On's dad.
* Larger images and much more in our Musical Odyssey series on the Web:

ALBUM WALL | ALBUM NO. 5 PAGE
A FEW SAMPLE SONGS (More at: www.hillmanweb.com/cd )
ALBUM VI
The Gooseberry Sessions
London, England
and
Century 21 Sessions
Winnipeg Manitoba

.
.ALBUM VII.
The Impulse Studio Sessions
Newcastle, England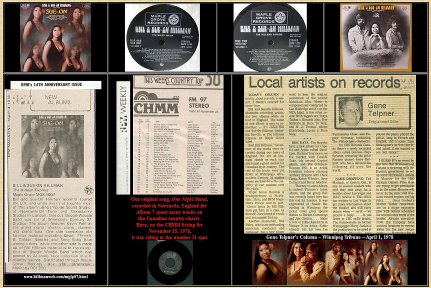 Poster | Web | Card | Thumbnail
.

HILLMAN ALBUM 7 SCRAPBOOK MONTAGE

FREEDOM TRILOGY | JOHN CAMPBELL, PIONEER


CLIPPINGS:
* Gene Telpner's Column ~ Winnipeg Tribune ~ April 1, 1978
Telpner Refs: Hillmans, Ron Paley, Century 21, Roade, Strawbs, Glenn Axford, Burton Cummings, Loreena McKennitt, Thorney, and more. . .
* RPM National Trade Magazine Review ~ March 4, 1978
* CHMM Country Chart ~ November 1978
ALBUM:
* Front: Sue-On with multi-image lens
* Back: Bill and Sue-On and Kevin Pahl in chamois leather patch stage outfits purchase on Oxford Street in London
* Our Maple Grove Records labels front and back
45 SINGLE
* Our original song "One Night Stand" that charted in the Top 10
INSERT PHOTOS
* A few alternate takes

Larger images and more at:
www.hillmanweb.com/mglp07.html
.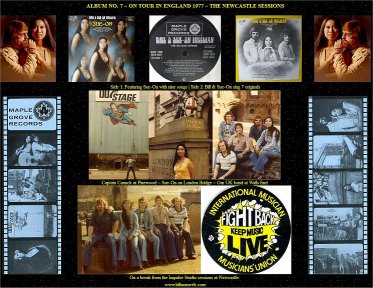 ..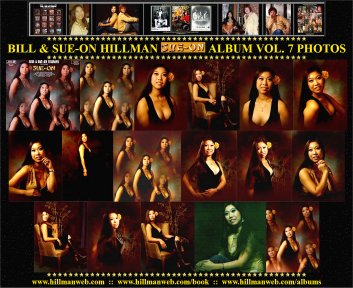 .ALBUM IX
The Guardian Studio Sessions
Pity Me (near Durham), England
.
Poster | Web | Card | Thumbnail

CENTURY 21 RECORDING STUDIOS
WINNIPEG - EARLY '70s
Location of Bill and Sue-On Hillman's early Canada sessions

(YOU WERE) ON MY MIND | KENTUCKIAN SONG


* We were one of the first groups to record at the first Century 21 Studios - King Edward St. Location
* After their move to their expanded location we did more sessions using their 16-track facility, before our tours of England where we had many sessions at London's Gooseberry, Newcastle's Impulse, and Durham's Guardian studios.
* Faces in the photo collage: Bill and Sue-On, Barry Forman, and Century 21 guys: John Hildebrand, Harry Hildebrand, and Ted Paley.

WEB PAGE REF: http://www.hillmanweb.com/albums

Poster | Web | Card | Thumbnail | 5"

THE CANADA SESSIONS :: PT. II
Hillman Albums Nos. 4, 5 and 6
(No. 6 completed in London while on tour in England)

Both these albums featured all-original material
29 songs written by Bill
Personnel: Bill & Sue-On (vocals * guitars * drums * production)
Barry Forman (bass * fiddle ) ~ Kevin Paul (keys: Rhodes, grand, Clavinet)
Colin Bennett, John Smith, John and Harry Hildebrand (engineers)
Guests on a few of the drum tracks were Mark LaFrance and Gord Osland

ALBUM No. 5 ~ ALBUM No. 6

..

Poster | Web | Card | Thumbnail

FIRST FOUR HILLMAN ORIGINALS - 1972 - EP 1
Our first four original songs featured on an extended play disc ~ 1972

BLUE SHALLOW RIVER | IN SADNESS


With a nice review from the BMI Canada Music Scene magazine.
More reviews, lyrics, songs in MP3, photos and trivia at the ALBUM No. 3 and ALBUM 4 pages

The photo was taken at our country home in front of the stone wall that my grandfather built with stones originally from the stone house built when my great grandfather homesteaded the land in 1878: John Campbell, Pioneer recording 1976

THE SONGS
BLUES 'ROUND MY DOOR
TWO LOVING ARMS
.

.Special Recording Sessions: Free Spirit and Forman Fiddles



HILLMAN PHOTO ARCHIVE: POSTER MOSAICS


Intro | Early Years | 60s Decade | 70s Decade | Recordings | UK | 80s and 90s | 21st Century | Sue-On | Roots | Gigs


www.hillmanweb.com/book