ON THE ROAD WITH BILL and SUE-ON HILLMAN
A 50-Year Musical Journey
www.hillmanweb.com/book
HILLMAN MUSIC CARDS AND POSTERS
Intro | Early Years | 60s Decade | 70s Decade | Recordings | UK | 80s and 90s | 21st Century | Sue-On | Roots | Gigs
These hundreds of photos were collated to illustrate the anecdotes in the
GIG NOTES Chapters of our 50-Year Musical Odyssey book.

www.hillmanweb.com/cards/21/
.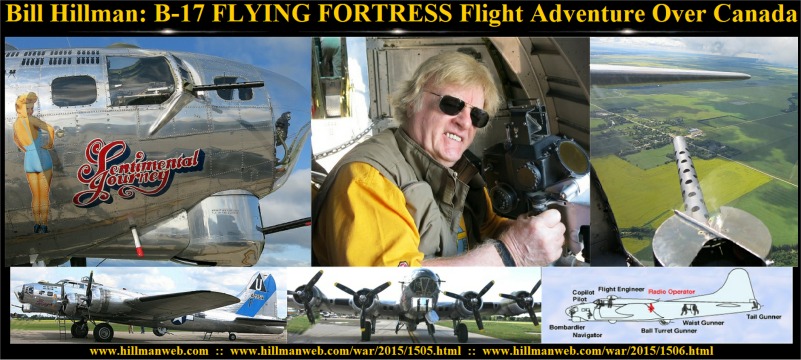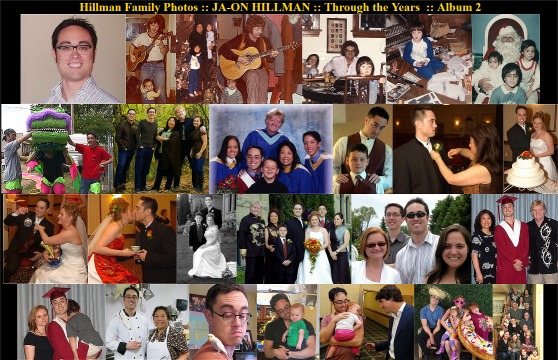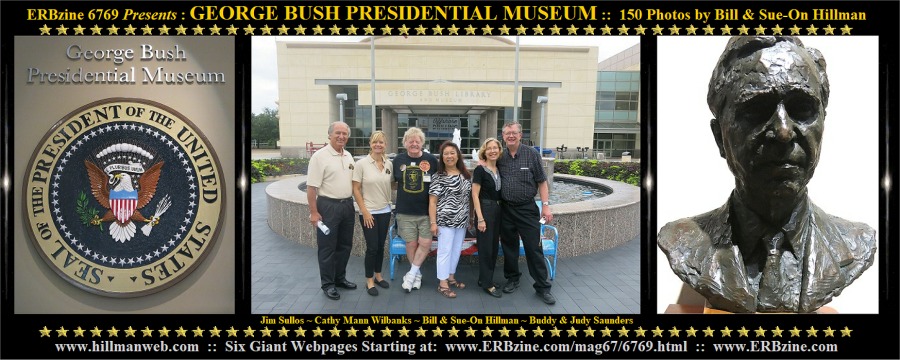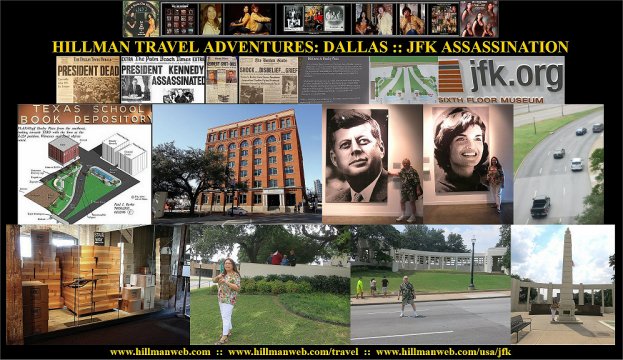 ..
A 50-Year Musical Odyssey in Photos
---
Row One: Bill and Sue-On in a photo taken for the Winnipeg Tribune Magazine after winning Entertainers of the Year Award ~ Sue-On in leather and beads ~ Bill's 5-string banjoe ~ Bill in University dorm with first electric guitar: Harmony/Silvertone ~ Musical influence: Winnipeg's Chad Allan and the Reflections (The Guess Who) ~ Bill at Maple Grove country home with Gretsch Nashville guitar ~ Bill and Sue-On with original Dovermen band backing Bobby Curtola at Rock Revival ~ Bill and Dovermen on stage for rock show with Everly Bros., Roger Miller, Newbeats.
---
Row Two: Bill with Telecaster on rodeo stage with Country Gentlemen ~ Sue-On and Bill signing contract for Federal Grain Summer Tours ~ First guitars: Harmony Monterey, Silvertone, Gretsch ~ Bill and Sue-On and Jake Kroeger: 1966 Strathclair pub ~ Sue-On and Bill on stage in a Brandon hotel bar ~ Album 1 Western Union: Bill, Sue-On, Barry Forman, Jake Kroeger 1970 ~ CKX TV show 1970 ~ Album 2 Western Union.
---
Row Three: Album 3 Bill and Sue-On pose at Maple Grove country home ~ Federal Grain Train stage: Sue-On and Bill with Russ Gurr ~ Promo photo for NW USA Grandstand Tour: Barry, Bill and Sue-On ~ Sue-On and the Western Union ~ Bill and Sue-On in chamois leather for England Tour ~ Promo photo with Kevin Pahl for UK tour ~ Bill and Sue-On with Alan Jones in an English garden ~ Album 6: All original Prairie Saga album recorded in London ~ Sue-On and Bill in English leather jackets
---
Row Four: Album 7a Sue-On Ballads ~ Album 7b: On Tour in England ~ Guardian Studio with son Ja-On and engineer Terry recording album 9 with Dire Strait's Alan Clark ~ Bill and Sue-On on stage with UK's Desperado ~ Album 9b: Performance photos on stage with Desperado ~ Logo sticker from London's Gooseberry Studio ~ Hillman record wall
---
Row Five: Hillmans on stage at Boggy Creek Call of the Wild Festival ~ Hillman Entertainers of the Year Award 1980 ~ Hillmans and Kerry Morris playing at Brandon Station meeting HRH Princess Anne ~ Hillmans with Entertainers of the Year Trophy ~ Bill and Sue-On at Maple Grove ~ Hillmans on stage Richmond Restaurant opening mid-90s.
---
Row Six: Hillman guitar wall ~ Hillman albums ~ Promo photo at home on our Snooker table ~ Hillman family photo in our music room for CD12 ~ Hillman SF sketches by our comic artist friends ~ Hillman/Desperado reunion photo with Bobby Curtola ~ Sue-On's drums and Bill's synthsizer guitar.

.
..


.
ROCK STOPS :: ON THE HILLMAN 2012 ROAD TRIPS

Row One: Bill and Sue-On at Sun Recording Studios, Memphis ~ Jazz greats statues in New Orleans ~ Bill entering home of the Louisiana Hayride
---
Row Two: Bill and guitar at Louisiana Shreveport Auditorium by statues of Elvis and James Burton ~ Entering James Burton recording studio ~ Sue-On taking over the production camera at the L. Ron Hubbard Library for 1-hur documentary
---
Row Three: Bill standing on the corner in Winslow Arizona with Eagles statue and guitar ~ Jamming with Robin and Max in California High Desert ~ Another shot at Hubbard studio on Hollywood Boulevard ~ Hillman's at Pioneer Town, California film set ~ Bill with Buddy Holly at Lubbock, Texas ~ Joshua Tree Inn site of Gram Parson's OD death.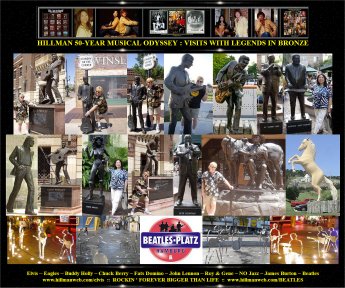 ..


.

Poster | Web | Card | Thumbnail

THE CANTINA : Part I of the Hillman Jam Series

WALKIN' WRECK | GOIN' DOWN DOWN DOWN


Ken Daniels - musician and retired Brandon University professor - built this unique Brandon-area building 20 years ago. Over the years he has hosted weekly jam sessions and has provided practice space for hundreds musicians. The walls of this private, rural "club" are made with stucco-covered straw bales - all protected by a steel roof. The room is done up in Mexican decor and is jam packed with dream gear and memorabilia: Marshall, Peavey and Fender amps ~ super PA and light systems ~ Hammond with Leslie ~ doghouse bass ~ large stage, bar, tables and chairs ~ LCD projector and screen, computer system with WiFi access to a huge A/V music library stored on Ken's dedicated server ~ wall memorabilia from Ken's travels and from the many musicians who have jammed here over the years. All of this is protected by an elaborate security system and all of it provided through the generosity of Professor Daniels -- a major supporter of Manitoba music.
More at: www.hillmanweb.com/jams
.
.

.
.
Poster | Web | Card | Thumbnail

On Stage at the BRANDON FOLK FESTIVAL

FREEDOM TRILOGY | ALLIGATOR MAMA


* The Hillman Family: Bill and Sue-On with China-Li on harp and electronic bagpipes - Robin on bass, drums and bodhran, plus guest Mitsuo Sawabe on 5-string banjo and congas.

* "Musical Partners Workshop": Dave Quanbury and Brandy Zdan ~ Bill and Sue-On Hillman ~ Mae Moore and Lester Quitzau

* Hillmans perform their Folk Odyssey Show: Celtic & Scottish ~ Old English Hymns ~ Aboriginal ~ Maritime ~ French ~ Cowboy ~ Appalachian ~ Afro American ~ Blues ~ Contemporary Folk ~ and Gospel.

More at:
www.hillmanweb.com/music/folk104.html
.

Poster | Web | Card | Thumbnail

On Stage at the SHAKIN' ALL OVER
Performance Showcase at the Manitoba Museum
"A Celebration of Made In Manitoba Music"

SOMEWHERE MY LOVE | PUT YOUR HAND IN THE HAND


* Bill and Sue-On Hillman with son Robin on stage
* Performers gathered around the 'Virden-born' Rock-ola Jukebox:
Sue-On Hillman ~ John Einarson ~ Blair Hordeski
~ Robin Hillman ~ Cindi Cain ~ Bill Hillman

Many more photos and notes at:
www.hillmanweb.com/shakin
..
.

..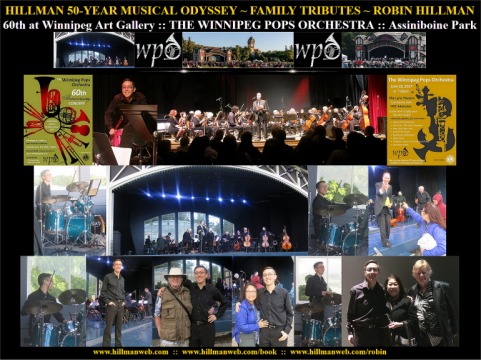 .

.

.

.

.

Poster | Web | Card | Thumbnail

ANNUAL YEAR END, WINTER SOLSTICE
AND XMAS GREETINGS

YOU LIGHT UP MY LIFE | I CAN'T STOP LOVING YOU

www.hillmanweb.com/xmas
Each year we add features to our sprawling
online Christmas Greetings from Bill and Sue-On:
Sue-On's 2011 Newsletter ~ Photos ~ Classic Radio Shows ~
Comics ~ Cartoons ~ Rockwell Art ~ Coke Santas
Beatles ~ Victorian Stereoviews ~ Songs ~ Science Fiction Covers
Magic Lantern Slides ~ Album Covers

Poster | Web | Card | Thumbnail

EDGAR RICE BURROUGHS / SCI FI GREETINGS

GOODTIME JAMBOREE | SHELTER

We create and maintain all the
Official Edgar Rice Burroughs Tarzan and John Carter of Mars sites
(10,000 Webpages). www.ERBzine.com

This is the part of our annual card that goes out to those readers.
All three of the sketches were done for us by artist/musician friends we've jammed with at SF Conventions in Chicago, LA, and Europe. . . and all are respected illustrators for comics, magazines, movie posters, etc., as well as being recording artists:

Mike Hoffman ~ Milan Fibiger ~ Thomas Yeates.
.


.

.

.
Poster | Web | Card | Thumbnail

A MUSEUM WALL FOR GUITARISTS ONLY
A 50-YEAR HISTORY OF FX

MISSISSIPPI TRIPPER | KENTUCKIAN SONG


* Toys that only a guitar player can appreciate
* Boss Fx Pedals | Electro Harmonix | Organtone | Electronic Bagpipes | Garnet Herzog | Marshall Pedal | Tuners | Vox and Cry Baby Wah Wahs | Echocord Tape Delay | Hohner Keyboard Bass | Boss Volume Pedals | Roland GR-77B Bass Guitar Synthesizer | Roland GR-707 Guitar Synthesizer | Roland Digital Syn Drums Controller | . . . and assorted toys.

Feature photo collage in our DuoJet Gretsch page
http://www.hillmanweb.com/guitars/g28.html
Hillman Guitar Wall
http://www.hillmanweb.com/guitars
.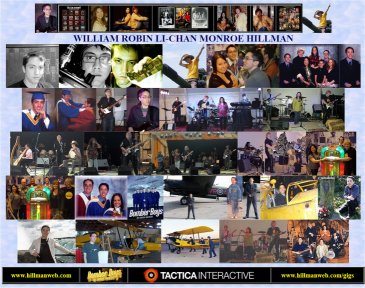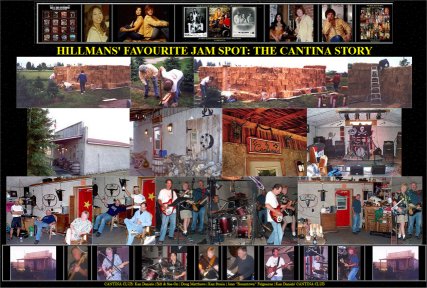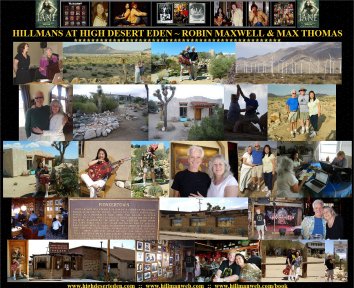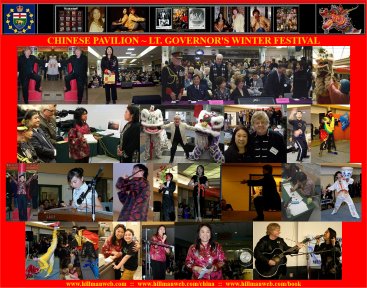 MUSIC IS ALWAYS THERE :: JA-ON and ANGELA'S WEDDING

Row One: Toddler Ja-On playing his mom's drums during one of our breaks while playing on the Brandon Exhibition Midway ~ Ja with his saxes in a photo for Hillman CD No. 12
---
Row Two: Wedding Dance band reunion L-R: Robin Hillman, Bill Hillman, Kerry Morris, Sue-On Hillman, Kevin Pahl ~ Bill, Sue-On and son Robin caught in mid-song ~ Bill and Sue-On on podium giving toast ~ Bill, Sue-On and bride Angela in song.
---
Row Three: Dance Floor: Bride and Groom embraces ~ Son Ja-On with dad and mom.

Gig Notes Reference in Ch. 7
More Ja-On and Angela 1977 Wedding Photos
.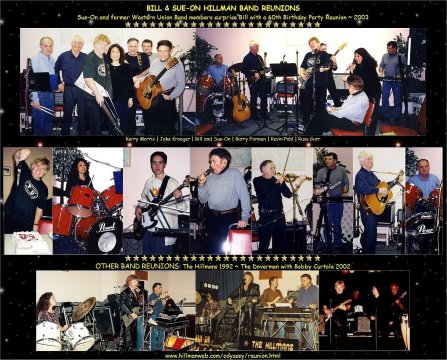 HILLMAN PHOTO ARCHIVE: POSTER MOSAICS
Intro | Early Years | 60s Decade | 70s Decade | Recordings | UK | 80s and 90s | 21st Century | Sue-On | Roots | Gigs
These hundreds of photos were collated to illustrate the anecdotes in the
GIG NOTES Chapters of our 50-Year Musical Odyssey book.