Bill and Sue-On Hillman: A 50-Year Musical Odyssey
www.hillmanweb.com/book

HILLMAN INDIA ADVENTURE
www.hillmanweb.com/india :: www.hillmanweb.com/india/north
North India: Gallery 25a
Khajuraho Temples II (Series 2)
(Photos from Canon Camera 2)
www.hillmanweb.com/india/north/n25a.html

CONTENTS
PHOTO GALLERIES and TRAVEL NOTES
01 | 02 | 03 | 04 | 05 | 06 | 07 | 08 | 09 | 10 | 11 | 12 | 13 | 14 | 15 | 16 | 17 | 18 | 19 | 20
21 | 22 | 23 | 24 | 25 | 26 | 27 | 28 | 29 | 30 | 31 |

In his history of the Kamasutra, James McConnachie describes the zesty 10% of the Khajuraho sculpture as "the apogee of erotic art":
"Twisting, broad-hipped and high breasted nymphs display their generously contoured and bejewelled bodies on exquisitely worked exterior wall panels. These fleshy apsaras run riot across the surface of the stone, putting on make-up, washing their hair, playing games, dancing, and endlessly knotting and unknotting their girdles. Beside the heavenly nymphs are serried ranks of griffins, guardian deities and, most notoriously, extravagantly interlocked maithunas, or lovemaking couples."

While the sexual nature of these carvings have caused the site to be referred to as the Kamasutra temple, they do not illustrate the meticulously described positions. Neither do they express the philosophy of Vatsyayana's famous sutra. As "a strange union of Tantrism and fertility motifs, with a heavy dose of magic" they belie a document which focuses on pleasure rather than procreation.
Click for larger images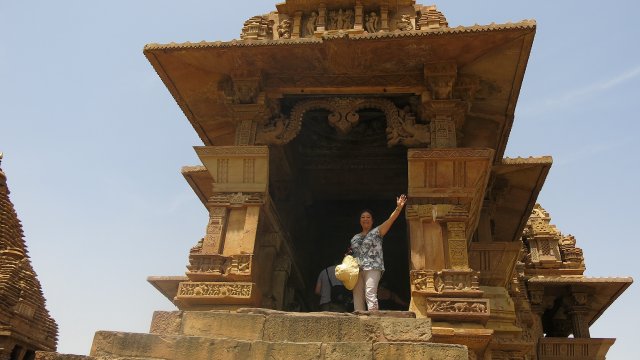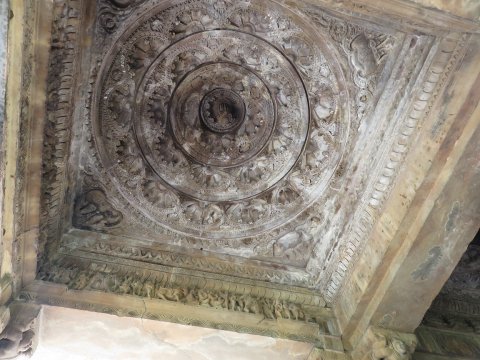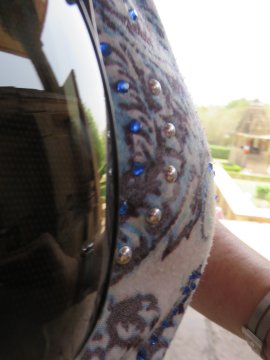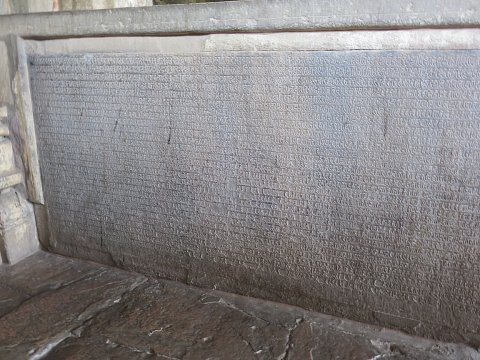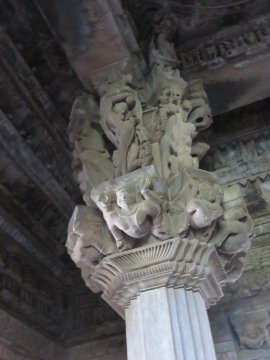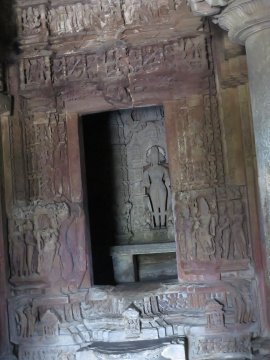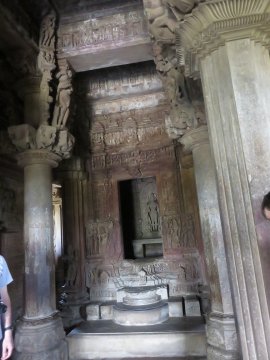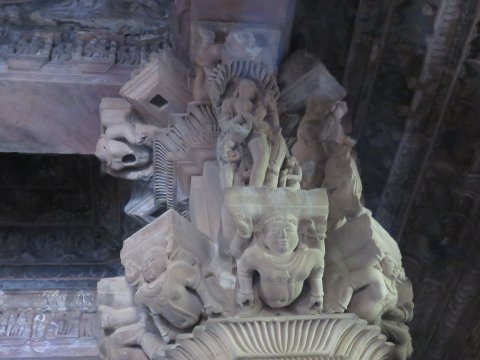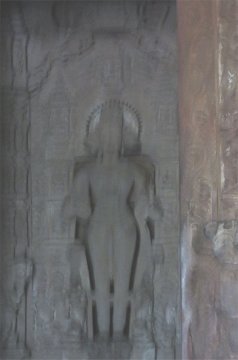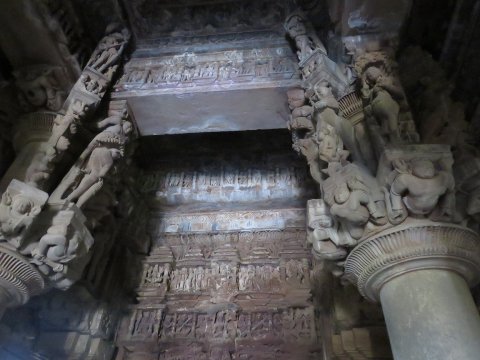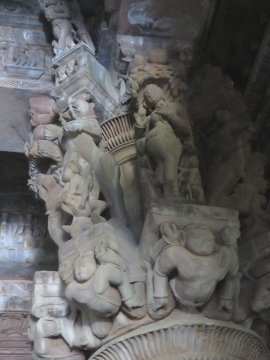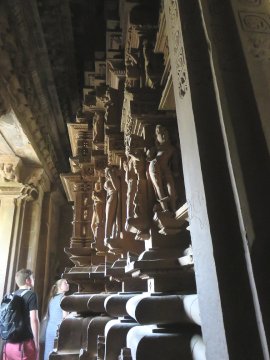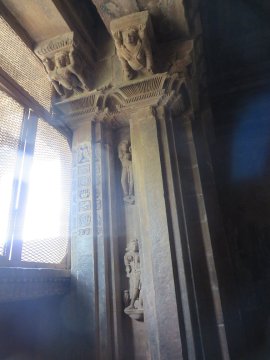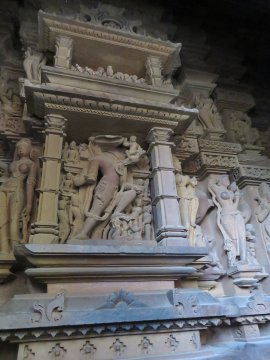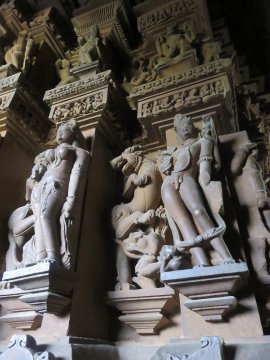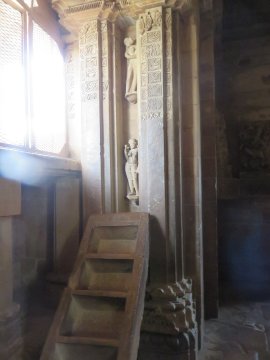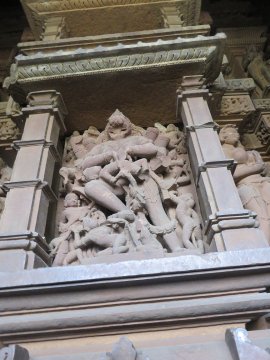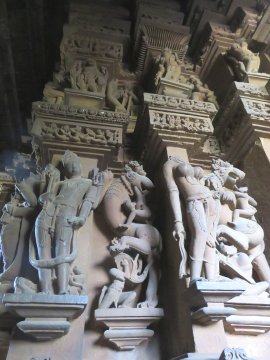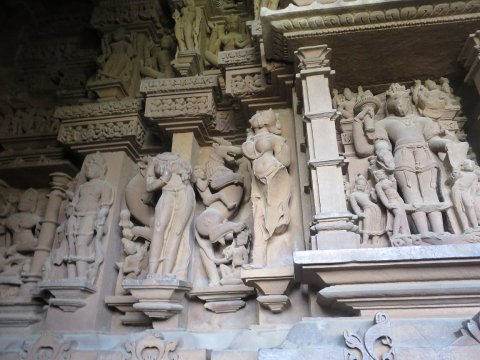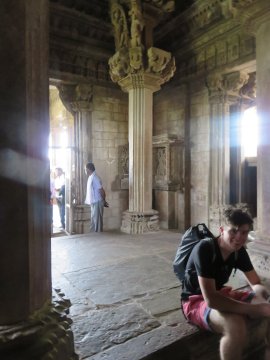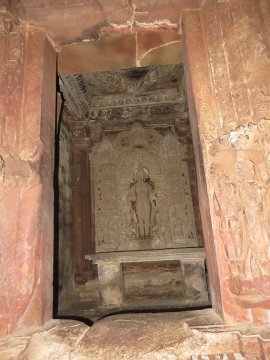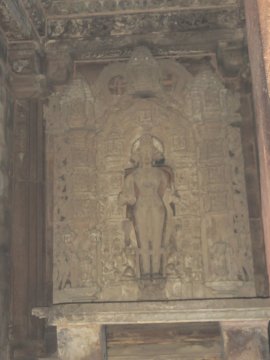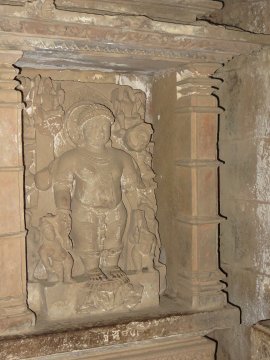 BACK TO NORTH INDIA CONTENTS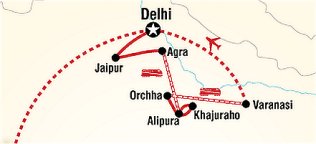 www.hillmanweb.com/india/north



BACK TO MAIN INDIA INTRO PAGE






.
Web Design: Bill Hillman: hillmans@wcgwave.ca
Bill and Sue-On Hillman Eclectic Studio
hillmanweb.com