Bill and Sue-On Hillman: A 50-Year Musical Odyssey
www.hillmanweb.com/book

HILLMAN INDIA ADVENTURE
www.hillmanweb.com/india :: www.hillmanweb.com/india/north
North India: Gallery 29
VARANASI GANGES ADVENTURE II

Evening Cremations at the Ganges Ghats
www.hillmanweb.com/india/north/n29.html



CONTENTS
PHOTO GALLERIES and TRAVEL NOTES
01 | 02 | 03 | 04 | 05 | 06 | 07 | 08 | 09 | 10 | 11 | 12 | 13 | 14 | 15 | 16 | 17 | 18 | 19 | 20
21 | 22 | 23 | 24 | 25 | 26 | 27 | 28 | 29 | 30 | 31 |


The ghats in Varanasi are riverfront steps leading to the banks of the River Ganges. The city has 87 ghats. Most of the ghats are bathing and puja ceremony ghats, while a few are used exclusively as cremation sites. The highlight of our evening visit was going to be our visit to the cremation ghats.

Upon reaching the banks of the Ganges we made our long way down the steps to the riverside, passing through mobs of locals, hawkers, and tourists.

Parry had booked a rowboat for all of us, and we boarded that, one by one so as to not upset the balance of the boat and capsize us! It was hot, but there was a bit of breeze on the water. We had felt sorry for the poor old cycle rickshaw guy who brought us here, but this rower was a young man and he was hauling us pretty smoothly. Some boats with Indian devotees were loaded, I mean, REALLY loaded. Definitely didnít look safe. There was a "police boat" that seemed to patrol the waters, so I guess the number for those slightly bigger boats were allowed. Just glad we weren't on them.

We sailed (kinda funny to use the word sail) from the steps toward the ghats with funeral pyres. Parry gave us a lot of information about the ceremony and traditions that have been going on for a thousand years. The architecture all along the river changed according to the ruler at that time. There were names painted on the buildings identifying this ghat or that ghat. The high flames of the cremation fires were visible from quite a distance. As we got closer to the main cremation site, we could see at least 11 pyres burning with several shrouded bodies waiting on the steps.

There were piles and piles of wood stockpiled -- brought from the forest across the river, which is 2.6 km wide. At the top of the river bank was the Brahma priestís house. At the base of that were three arches with alcoves. In the middle was the eternal flame from which the families took a lighted piece to light the pyres. It was disconcerting to see the brightly coloured cloths that had covered the corpses -- discarded before the cremation -- just tossed onto the side. They were taken away later by the clean-up crew . There were cows browsing through the garbage and packs of dogs defending their territory all along the steps. It was amusing to see three yellow dogs barking aggressively and chasing a single black one. As he retreated, two of his buddies came and they chased the yellow ones. This scenerio could be seen everywhere. We were told that many of these dogs devoured bodies of animals and people that were washed up along the Ganges.
Click for larger images

Down the steps to join the crowd . . . and cows . . . on the Ganges shore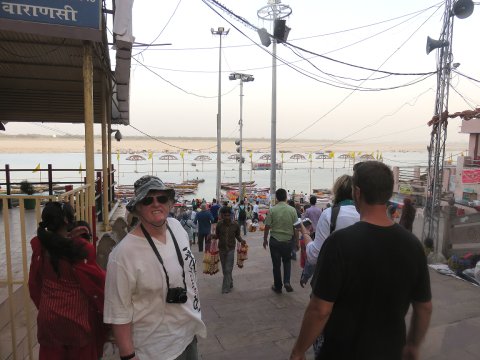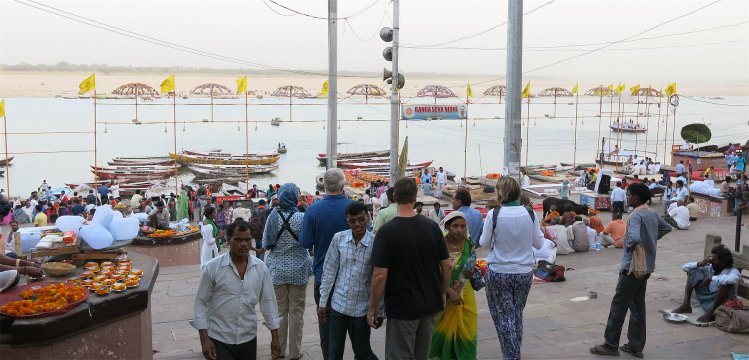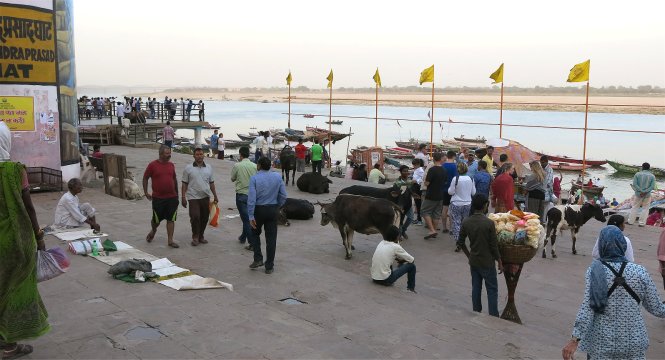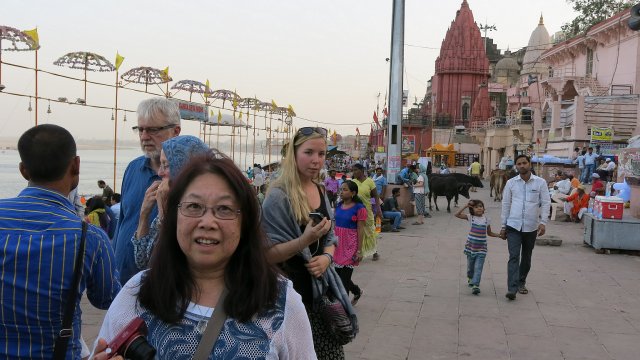 In search of our boat along the shore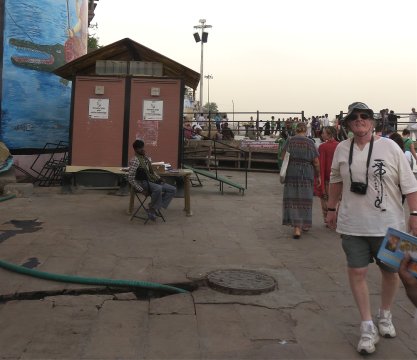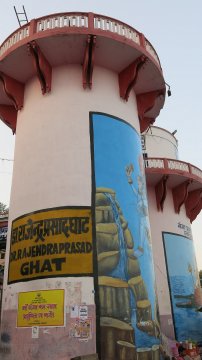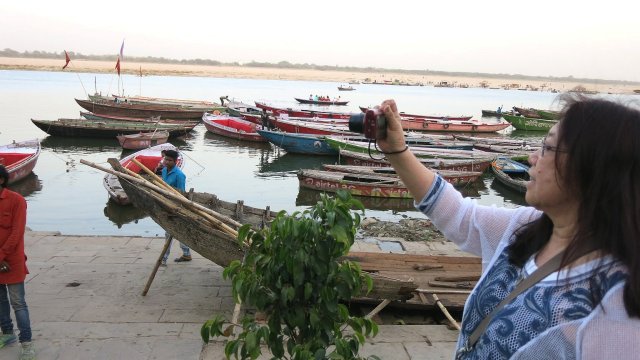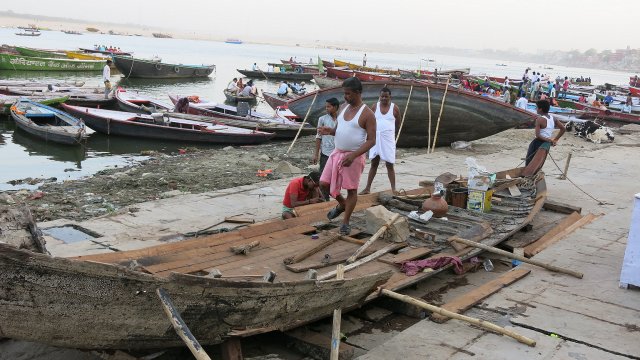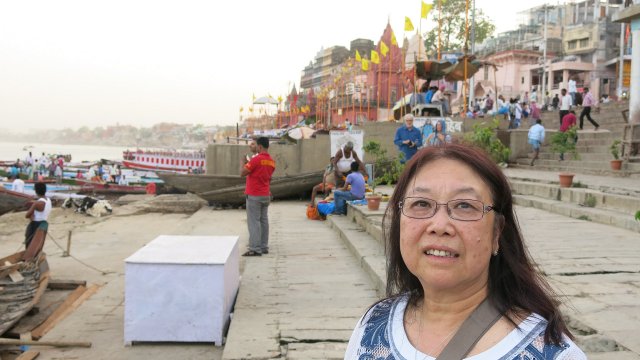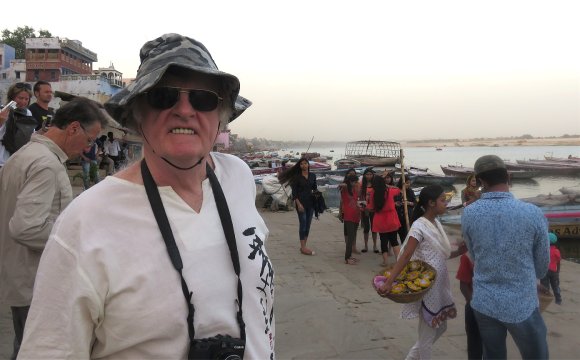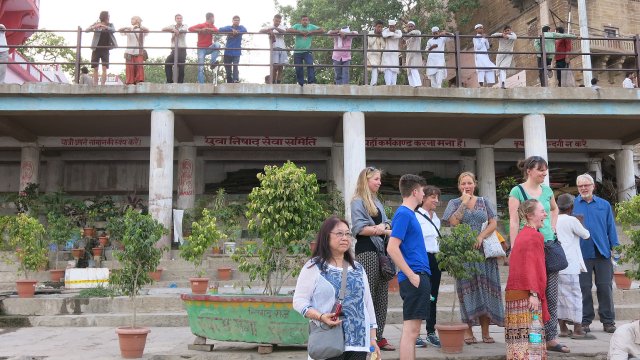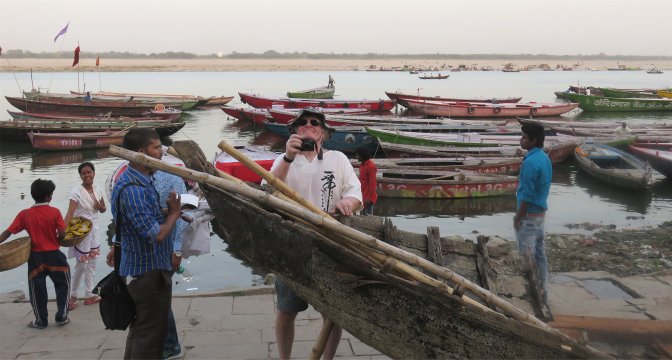 Rowing downstream to the cremation ghats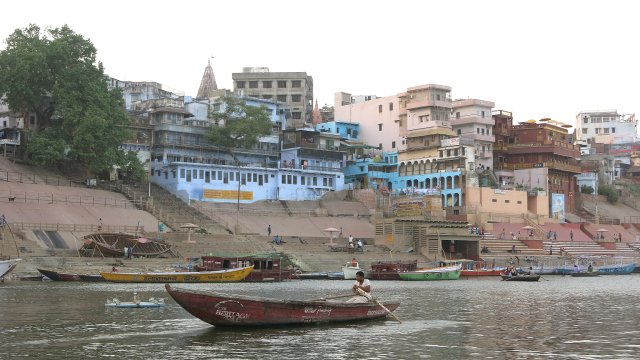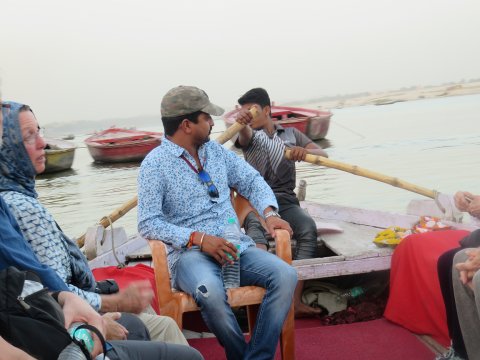 Approaching the cremation ghats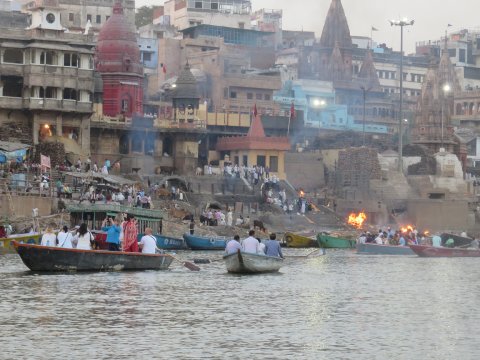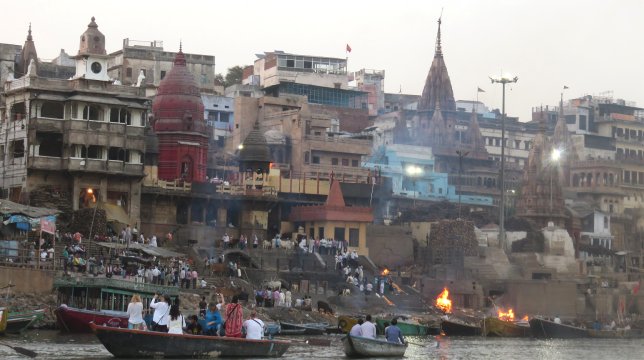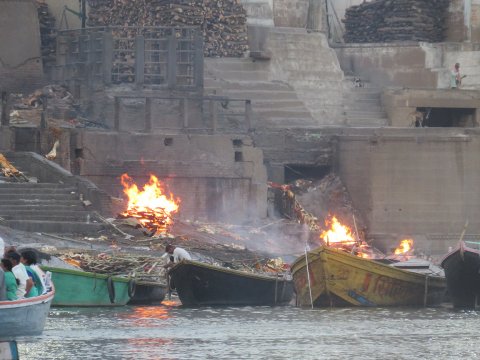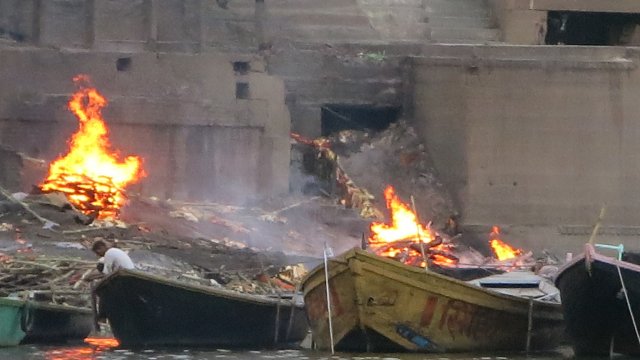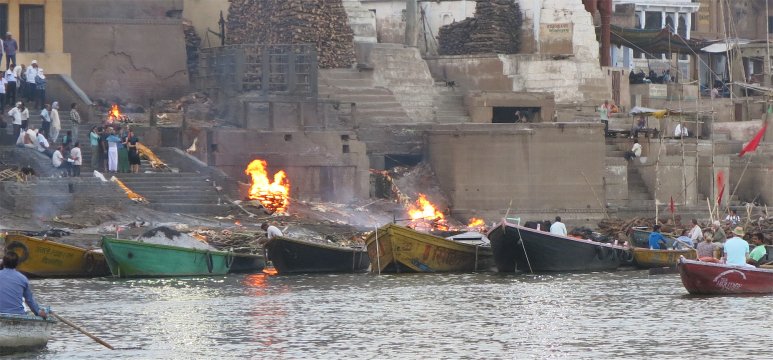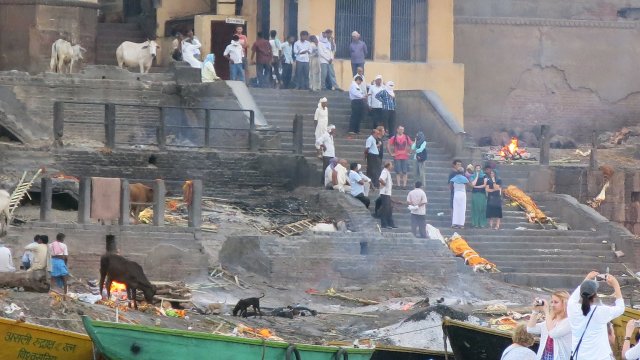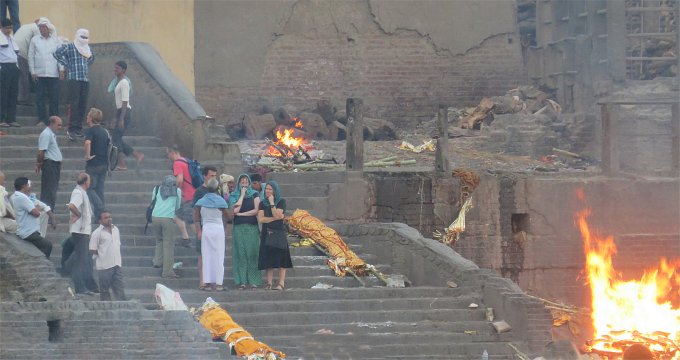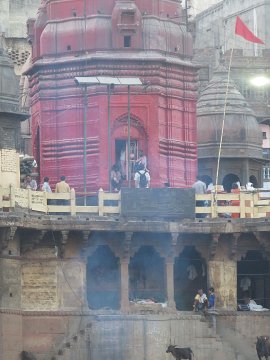 Returning upstream under moonlight to attend the festival celebrations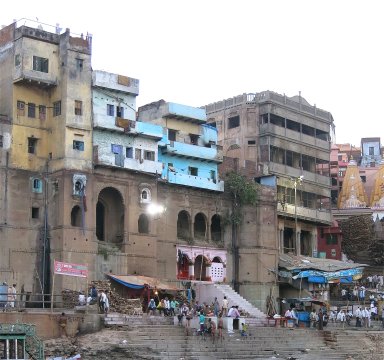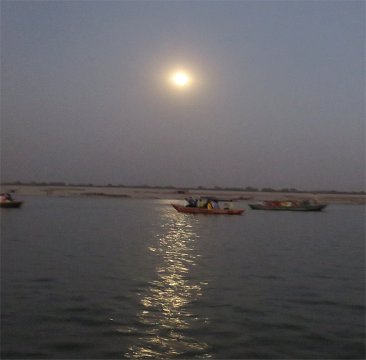 BACK TO NORTH INDIA CONTENTS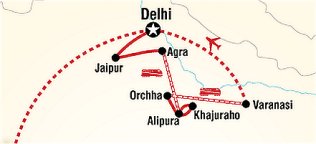 www.hillmanweb.com/india/north



BACK TO MAIN INDIA INTRO PAGE






.
Web Design: Bill Hillman: hillmans@wcgwave.ca
Bill and Sue-On Hillman Eclectic Studio
hillmanweb.com