Bill and Sue-On Hillman: A 50-Year Musical Odyssey
www.hillmanweb.com/book

HILLMAN INDIA ADVENTURE
www.hillmanweb.com/india :: www.hillmanweb.com/india/north
North India: Gallery 21c
TAJ MAHAL IV
To the Tombs and the Journey Back
www.hillmanweb.com/india/north/n21c.html

CONTENTS
PHOTO GALLERIES and TRAVEL NOTES
01 | 02 | 03 | 04 | 05 | 06 | 07 | 08 | 09 | 10 | 11 | 12 | 13 | 14 | 15 | 16 | 17 | 18 | 19 | 20
21 | 22 | 23 | 24 | 25 | 26 | 27 | 28 | 29 | 30 | 31 |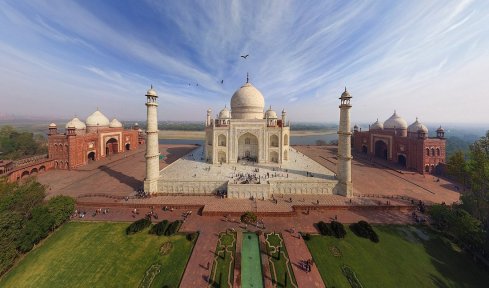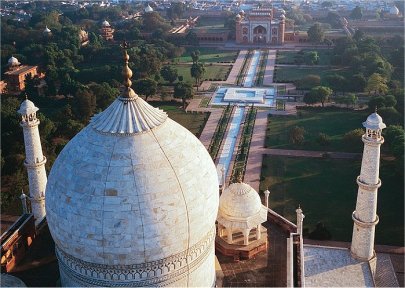 TAJ TRIVIA

---
The name Taj Mahal means "Crown of Palaces."
Shah Jahan dedicated the Taj Mahal to his wife Mumtaz Mahal, who died giving birth to their 14h child.
Shah Jahan's other wives and even his favourite servant are buried in mausoleums just outside of the Taj Mahal.
For the transportation of the construction materials, more than 1,000 elephants were employed.
Over 20,000 workers were involved in the construction.
As many as 28 different varieties of semi-precious and precious stones were used to adorn the Taj with exquisite inlay work.
Depending on what time of the day it is and whether or not thereís a moon at night, Taj Mahal appears to be of different color every time.
Some people think that changing colors of Taj Mahal depict different moods of a Woman
Passages from Quran have been used as decorative elements throughout the complex.
On the sides of the actual tomb of Mumtaz Mahal, 99 names of Allah can be found as calligraphic inscriptions.
Taj Mahal was built in stages, with the plinth and the tomb taking up roughly 15 years. Building of minarets, mosque, jawab, and gateway took additional 5 years to be completed.
The makers employed an optical trick so that as you move closer to the Grand Gate, the Taj keeps getting smaller.
Different types of marbles used in construction of Taj Mahal were brought over from many different regions & countries: Rajasthan, Punjab, China, Tibet, Afghanistan, Sri Lanka, and Arabia.
Shah Jahan was put under house arrest in 1658 by his son, Aurangzeb and was only able to view the Taj Mahal from his window for the last eight years of his life.
Many precious stones and Lapis Lazuli (a semi-precious stone) were ripped off from its walls by the Britishers during the Indian rebellion of 1857.
British Viceroy, Lord Curzon, ordered a restoration of the monument and also gifted a large lamp which hangs in the interior chambers of the Taj Mahal.
Under English control in the late 19th century, the Taj Mahalís greenery adopted a subtler character more common to British gardens.
During WWII a huge scaffold was built over the Taj to misguide bombers.
Taj Mahal attracts 2-4 million visitors annually with over 200,000 from overseas.
Only electric vehicles are allowed near the structure since Taj Mahal's white marble is rapidly turning yellow because of terrible air pollution in Agra.
Wooden foundations -- once submerged -- are thought to be rotting and Taj Mahal is actually cracking due to lack of groundwater beneath the structure.
In 2008, a Bangladeshi filmmaker constructed a replica of the Taj Mahal at a cost of US $56 million dollars so that his impoverished countrymen in Bangladesh could enjoy the famous monument without traveling to India.
The Taj Arabia replica -- a luxury hotel and shopping complex -- is under construction in Dubai. It will be four times the size of the original and will cost an estimated US $1 billion.
Taj Mahal contains a working mosque and is closed on Fridays for prayer.
The Taj Mahal is one of the wonders of the world and is also a UNESCO World Heritage Site.
American Grammy Award-winning blues artist named himself Taj mahal.
One of the first selfies taken at Taj were by George Harrison. He used a fish-eye lens.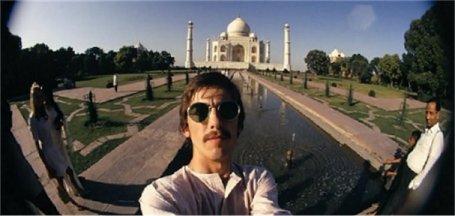 Main Entrance to the Mausoleum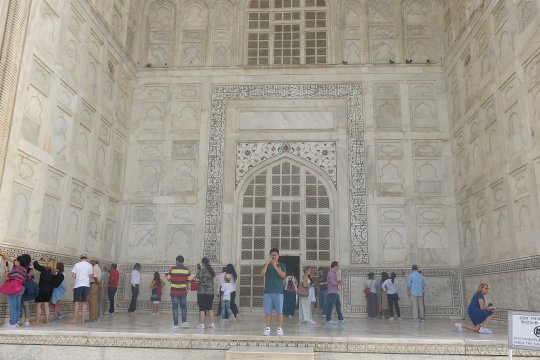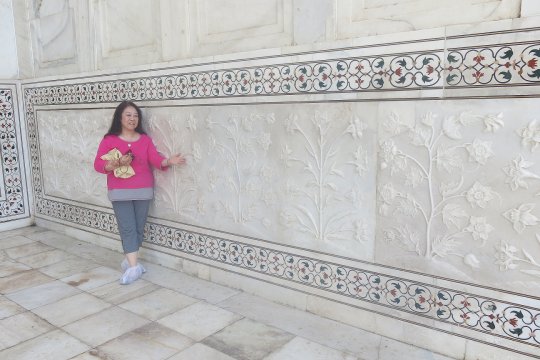 The dome ceiling over the tombs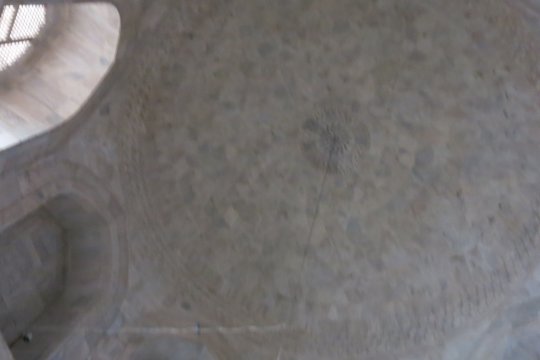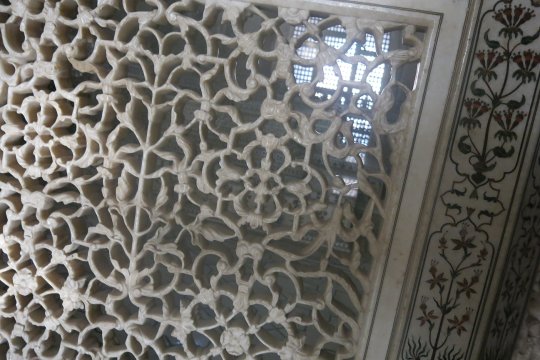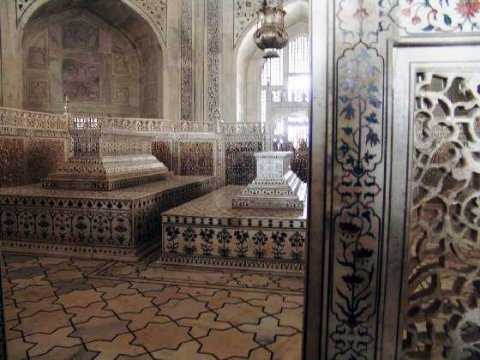 Exit to the rear overlooking the Yamuna River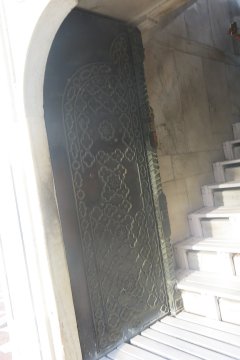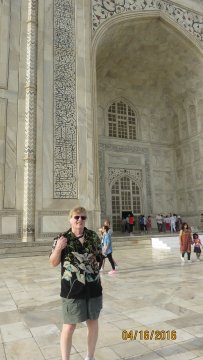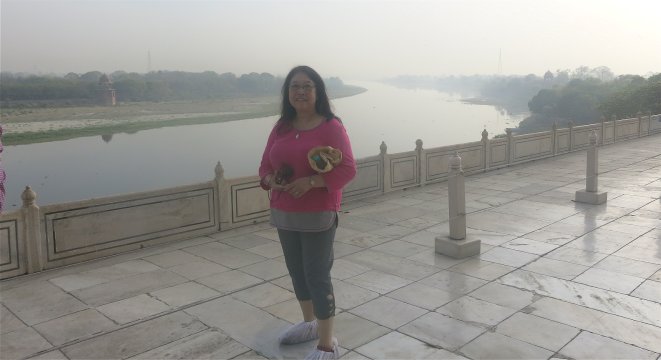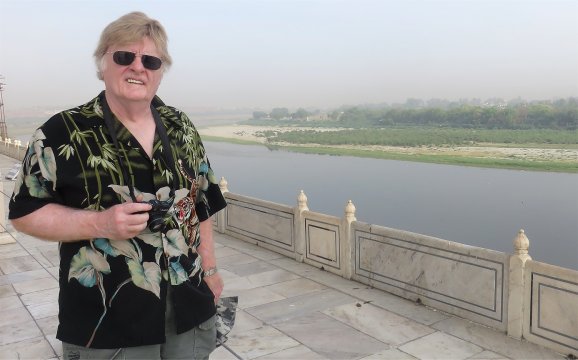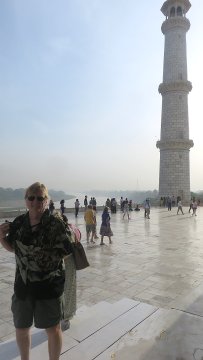 Making our way back to the garden area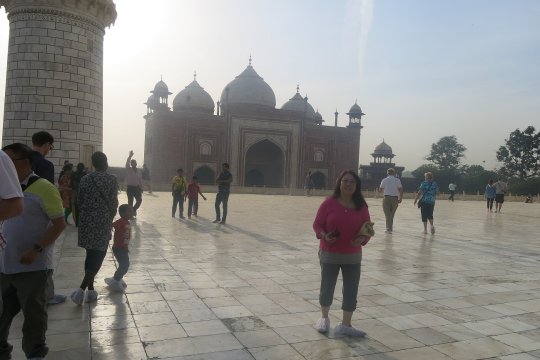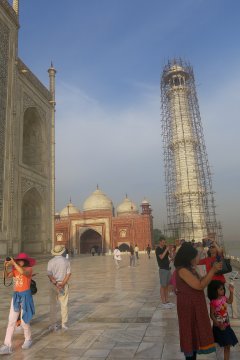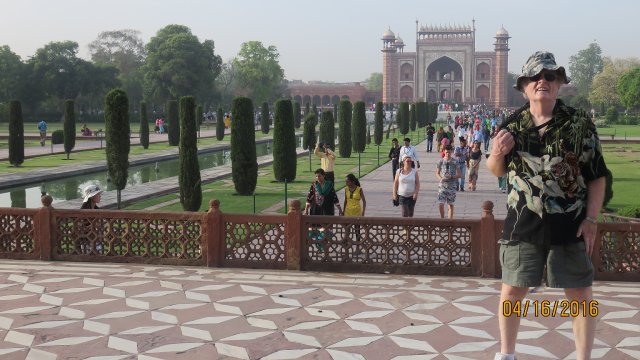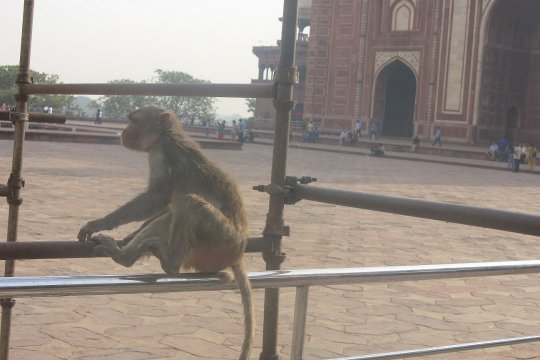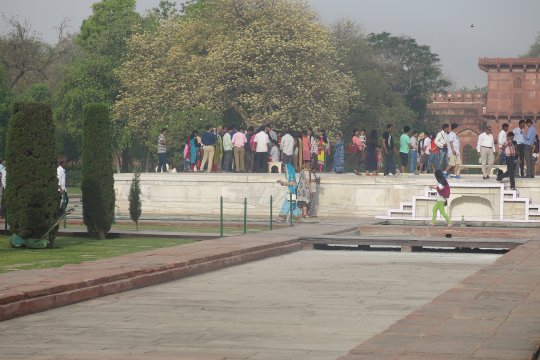 Our last look back at Taj Mahal before we exit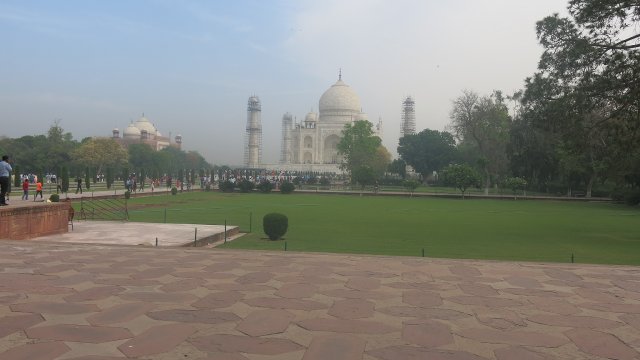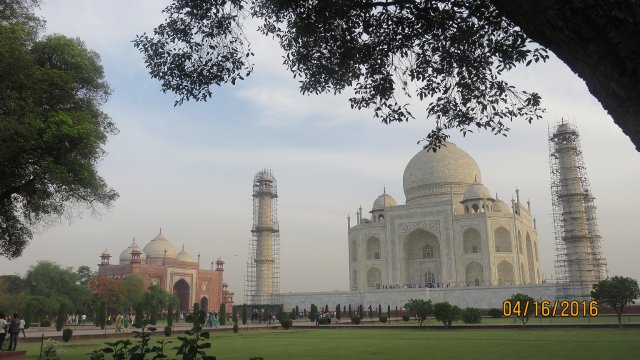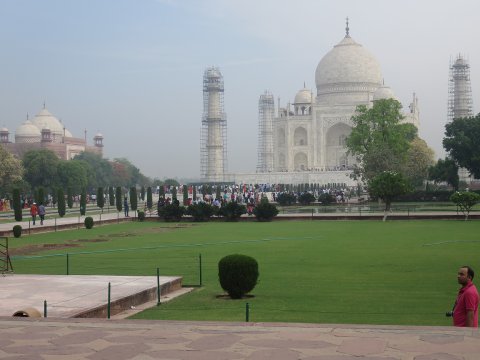 Our long interesting walk back to the parking lot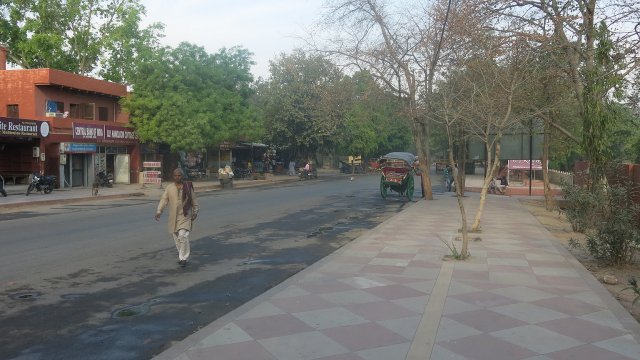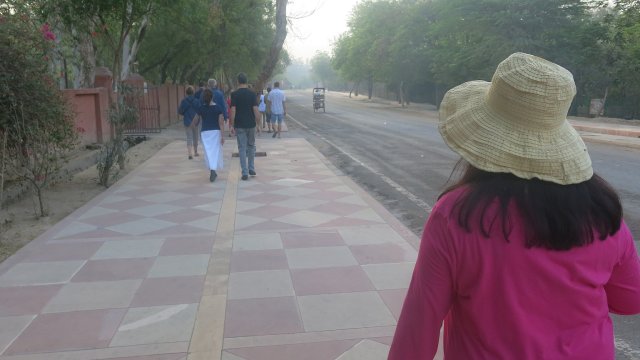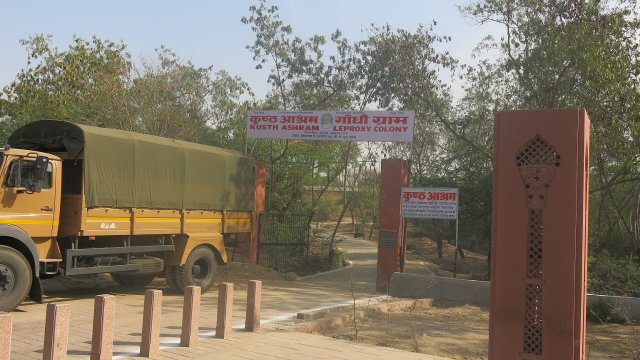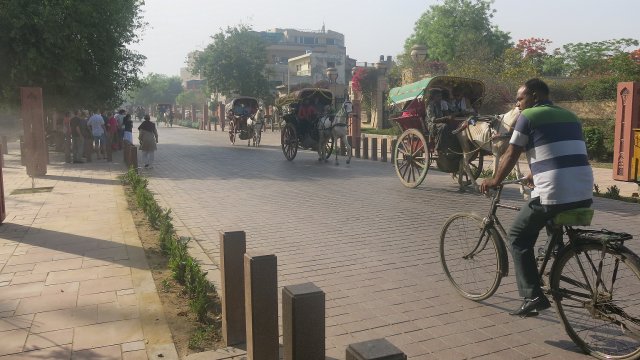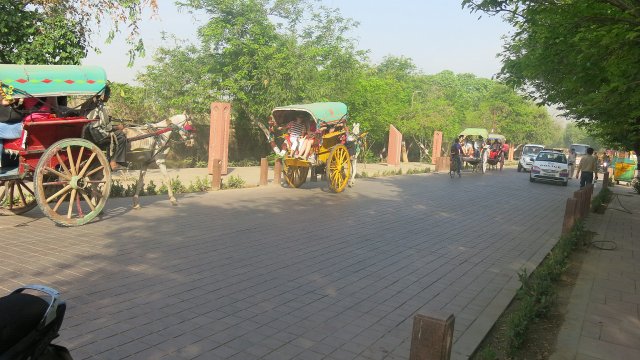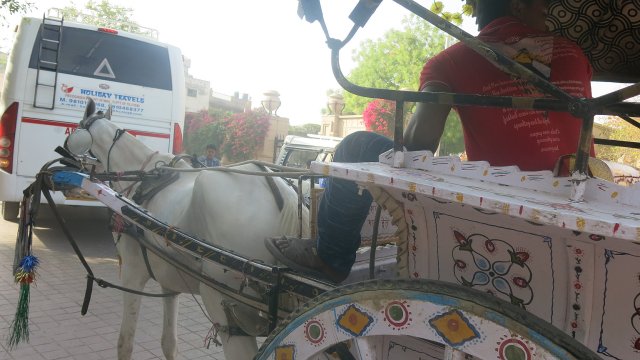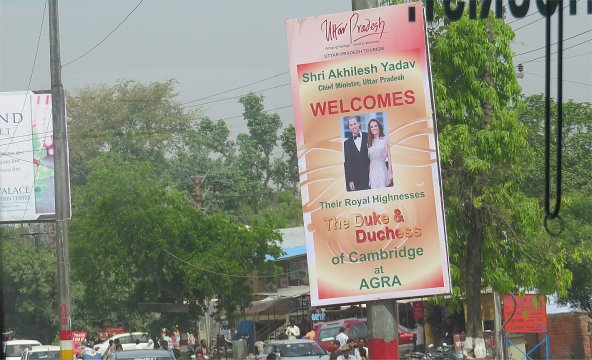 BACK TO NORTH INDIA CONTENTS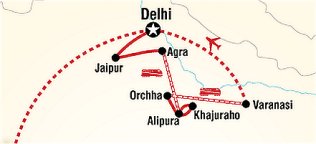 www.hillmanweb.com/india/north



BACK TO MAIN INDIA INTRO PAGE






.
Web Design: Bill Hillman: hillmans@wcgwave.ca
Bill and Sue-On Hillman Eclectic Studio
hillmanweb.com