THE HILLMAN 2015 ADVENTURE


A Web Diary highlighting some of our projects over the past year
www.hillmanweb.com/2015
.

2015 CONTENTS
Best of our 2015 Web Projects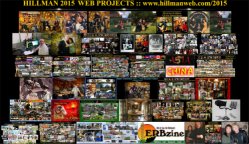 Web Page :: Full Collage

MUSIC


.
1. HILLMAN 50 YEARS IN MUSIC BOOK PROJECT

Cover

BILL & SUE-ON HILLMAN:
A 50-YEAR MUSIC ODYSSEY
We've expanded even more sections of
our online music autobiography this year.
We've also added many more photos scanned from our scrapbooks
and digitized from our thousands of slides of yesteryear.
We've also made it available in PDF formats
The pre-release is available for download.
www.hillmanweb.com/book


Contents
BOOK CONTENTS
PDF Version
A music autobiography of many hundreds of pages plus 100 songs and thousands of photos. . . so far. . .
..

2. NEW HILLMAN CD GALLERIES
Photos ~ Notes ~ Lyrics ~ Links ~ MP3 Audio



..
4. HILLMAN MUSIC PHOTO CARDS AND POSTER COLLAGES

.

5. LATEST ROCK ROOTS MUSIC TRIBUTE UPDATES
Hillman Music Roots Series
Here are a few:

.


JOURNEYS ABROAD


6. INDOCHINA :: S. E. ASIA
(Thousands of Photos and Notes)
www.hillmanweb.com/indochina



.

Still in Preparation
Round Trip: Chicago ~ Gillette Castle ~ Mark Twain Mansion ~ Niagara-On-The-Lake ~ Toronto



ON THE HOMEFRONT


9. ANNUAL XMAS AND WINTER SOLSTICE GREETINGS
www.hillmanweb.com/xmas
HILLMAN FAMILY XMAS 2015
2015 Newsletter plus Family PhotosMore ~ Xmas Cartoons
Newsletters ~ Art ~ Radio Shows ~ Photos ~ Comics ~ Stereoviews
Coke Santas ~ Music ~ Beatles ~ Rockwell ~ Animations ~ Videos
www.hillmanweb.com/xmas

10. A CHRISTMAS STORY: THE MUSICAL Kicks Off the Holiday Season

11. SUE-ON FAMILY ODYSSEY UPDATES
www.hillmanweb.com/soos

.

.


PHOTOS :: CARTOONS :: ZINES



.
14. MORE VINTAGE PHOTOS FROM THE HILLMAN ARCHIVE

From our Music Archives
HILLMAN MUSIC FUN ARCHIVE
Cartoons in Webpage and Collage Formats
Many More Added This Year
Now 13 Galleries with Hundreds of Cartoons
www.hillmanweb.com/music/cartoons
.

16. ERBzine WEEKLY WEBZINES
Hundreds of New Webpages and Daily Archive Updates
www.ERBzine.com
.
FULL COLLAGE I :: FULL COLLAGE II

ERBzine WEEKLY WEBZINE ARCHIVE: 2015
Each week's issue contains about 20 Webpage features exploring the
SF/Fantasy Worlds of the Master of Adventure and Grandfather
of American Science Fiction
Edgar Rice Burroughs
Click on the lead-story icons on the page below to read the archived issue.
www.erbzine.com/mag/2015.html




PREVIOUS ERBzine WEEKLY ARCHIVES
www.erbzine.com/mag/2014.html
www.erbzine.com/mag/2013.html
www.erbzine.com/mag/2012.html

This Week's ERBzine Webzine
www.ERBzine.com/mag

Full Archive of Over 15,000 Webpages
Back to 1996
.

.

MILITARY TRIBUTES :: MUSEUMS

.

| | | | |
| --- | --- | --- | --- |
| CATP WWII Air Museum | Mental Hospital | Museums | Manitoba Dragoons |
.



ODDS 'N' SODS


20. REVAMPED OPENING PAGE SECTIONS ON MAIN SITE
Many New Features Added
www.hillmanweb.com

21. UPDATES TO FRIENDS AND FAMILY PAGES
Sue-On's Family Odyssey
Hillman Roots: Campbell Pages
Glendale Mobile Homes
John Everitt: British Virgin Islands



.
22. JOIN US ON FACEBOOK:
Thousands of photos and news items over the last year
.

23. 2015 POSTER COLLAGE YEAR
In Preparation
http://www.hillmanweb.com/2014/2015all.jpg

24. CONTACTS
Main Website
BACK TO HILLMAN ECLECTIC STUDIO
MAIN CONTENTS PAGE
www.hillmanweb.com

HILLMAN FAMILY PHOTOS 2015
25. Portal to 5 Pages of Photos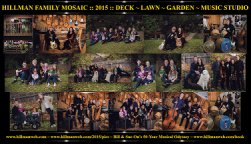 www.hillmanweb.com/2015/pics


E-Mail Address
hillmans@wcgwave.ca