Bill and Sue-On Hillman: A 50-Year Musical Odyssey
www.hillmanweb.com/book :: www.hillmanweb.com/book/gigs

HILLMAN INDIA ADVENTURE
www.hillmanweb.com/india :: www.hillmanweb.com/india/south
South India: Gallery 23
PONDICHERRY HOLY PLACES
www.hillmanweb.com/india/south/s23.html

CONTENTS
PHOTO GALLERIES and TRAVEL NOTES
01 | 02 | 03 | 04 | 05 | 06 | 07 | 08 | 09 | 10 | 11 | 12 | 13 | 14 | 15 | 16 | 17 | 18 | 19 | 20 | 21 | 22 | 23 |

After resting for a couple of hours, we went for a +2 hour orientation walk to Pondicherry's "White Town" -- the French Quarters. There was definitely a difference in building styles, maintenance, etc. We noticed a group of women crowded around another woman -- holding a blond toddler. Obviously, she was the nanny.

Next was a shrine of sorts: Sri Aurobindo Ashram a spiritual community that grew out of a small community of disciples who had gathered around Sri Aurobindo after he retired from politics and settled in Pondicherry in 1910. Sri Aurobindo was an Indian nationalist, philosopher, yogi, guru and poet. He joined the Indian movement for independence from British rule, for a while was one of its influential leaders and then became a spiritual reformer, introducing his visions on human progress and spiritual evolution. The building honours him and we were told that he's buried in a raised block covered with flowers in a pattern. Silence was observed inside the garden area.

Then it was on to a "living or working" Hindu temple: Sri Manakula Vinayagar Devastanam -- a beautiful building over 300 years old. This is the Temple of Hindu god Vinayakar, the Lord with Elephant Head. It featured an abundance of brightly coloured carvings as it had just been repainted. Outside the temple Laxmi, the elephant with silver anklets, stood guard, not tethered but obviously trained by his Mahout to stay put and to snatch money from temple visitors. She was rather playful with her trunk and was quite adept at snaching bills offered by passerbys -- she even tried to grab Sue-On's hat. Bill had pics taken with his pachyderm pal. Laxmi would bless people who dropped coins in her basket by touching them on the head with her trunk. There were quite a number of small stalls outside the temple selling small souvenir items such as key chains, figurines, bangles, wall hangings, etc.

We had time to explore the interior of the temple. The Vinayagar sculptures and idols were attractive and the paintings and murals on the walls and ceiling told the biography of Lord Shiva's Family and Ganesha.


Walk through the French Quarter to Sri Aurobindo Ashram
(No inside photos were allowed)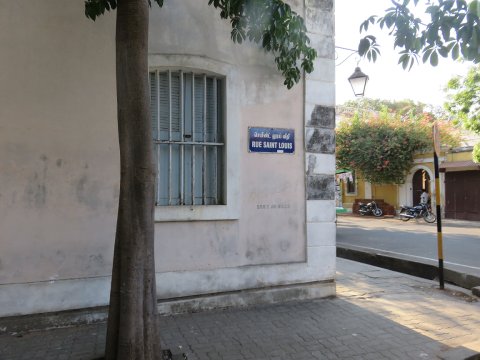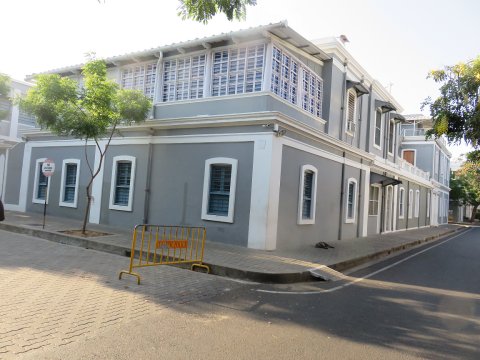 A Short walk to Sri Manakula Vinayagar Devastanam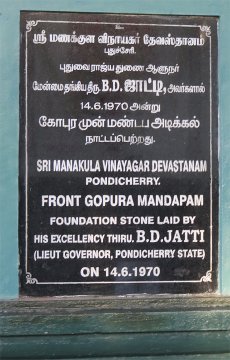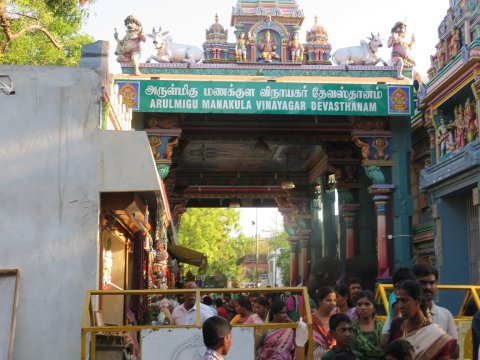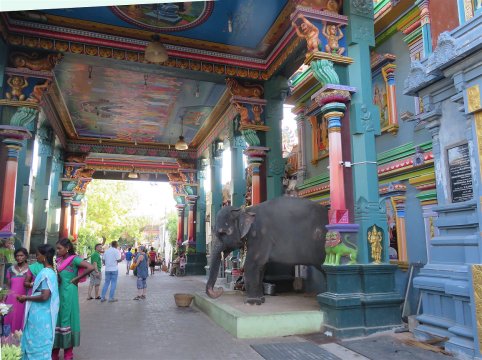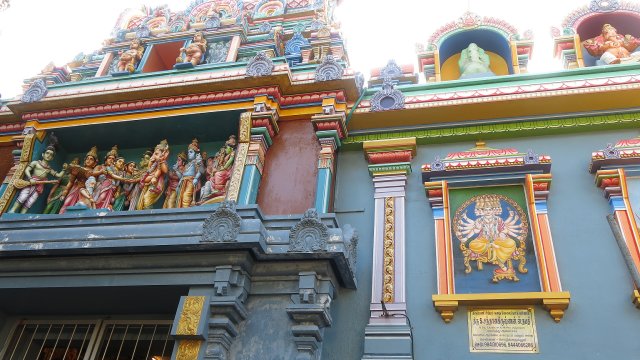 The brilliantly painted carvings at the temple entrance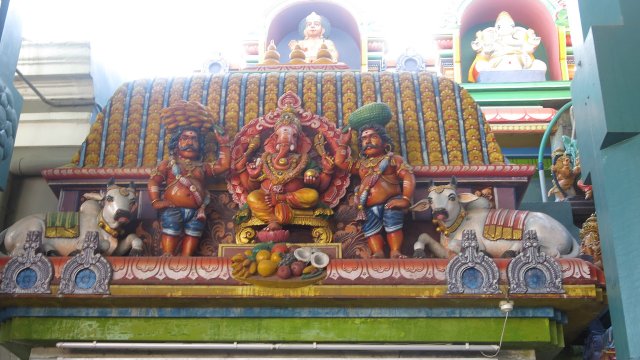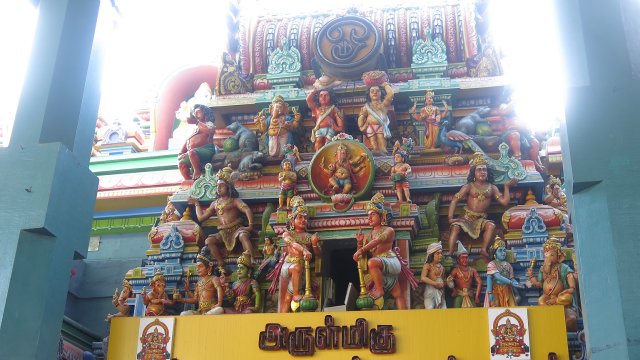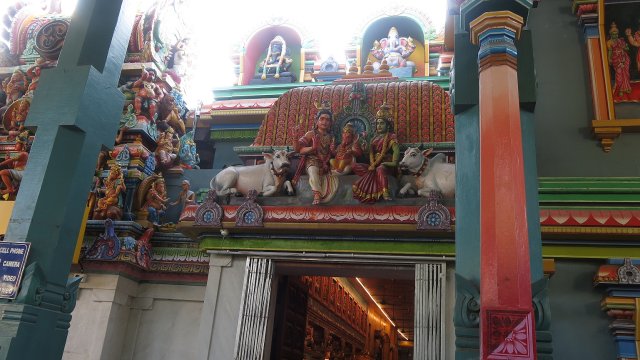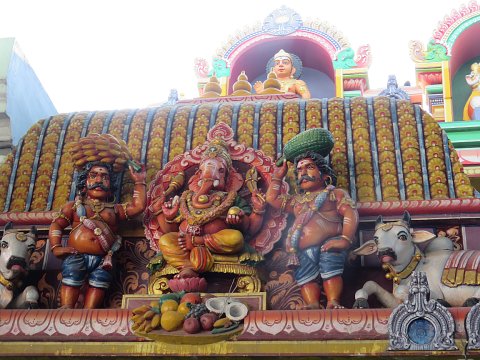 Retrieving shoes at the temple exit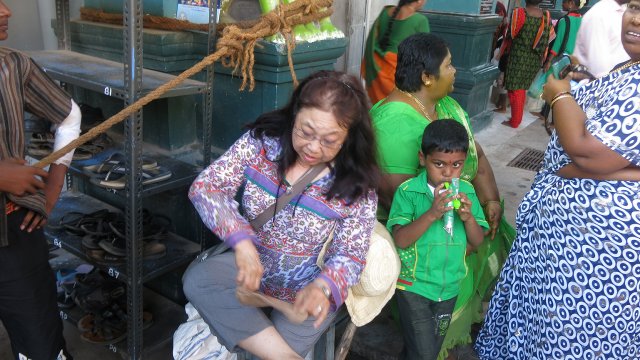 Carrying on through the French Quarter to the Bay of Bengal shore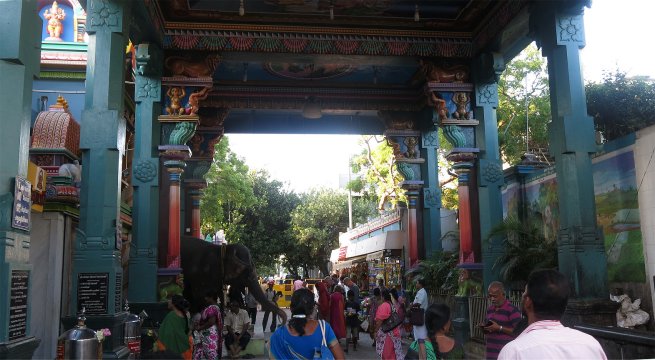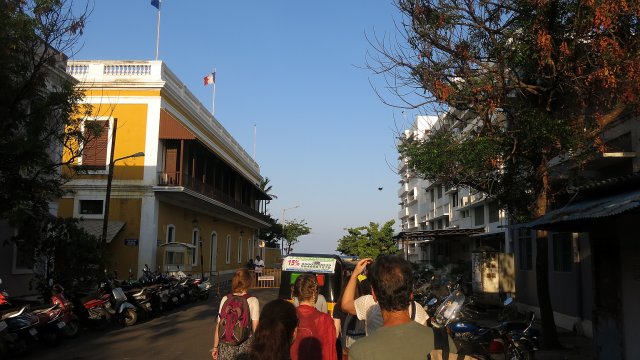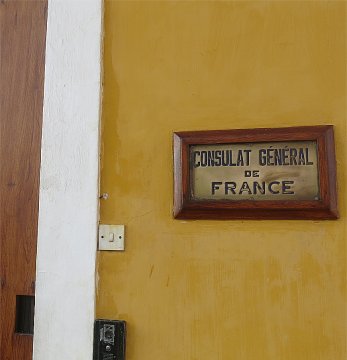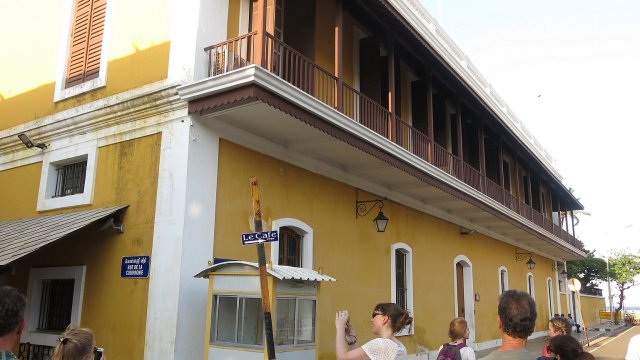 BACK TO SOUTH INDIA CONTENTS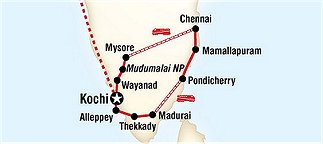 www.hillmanweb.com/india/south



BACK TO MAIN INDIA INTRO PAGE






.
Web Design: Bill Hillman: hillmans@wcgwave.ca
Bill and Sue-On Hillman Eclectic Studio
hillmanweb.com