Bill and Sue-On Hillman: A 50-Year Musical Odyssey
www.hillmanweb.com/book :: www.hillmanweb.com/book/gigs

HILLMAN INDIA ADVENTURE
www.hillmanweb.com/india :: www.hillmanweb.com/india/south
South India: Gallery 24
WITH GANDHI ON THE BAY OF BENGAL
www.hillmanweb.com/india/south/s24.html

CONTENTS
PHOTO GALLERIES and TRAVEL NOTES
01 | 02 | 03 | 04 | 05 | 06 | 07 | 08 | 09 | 10 | 11 | 12 | 13 | 14 | 15 | 16 | 17 | 18 | 19 | 20 | 21 | 22 | 23 | 24 |


Leaving the Temple it was a short walk through the French Quarter to Rock Beach on the shores of the Bay of Bengal. We strolled all along the sand and cement walkways for a couple of kilometers. There wasn't a decent beach for swimming, but there were large rocks between the walkway and the shore -- perfect for sitting on to enjoy the ocean view and sea breezes. A huge statue of Ghandi stood about midway along our walk. On our return path, we stopped at a recently built Catholic church. So the French influence remains.

Some of our group walked the three kms back to the hotel, others went to a French restaurant for dinner, but we weren't keen on paying 1000 rupees for an entree and even more for fine French wine. Another of our fellow travellers joined us in a tuk-tuk back to the Abirami Residence. By this time night had fallen so we had dinner at the nearby Zaffron Restaurant.

Our server certainly had a Chinese look about him and he always looked about ready to talk to Sue-On, but was probably too shy. Sue-On enjoyed King Prawns in Garlic Butter "gravy" and Jerra rice while Bill decided to try the Hot and Sour soup yet again. Lots of chicken in this one but lacking in vinegar tang!

On the way back to our hotel we passed an open "bar" window where Bill bought a cold Kingfisher for 65 rupees instead of the usual 250 to 300 rupees in other states. There is NO excise tax on alcohol, so the drinkers are happy.

Arriving at Rock Beach on the Bay of Bengal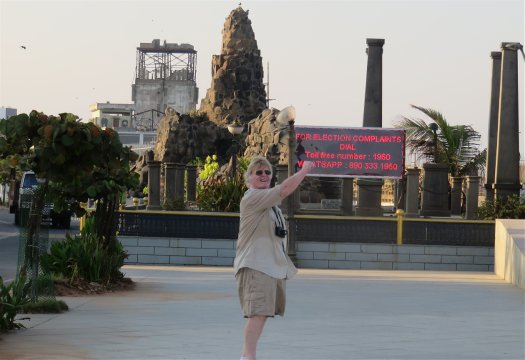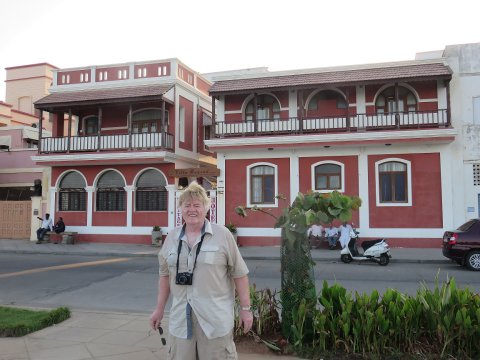 ..




Sue-On enjoying the cool ocean breezes on the 40 degree day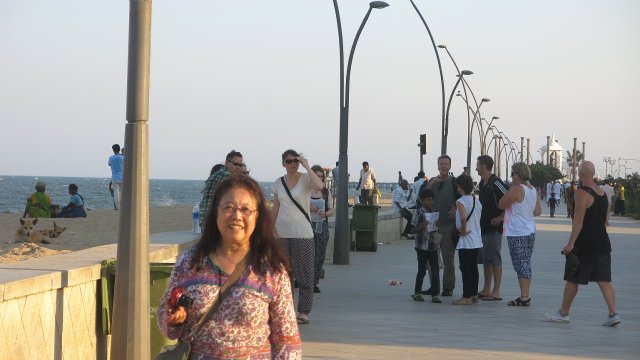 Looking out over the Bay of Bengal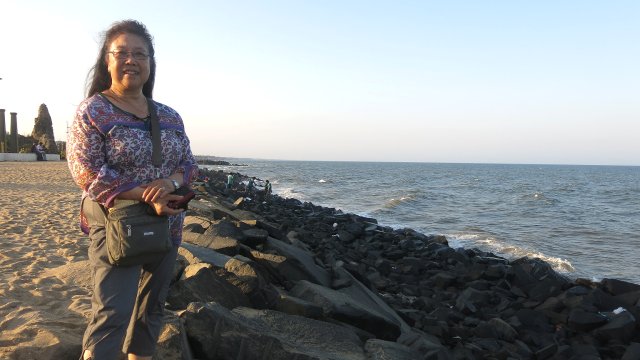 Climbing down to the shore to sit on the rocks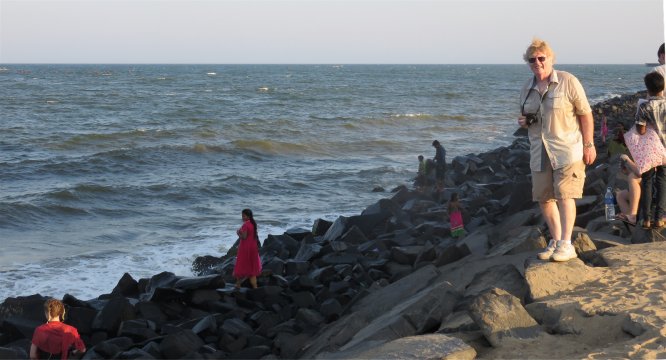 View of the Bay from our rock perch




Carrying on down the shore walk



Towers overlooking the Bay of Bengal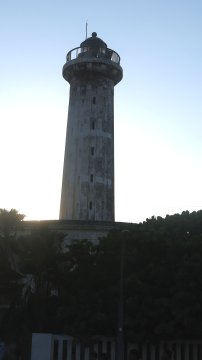 .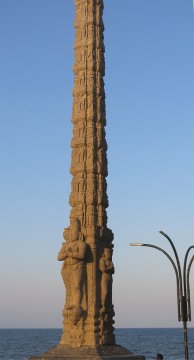 .


More sights along the Beach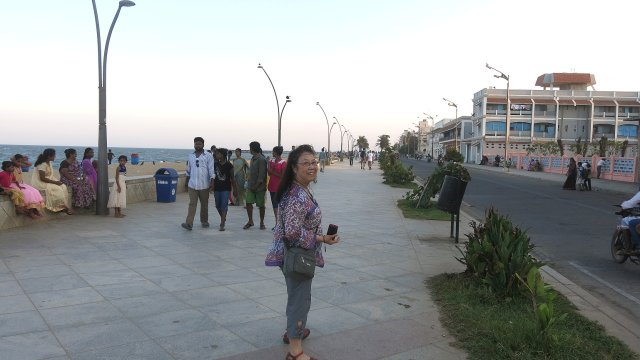 .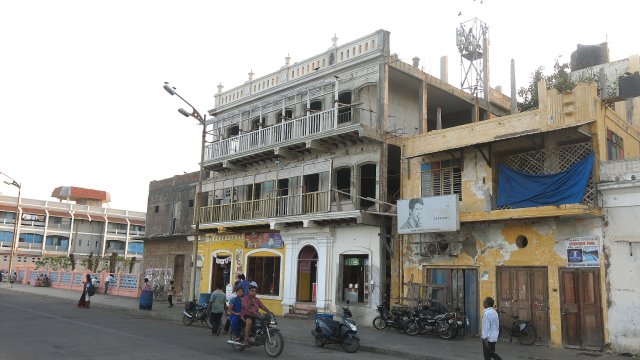 .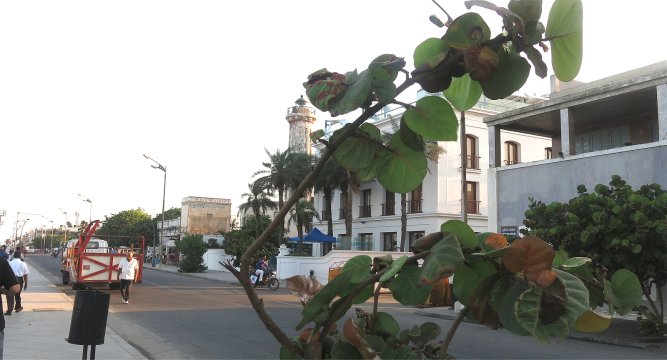 .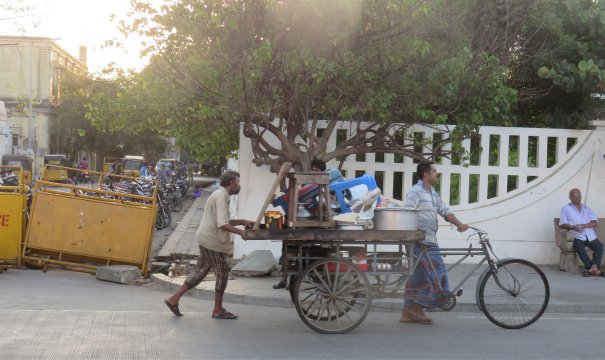 Another Catholic Church
(More French influence)


Fascinating sights on our return to the hotel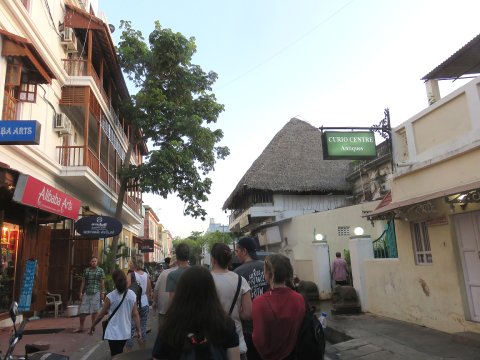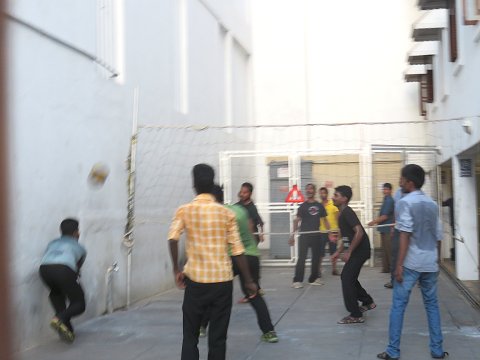 Evening meal at Zaffron near the hotel


Rock Beach images from the Web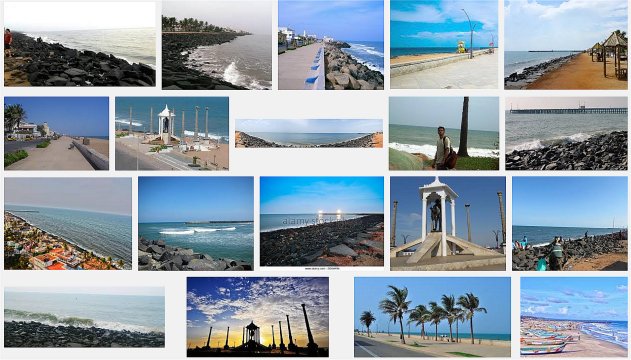 Click for full-size collage poster


BACK TO SOUTH INDIA CONTENTS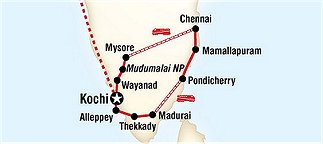 www.hillmanweb.com/india/south



BACK TO MAIN INDIA INTRO PAGE






.
Web Design: Bill Hillman: hillmans@wcgwave.ca
Bill and Sue-On Hillman Eclectic Studio
hillmanweb.com