Bill Hillman's Manitoba Archive Project
presents
A VIRTUAL TOUR OF THE
BRANDON MENTAL HEALTH CENTRE
MUSEUM & GROUNDS
Brandon ~ Manitoba ~ Canada
www.hillmanweb.com/bmhc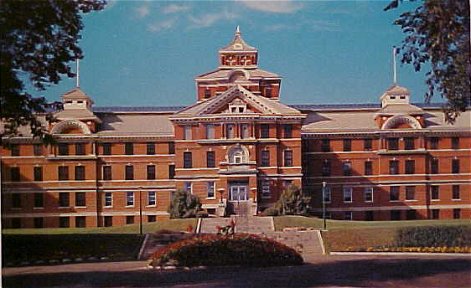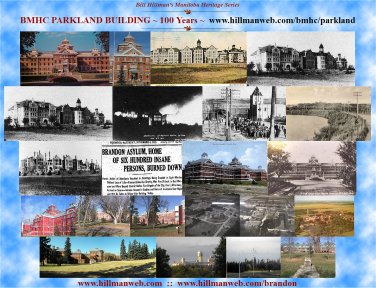 THE BMHC PARKLAND BUILDING
Main Building of the former Brandon Mental Health Centre
December 12, 2012 marked the 100th Anniversary of this historical structure.
HISTORY AND PHOTOS AT
www.hillmanweb.com/bmhc/parkland
.

.

Welcome to BMHC
Part of the Bill Hillman Brandon Heritage Website Since 1999

www.hillmanweb.com/bmhc

.
Join us as we take a walk back
through the history of the
Brandon Mental Health Centre,
formerly known as the
Brandon Hospital for Mental Diseases
and prior to that, the
Asylum for the Insane.
BMHC WEB TOUR DIRECTORY
Please Note: The Museum is temporarily closed. Actual tours are no longer offered at this time.
www.hillmanweb.com/bmhc
Debate :: Letters
Photos and Webpage Design by Bill Hillman
Original Tour Text by Jessie Little
Copyright 1999-2013
.

"This cairn is placed here to commemorate
the Centennial of Brandon Mental Health Centre and is
dedicated to (the people affected by mental illness
and those who have chosen to dedicate their working lives to that important aspect of health).
For 100 years the centre has served Brandon and surrounding area.
In 1891, it was known as The Asylum For The Insane.
This name was changed in 1919 when it became
The Brandon Mental Hospital for Mental Diseases.
The Centre was given its present name in 1972."
..
The History of the
Brandon Mental Health Centre

This book has been reprinted.

Copies are available for
$20 and Postage
Len Howell ~ Committee President
howellsd@mymts.net

Prints of the
Nurses' Residence
at BMHC
are available at a cost of $10


Press Release

Politics, Personalities, and Persistence
One Hundred Years of Psychiatric
Nursing Education in Manitoba
by
Beverley Clare Williams Hicks

$35 Delivered in Brandon
CONTACT: hicks@mymts.net
CONTACTS:
Len Howell ~ Committee President
howellsd@mymts.net
Marlene Brichon ~ 1.204.728.1910
ambrichon@westman.wave.ca
Myrna Houston ~ 1.204.776.2034
kmhouston@xplornet.com
Site Editor and Webmaster
Bill Hillman ~ 1.204.728.4673
hillmans@westman.wave.ca


Other Hillman Heritage Sites
www.hillmanweb.com/brandon
Manitoba Photo Memories From The Bill Hillman Archives
Archive Directory
01 | 02 | 03 | 04 | 05 | 06 | 07 | 08 | 09 | 10 | 11 | 12 | 13 | 14 | 15 | 16 | 17 | 18 | 19 | 20 |
21 | 22 | 23 | 24 | 25 | 26 | 27 | 28 | 29 | 30 | 31 | 32 | 33 | 34 | 35 | 36 | 37 | 38 | 39 | 40 |
41 | 42 | 43 | 44 | 45 | 46 | 47 | 48 | 49 | 50 | 51 | 52 | 53 | 54 | 55 | 56 | 57 | 58 | 59 | 60 |
61 | 62 | 63 | 64 | 65 | 66 | 67 | 68 | 69 | 70 | 71 | 72 | 73 | 74 | 75 | 76 | 77 | 78 | 79 | 80 |
81 | 82 | 83 | 84 | 85 | 86 |
BMHC Mental Hospital
Rivers Air Base Memories

Our Compendium of Heritage Web Sites Series
www.hillmanweb.com/brandon
Other Links of Interest
Selkirk Mental Health Centre Archive