Bill and Sue-On Hillman: A 50-Year Musical Odyssey
www.hillmanweb.com/book :: www.hillmanweb.com/book/gigs

HILLMAN INDIA ADVENTURE
www.hillmanweb.com/india :: www.hillmanweb.com/india/south
South India: Gallery 34a
ALLEPPEY BACKWATER II
Stroll along the waterways
www.hillmanweb.com/india/south/s34a.html

CONTENTS
PHOTO GALLERIES and TRAVEL NOTES
01 | 02 | 03 | 04 | 05 | 06 | 07 | 08 | 09 | 10 | 11 | 12 | 13 | 14 | 15 | 16 | 17 | 18 | 19 | 20 |
21 | 22 | 23 | 24 | 25 | 26 | 27 | 28 | 29 | 30 | 31 | 32 | 33 | 34 |

After a couple of hours to cool off and rest, we enjoyed afternoon tea and biscuits, and we were off on a village walk along the dikes and island edge with one of the farmers and homestay owner, Mr. Thomas. There was quite a variety of marine traffic on the waterways between our island and the mainland. He was quite apologetic as the political "blithering" over loud speakers on boats cruising up and down the river was drowning out his talk. He didnít know why they continued (election was to be May 16) because they couldnít change peopleís minds which were already made up. This is either considered a carnival by some and an absolute annoyance to others like him.

It was over 2.5 hours walking, over rough ground cover on the dike path. The water was about two metres deep at this time. There were fish in there, but salt water fish. Not great for eating. Come monsoon time and fresh water, the fish would be good eating. Lots of water hyacinth was present, which is a menace as is with all man-made waterways.

As with all the places weíve visited, the Catholic church has a prominent presence. Itís disconcerting really, to see these massive gorgeously decorated buildings among the hovels that the majority of the population live in. One such church had about 100 steps leading up the hill with 30-foot brass free-standing pillars all the way up. The church was billiant white and well-maintained . . . a splendor among the garbage. The one we saw on our walk was built recently. The original church built by the Portugese was crumbling so it was razed and a new one built. There was one remaining tower and it was leaning to one side.

Beginning of our 2.5 hour walk around the islands
We put our cameras to good use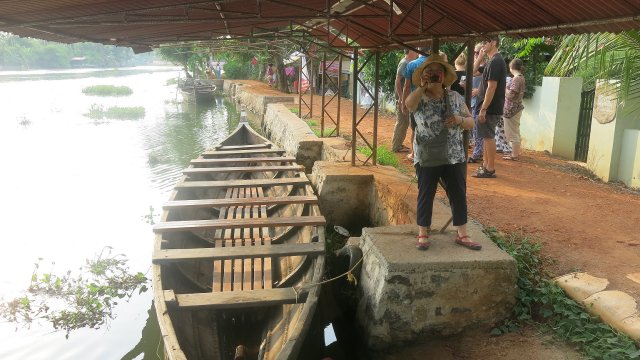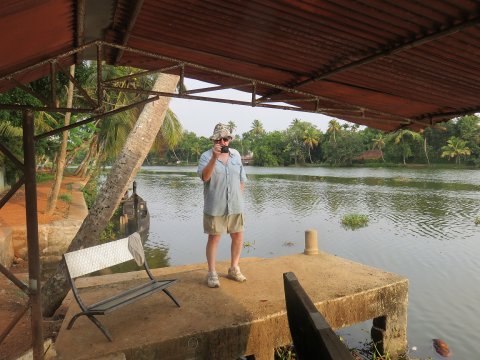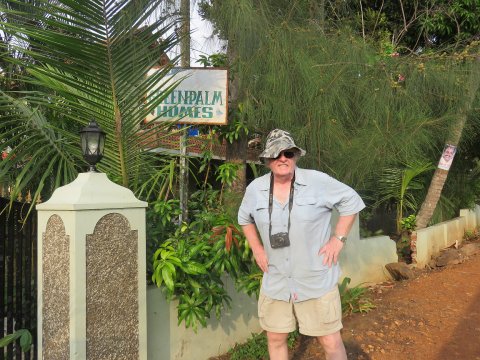 .


A passing political boat among the canoes
With loudspeakers blaring out party slogans and music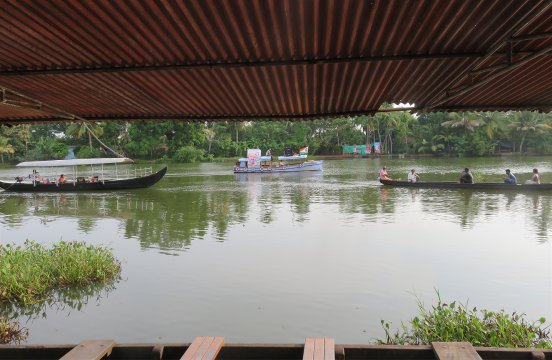 .


A great variety of vegetation on the islands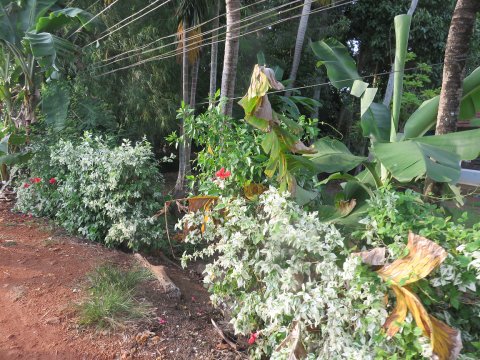 ..


Many two-boat families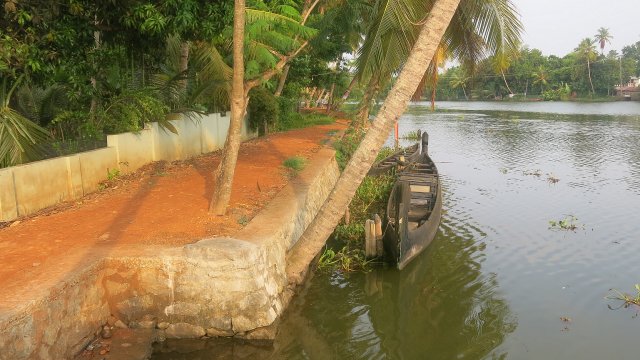 .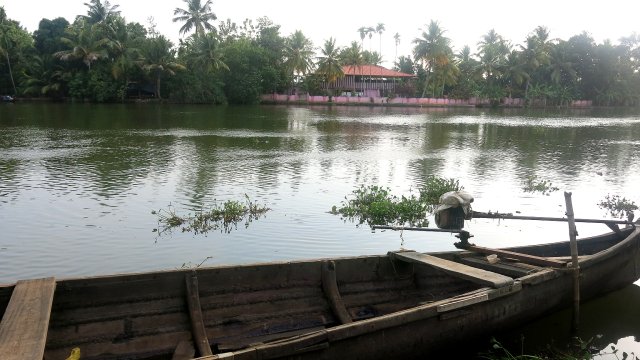 .


The variety of watercraft is endless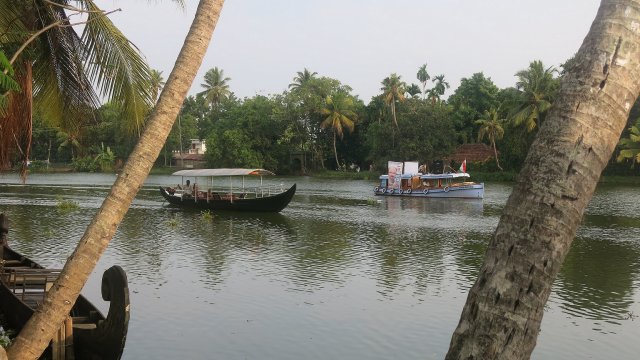 .


A closer shot of the political boat
Posters, Flags, Giant Loudspeakers


.


Even the homes are caught up in the political fervor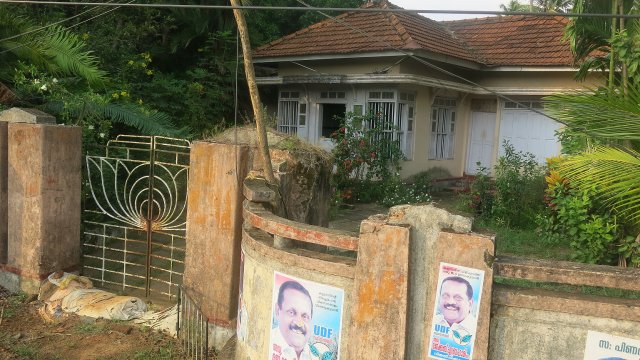 .


Beatiful palms line the dike walk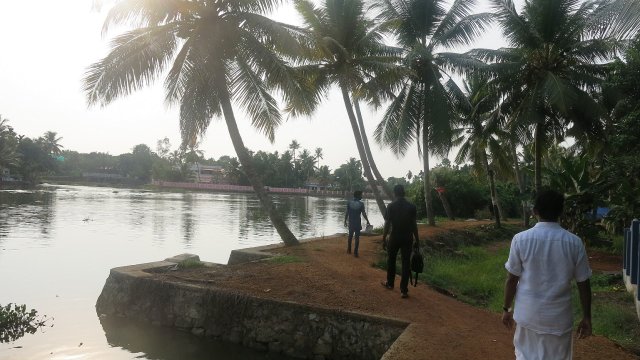 .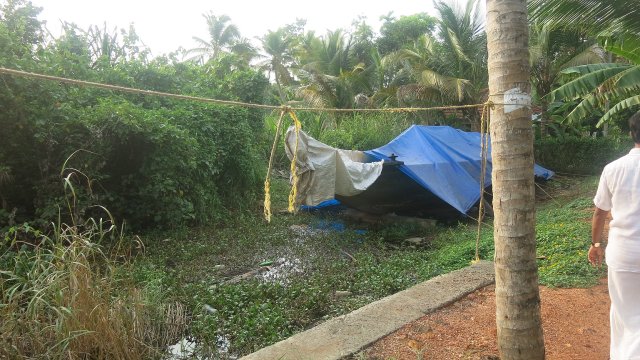 .


.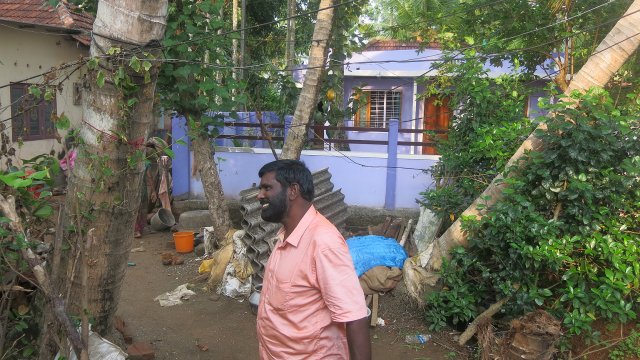 .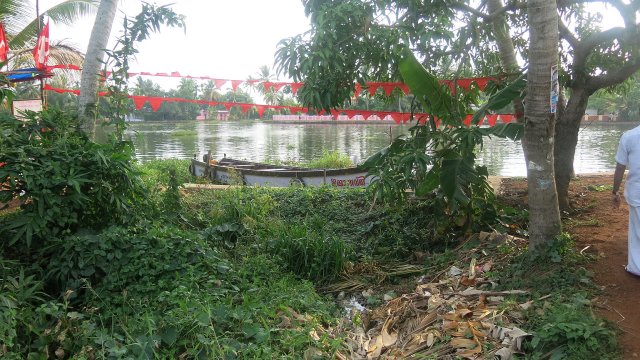 .


Doing the family wash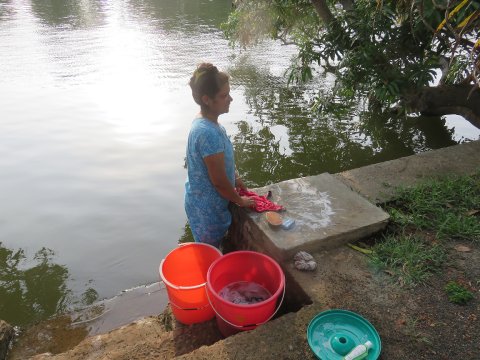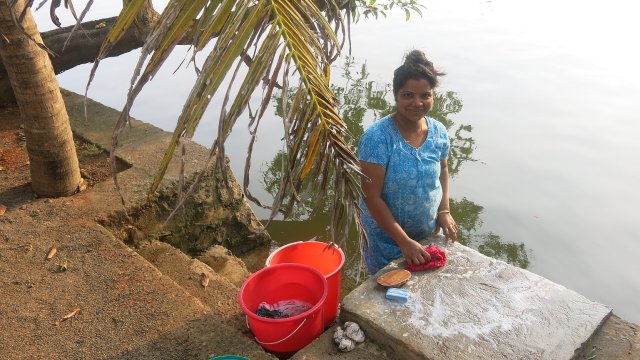 .


Pappa introducing his little one to the foreign visitors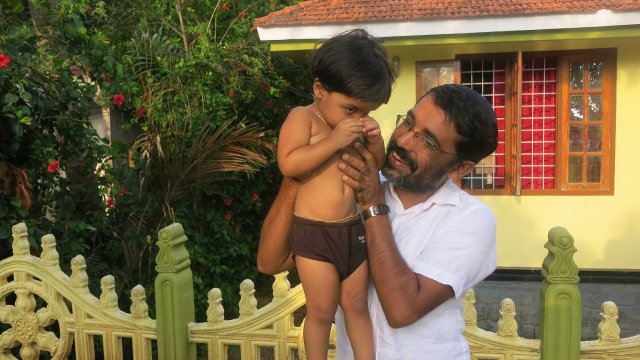 .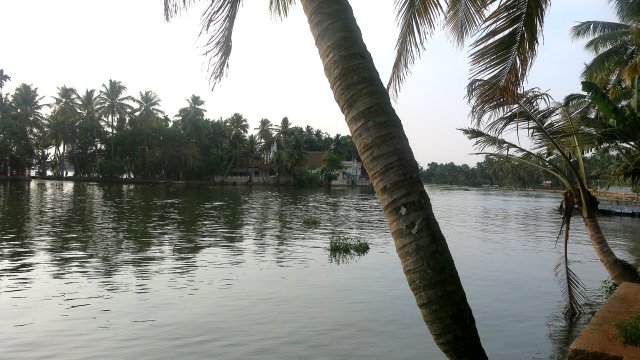 .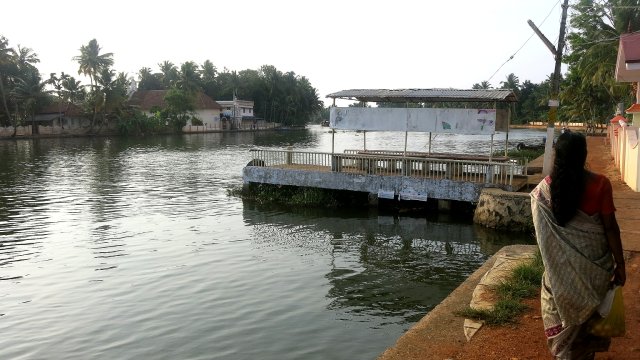 .


The local Catholic church and cemetery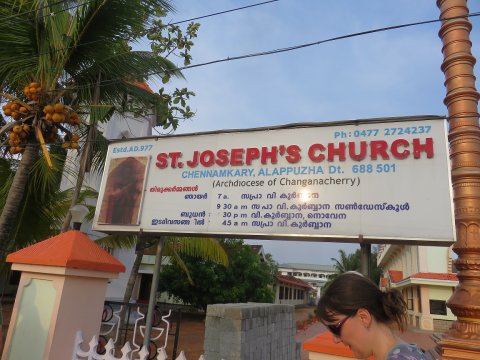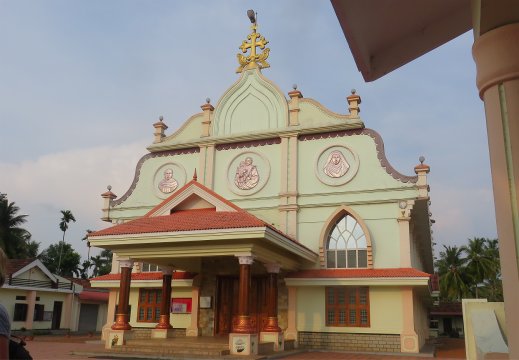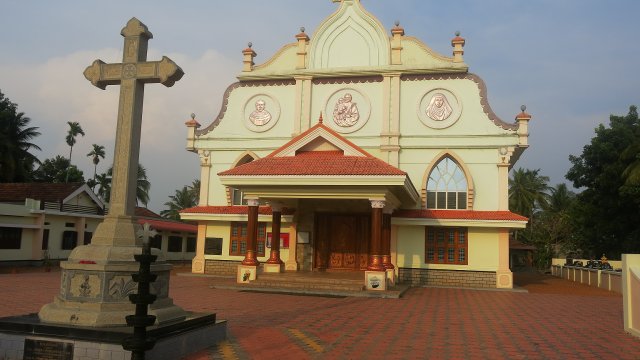 .


Great scenery along the dike walk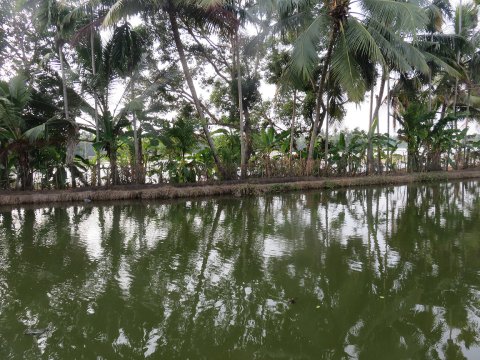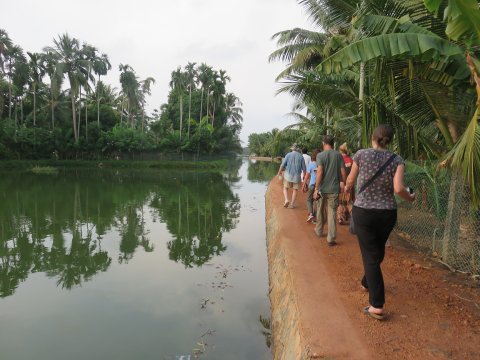 .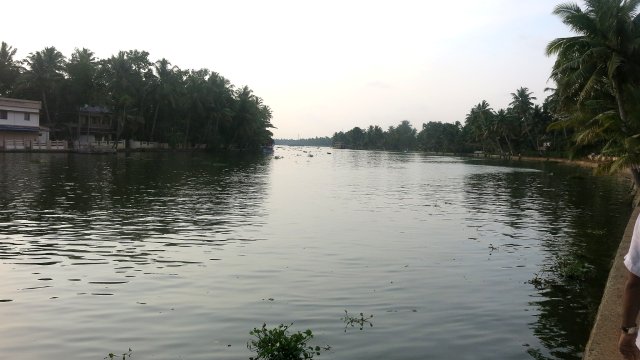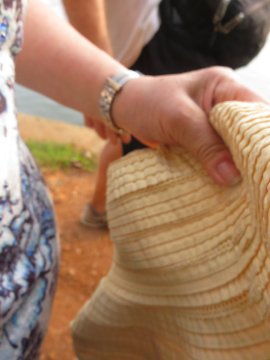 .


A common sight
Church and Houseboat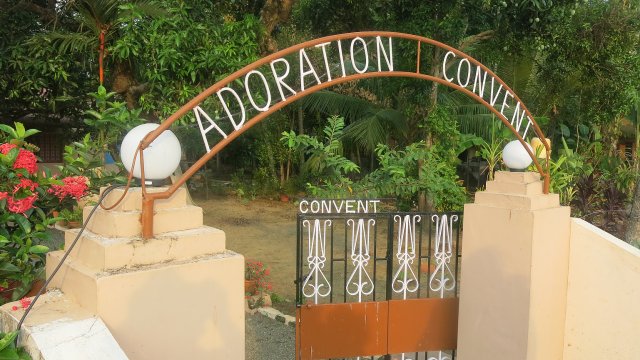 BACK TO SOUTH INDIA CONTENTS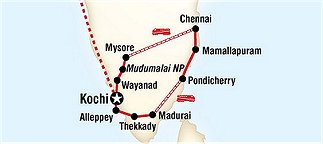 www.hillmanweb.com/india/south



BACK TO MAIN INDIA INTRO PAGE






.
Web Design: Bill Hillman: hillmans@wcgwave.ca
Bill and Sue-On Hillman Eclectic Studio
hillmanweb.com